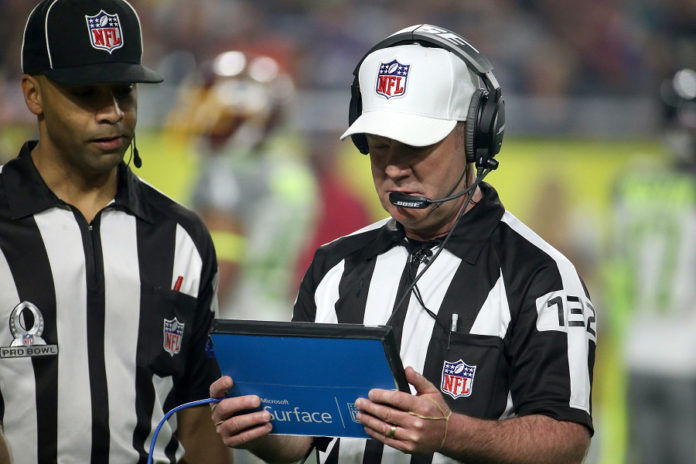 Drew Brees, dropping back into the pocket, looked for an open receiver to pass the ball on a 3rd & 10 play. The game was on the line with only 1:49 ticking away on the game clock. Brees, appearing to find a receiver downfield, hurls the pigskin in a hurry towards Tommylee Lewis in attempt to get a first down and the rest is history.
Nickell Robey-Coleman, a cornerback for the Rams, blatantly interfered with the pass towards the defenseless receiver. Robey-Coleman never looked over his shoulder to see where the ball was or where it was going, so he never tried to make a play on the ball. According to Rule 8 Section 5 Article 2 of the NFL's rulebook,  a DPI (Defensive Pass Interference) can be ruled as "contact by a player who is not playing the ball that restricts the opponent's opportunity to make the catch." To me, the play on Lewis is perfectly described in the above rule from the official rules of the NFL. Now the question is should pass interference be a reviewable penalty?
Looking back on the play and how it possibly changed the outcome of the game, I believe that in the offseason the NFL should look over their rules and make a modification. These types of penalties that might not always be crystal clear when called, should be reviewed for maximum assurance of calls. We already see this in the MLS or Major League Soccer since they have the video assistant referee (VAR). They use the VAR to check any game-changing calls that might not be correct. This is exactly what I think the NFL should integrate into their game to allow for the reduction of controversial endings in the NFL.
I believe the system should run as follows: If a referee calls a penalty on a play that maybe shouldn't have been called, then the referees should huddle together and video-review the call. There should also be a rules expert on the field at every game to assist in any confusion that the referees might have. Each coach is given two challenges per game and to accommodate for the new penalty-review change, every coach should be given an extra challenge. This new challenge can only be used for penalties coaches disagree with and they can only use it once per game in order to make it fair.
These new rules should help accommodate any controversial calls by referees and it helps eliminate bias from the referees by having a rule expert on the field.
Check back to the Roundup for more NFL and other sports news!