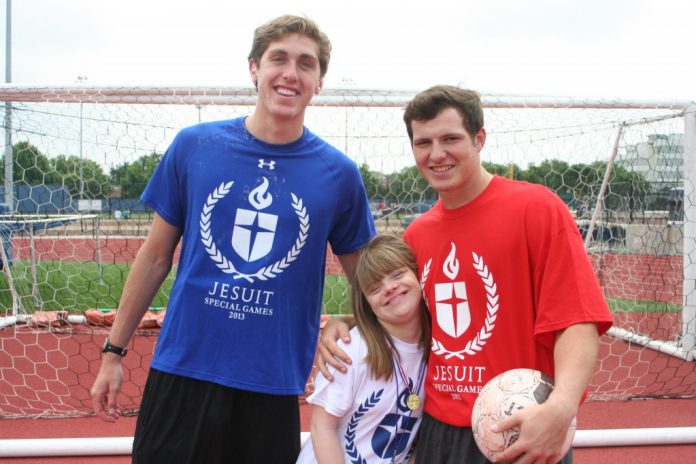 After yet another successful school year at Jesuit, summer has finally arrived. Undoubtedly a well-deserved change of pace for Jesuit students, summer provides ample time to kick back, relax, soak up the sun, and watch the Rangers cultivate another winning season. More importantly, however, summer vacation serves as the perfect opportunity give your time in service of the community.
 "I think that it's important to make service into a lifestyle," said Mr. Richard Perry, Jesuit's Director of Community Service. "In order to make service into a lifestyle, we have to engage in it all year long. We can't take summer break and stop."
It is also important to note that summer provides the time to flexibly get ahead on Jesuit's stringent service hour requirements. "To be successful in accumulating the correct number of credits at each grade level, students should do summer service and register those hours in order to take a little stress off of the school year," Mr. Perry advised. This is especially important for rising seniors, who must meet all service requirements before graduation.
Thanks to the community service department, Jesuit provides many resources on possible opportunities over the summer. The most notable opportunities include the iCan Shine Bike Camp, sponsored by the Down Syndrome Guild of Dallas who is looking for volunteers to work as coaches and buddies for the event, and the H.E.R.O.E.S camp at Richardson First United Methodist Church (further information below). "Also very important is a summer camp, soon to be listed [on the Community Service Page], at Santa Clara School starting June 10th and lasting for three weeks," Mr. Perry said.
Outside of major projects and camps sponsored by Jesuit, many service organizations around Dallas provide solid opportunities to Jesuit students. "We strongly encourage students to contact nursing homes, in particular St. Josephs Residence in South Dallas." Another great organization is Minnie's Food Pantry in Plano, a 501 C3 charity that provides nutritious food for to those in need in the community.  Volunteers can help distribute food at their Plano location on Saturday mornings.  For more service sights such as St. Josephs residence and Minnie's, see the approved sights list below.
If you are interested in serving at an organization not already approved by Jesuit, Mr. Perry and Mr. Mattachione ask that students pre-qualify summer sights by emailing amattacchione@jesuitcp.org before proceeding with the opportunity.
Some Recommended and Approved Sights for Summer Service (not an exclusive list):
Catholic Charities of Dallas
AIDS Services of Dallas
Minnie's Food Pantry
St. Joseph's Residence
Aberg Center for Literacy
Senior Service Centers throughout the Dallas area
Meals on Wheels
The Bridge (Dallas)
(Further information on these organizations can be found through their websites or by contacting Mr. Perry or Mr. Mattacchione at rperry@jesuitcp.org and amattacchione@jesuitcp.org, respectively.)
Down Syndrome Guild of Dallas iCan Shine Bike Camp: Coaches/Buddies Needed. All volunteers must be 16 years of age or older. The camp is at UTD August 12-16 (must volunteer each day for the duration of the program for consistency) with a mandatory volunteer training on Sunday, August 11 at UTD. Please contact Neely Holland at dsged@sbcglobal.net for volunteer registration. Please copy Mr. Perry at rperry@jesuitcp.org in order to be on the Jesuit volunteer list.
H.E.R.O.E.S. Helping Everyone Reach Outstanding Educational Success: Volunteer Leaders Needed. All grade levels welcome to volunteer. The camp is held at Richardson First United Methodist Church weekdays from June 24 through the end of July. Please contact Josh Schilling at joshschilling.heroes@yahoo.com for volunteer registration. Please copy Mr. Perry at rperry@jesuitcp.org in order to be on the Jesuit volunteer list.