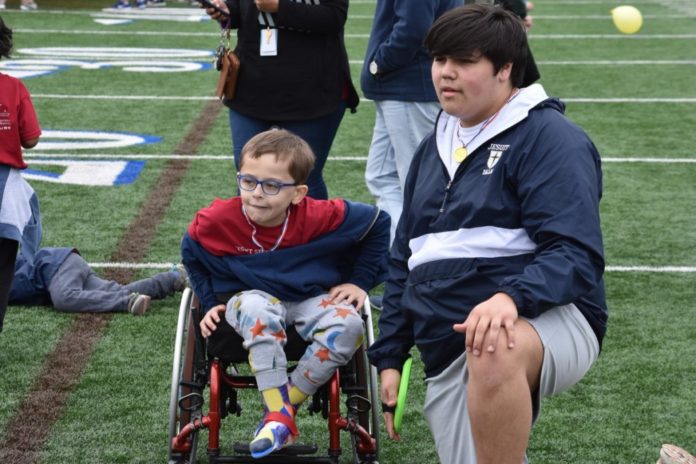 On May 10th, many of you all thought, great the senior convocation; however, that day held more than that this year. That is because Jesuit hosted an annual event called the Special Games. They invited a multitude of schools around the Dallas Fort Worth area who teach children with special needs, one of the schools including the Notre Dame School. There are many volunteers at the Special Games, a majority of them being the seniors, but I was lucky enough to be able to volunteer an experience the Special Games first hand as I am apart of Brothers For Others. Another organization, PALS, which included junior Mark LaPenotiere, who said "it was great to interact with the kids and grow closer as a community", also helped set up and volunteer at this fabulous event.
Now what exactly is the special games? Before volunteering I was not quite sure of the ins and outs of the Special Games. The Special Games is basically a huge field day for all of the children to run around and play different activities. These activities included frisbee, limbo, the dunk tank, face painting, and much more. The kids rotate in their groups to the different stations where the seniors play the games and help with the kids. This was held on the football field and the baseball field, and, with rain in the forecast, we had a backup plan of being in the Terry Center. Luckily there was no rain and we were all able to have a blast on both of the fields outside.
After finishing with all of the games and activities it was time for some of the kid's favorite time. LUNCH. Thanks to Little Caesars, we were able to have a bunch of pizza for the kids. This included cheese, pepperoni, and sausage pizza all for the volunteers, kids, and some of the teachers to feast on. After everyone ate the food, the volunteers started to take some of the decorations and tents down, the schools of kids started to round up and get on their busses, and we started to say our goodbyes. All of the volunteers loved the event that was held, especially Harrison Karicher '21 as he stated "the special games were great, I enjoyed helping out and getting to experience a glimpse of what our seniors look forward to each year".
In the grand scheme of things the Special Games was a complete success and we could not have asked for it to go any better. We cannot wait to see the students again next year and have as much fun as we did this year. We thank all of the volunteers and seniors for helping the Special Games run so smoothly.