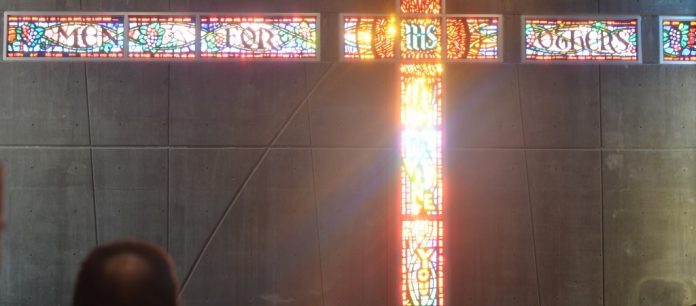 Jake Oliver. Rob Giltner. Jordan Mastrogiavanni. Basil Seif. These were the first words of Mr. Tom Garrison, Principal of Jesuit, who on Wednesday, August 26th, began the 2015-2016 Senior Service Orientation by mentioning the names of seniors from the Class of 2013 who have left a lasting mark on the legacy of the school. All 273 members of the Class of 2016 attentively listened to the advice of Mr. Garrison who hoped that current seniors' names "would be read in three years time to the Class of 2019."
After Garrison's introduction, the orientation continued with advice from Senior Counselor Mr. Hanley, and College Counselors Mr. Shoemaker and Mr. Fitzsimmons. Later, Mrs. Crowder, the director of Campus Ministry, introduced the senior retreat program which offers a total of six KAIROS retreats and a silent directed retreat. Mr. Perry, Head Director of Community Service and Social Justice, told the seniors a story, that while whimsical, brought forth some challenges in service. Lastly, seniors broke into small groups to meet their respective faculty adviser for each service site before eating lunch together as a class.
A total of thirty Senior Service opportunities is available this year in the fields of special needs education, food transportation, hospital rotations, tutoring, senior living, and the fine arts. The Notre Dame School of Dallas, Meals on Wheels, Scottish Rite Hospital, Our Lady of Perpetual Help, Sunrise Senior Living, and Texas Winds each display different forms of service to others, but all share the common goal of exemplifying a Man for Others in the greater Dallas community.
Several seniors have already displayed an exceptional amount of excitement regarding the Wednesday weekly service. Michael Boyson '16, who has served in Manna for Others for three years and is now stationed in the Therapy Dogs Program, contributed that "our Senior Service Orientation was the perfect way to begin our end goal: to form men who are for and with others." Furthermore, Boyson found delight in Mr. Perry's comedic pirate analogy by acclaiming "it made sense nonetheless and reaffirms the senior class of 2016's journey towards graduation and taking the gifts that Jesuit has instilled in us out into the world."
Another source of anticipation arose from senior Gordon Webb, who has attended two summer immersion trips to Alaska, a poverty trip to Waco, and has also run Holy Cross' Manna for Others Program. Designated to the Mohawk Elementary School, Webb "thinks the school in Richardson will be a fun filled experience to learn and work with the kids." Webb, a humble representative of selflessness added, "My goal is to get it know them with a comfortable relationship just as some people did for me when I was younger."
Under the direction of Mr. Mattachione, Assistant Director of Community Service, five Jesuit seniors will take leadership positions in the Ignatian Service Corps: Federico Cornejo, Alex Reilly, Matthew Taylor, Brendan Lyden, and Harry Smith. For this school year, Lyden and Smith will lead as Co-Chairs of the Homeroom, a position that involves contacting more than thirty service sites that Jesuit works with. Moreover, these two chairs have the privilege to discuss with the coordinates the best way Jesuit students can help their organizations and activities in and out of their classroom. While Smith realizes that "it is a big responsibility," he sincerely feels "excited to have a role in these events that change so many peoples' lives for the better." Lyden summed up the homeroom's annual goal by saying the following: "to achieve more participation from all students in every class through projects that will only be open to those in the specified grade level."
This year looks to be among the most exciting senior service groups in the past few years with the variety of service agencies and the eagerness to serve others apparent throughout the grade. The senior class of 2016 will have two full weeks to immerse themselves in their Service Sites before participating as a class in Community Days later this September. Every Wednesday, all 273 young men will spend their final year at Jesuit venturing out into the world hoping to make a difference in another life one week at a time. We will see which names are read from Mr. Garrison's binder in three years during the Class of 2019's Service Orientation.