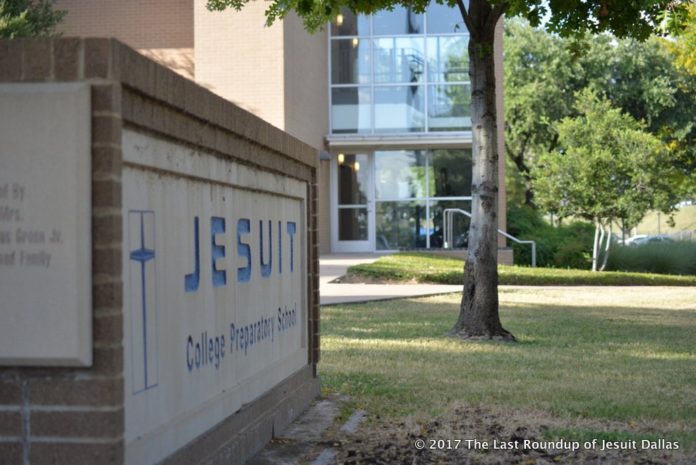 Empathy is a theme that has been emphasized at Jesuit this year, and a push for empathy between teachers and students seems to have been an effect of that.
Two weeks ago, the faculty built empathy with seniors by visiting their service sites for a few hours. Instead of attending morning classes, each Wednesday seniors leave campus to serve the community in a variety of different capacities as classroom tutors, musicians, etc., and many of the faculty got to help out this time.
Faculty members have already been shadowing students during normal school days this fall, and this seemed to be similarly focused on showing teachers and coaches life from a student's perspective. They were able to do this on Jesuit's second Ignatian Identity Day as there were no classes.
All the faculty members shared breakfast with senior service site leaders that morning to talk about the work the seniors are doing before heading to the sites for the day.
Senior counselor Matt Shoemaker went to Maple Lawn Elementary with Social Studies teacher Mr. Segal. He immediately noticed how the four seniors that were assigned to Maple Lawn were on a tight, organized schedule and knew exactly what they were doing.
"They each had different tasks, and they seemed like they were really ingrained into the community of the school, which was awesome to see," Shoemaker said. "[They] knew all the kids' names—everything."
Because DISD requires background checks and certain training before one can work with the students, Mr. Shoemaker and Mr. Segal couldn't work hands-on with the elementary school students there, but they did talk with the faculty.
"The librarian was super complimentary of the guys," Shoemaker said. Daniel Redell '18 was helping out in the library, and Mr. Shoemaker laughed, noting that he wasn't sure if too many teenagers knew about the Dewey Decimal System.
Erik Eppig '13, a member of the Alumni Service Corps this year, was able to work hands-on next to Jesuit seniors at the Aberg Center for Literacy, helping take care of and play with kids whose parents were working on their GED's or taking ESL classes there.
"It was definitely a meaningful thing to work with kids and play around with kids and not really do anything serious," he commented. "It was nice to have those interactions with them."
On the student side, senior Michael Miramontes said how he plays music with Texas Winds at nursing homes on Wednesdays. He liked the idea of faculty visiting his site and other senior service sites.
"To some, I'm sure it inspired them and made them want to do more, and others I feel probably gained a greater respect for their students and Jesuit." He concluded, "Either way, it seemed like a great way to put teachers in the shoes of some students."
Nico Elizondo '18, who serves at Spring Valley Elementary School, agreed: "The kids really enjoyed them there. For example, one of the periods was P.E., and they got in and played P.E. and played basketball… It was really fun."
This is a new program to Jesuit, having teachers go out to the service sites. "[Faculty] have done service site visits before, but never with all the faculty going to as many sites as we did," explained Mr. Shoemaker. "It was really just looking to see what you guys are doing and watching how you guys are engaged in the community at large."
Michael Riemer, who coordinates community service for Jesuit, said that the idea for the program came from the Ignatian Identity committee.
"We've got a group of folks that meet with some degree of regularity to talk about Ignatian values, how the school is living it, so this was an idea that grew out of that," he said.
The Community Service department took that idea and ran with it. "The time that the students spent with faculty in the morning having breakfast and sharing about their site, that was something that Mr. Perry and I bounced around," Riemer continued.
He's heard positive feedback so far from teachers around the school about seeing the seniors in action. "They were not only impressed with the work that our seniors are doing but many of them had an opportunity to jump in and do some service work as well. For a lot of our faculty it was the first time that they were on any of our service sites, so for them to be there and to serve along with the seniors was really fun for them. I hope we get to do it again sometime."
Mr. Riemer also said that senior service has been going well in general this year, with very few hiccups.
It is very likely that faculty will shadow seniors at their service sites again in the future, given the positive reviews from students and teachers alike. Who knows? Maybe this will become a mainstay program for years to come.