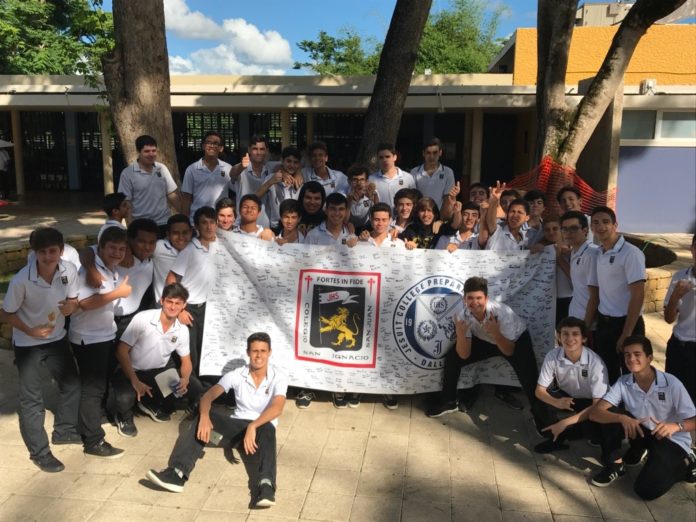 Hurricane Maria hit Puerto Rico in mid-September, killing 55 and dealing massive damage to the country's infrastructure. Among the damaged buildings was Colegio San Ignacio de Loyola, a fellow Jesuit high school in San Juan, Puerto Rico. Besides damaging the campus, the storm took the homes and livelihoods of students and their families.
Colegio San Ignacio de Loyola is a part of our Jesuit family not only by name but also by province, residing with us in the Central Southern family of schools. In light of this, Campus Ministry arranged a "statement of solidarity" to give to the students in Puerto Rico. Led by Mr. Richard Perry and Mrs. Stephanie Boyle, Jesuit Dallas sent a banner to Colegio San Ignacio de Loyola with the signatures of Dallas Jesuit students scattered across it.
"A solidarity statement is best done with something physical," said Mr. Perry about the banner, "A physical way to show the physical connection between both institutions and that we are prayerfully thinking about our brothers in Puerto Rico and their families."
Many students took initiative and signed the banner, including Nick Motter '18 and Zachary Alcantar '20.
Zach commented, "I just think that a sign or some kind of gift is important because they are struggling and a gift could bring some happiness into their day."
Similarly, Nick responded, "I can understand that if I had lost everything, I would want someone to back me in my corner, so I thought if I could make someone's day it could make it a little better so that's what I'm trying to do.
Although the hurricane is long gone, the damage it left in its path will remain in Puerto Rico for years; however, the bond between Jesuit brother schools cannot be severed by a storm. In the meantime, we continue to send aid and prayers and stand in solidarity with our Puerto Rican brothers and sisters.