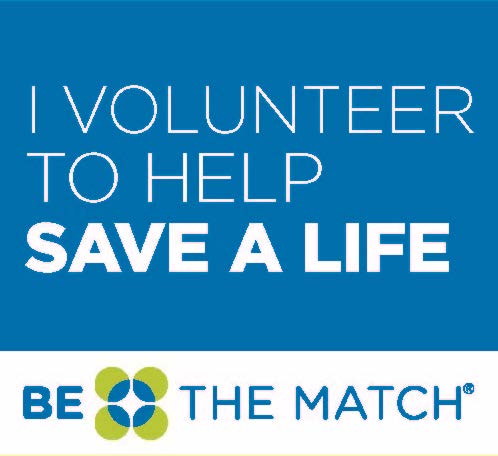 Every 3 minutes, someone in the United States is diagnosed with some form of blood cancer, such as leukemia. For many patients, a bone marrow or cord blood transplant may be their only hope for a cure. However, over 70% of the patients needing a transplant do not have a fully matched donor in their immediate family. These patients depend on organizations like Be the Match and on donors who selflessly donate their own bone marrow to save their life.
During the first week of May, Jesuit hosted the Be the Match event, in which data from about 135 seniors was initially collected to see if they could be a match for someone who has a blood cancer.
This event, coordinated by the Community Service office in conjunction with the Jesuit Women's Auxiliary, has taken place at Jesuit for many years, and it keeps coming back because of the great success.
The Organization
For 30 years, Be the Match has helped over 86,000 patients get the help they need by providing bone marrow and cord blood transplants. Operated by the National Marrow Donor Program® (NMDP), Be the Match seeks to find a bone marrow or cord blood match for each patient that needs a transplant.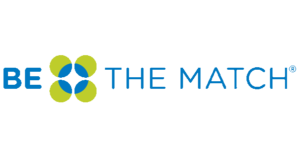 Thanks to Be the Match, a patient's likelihood of finding a match ranges from 23% to 77%, depending on ethnic background.  Be the Match plays a vital role in finding compatible bone marrow transplants for patients who otherwise would be out of options.
Because patients are most likely to have a match with someone of the same ethnicity, Be the Match is always looking for donations from a wide variety of backgrounds and ethnicities.
Furthermore, Be the Match provides a lot of research and new technologies that help save the lives of thousands.
The Event
Mr. Perry played a vital role in organizing this event, and he found it essential that Jesuit participate in events like these.
"We need to think of ourselves as one human family, and as being men for others, and men of compassion, this has been an opportunity to register."
Students who participated filled out paperwork, had their mouth swabbed with a Q-tip, and had a DNA analysis to see if currently, or potentially in the future, they are a match for someone who might need them to donate their bone marrow.
There are a couple of different ways in which a donor can donate to a patient in need. One way is through what looks more like a blood donation, and another way is through anesthesia, where they take a small amount of your bone marrow.
Mr. Perry finds this event very important, because of the impact a donor can have on a patient. "It is a chance to save a life, a chance to make a difference."
Many students participated in this event because of how great the cause is. For Connor Thomas '18, previous experiences motivated him to donate.
"I chose to participate first and foremost because it's a great cause. There was also a family at my parish and at Jesuit where, through a bone marrow donation, one brother was able to save the other who had been diagnosed with leukemia. That sort of thing is really inspiring and definitely was on my mind when the speaker came to talk to us. He was also very genuine and really emphasized that bone marrow donations save lives."
For John Bowen '18, signing up for the event was an easy decision.
"I wanted to participate in Be the Match because I recognize that I have been blessed with good health and I think that I should do anything I can to help others, so signing up for this was easy."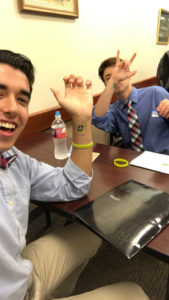 Nico Elizondo '18 knew a survivor of leukemia, so participating was also an easy decision.
"I chose to participate because I personally know a very close friend of mine who actually had leukemia. I don't know their full story, but I know that they are still with us because of the new advancements in medicine. Knowing that I have the ability to use my healthy body to save someone's life for me is such an impactful thing. My friend is someone so joyous and full of life, and if anyone in the world has cancer and I can be the match, I want to be able to give them another chance at life because they will impact many people just like my friend has impacted mine."
Mr. Garrison was also very involved in this event:
"The organization – to me – is a means to an end – it's a way for us to physically connect to something that is very abstract – the idea of giving without counting the cost….. it is abstract, that is,  until a match is made.  It feels very much like the prayer for generosity to me – when we enter the registry we do not know if we will ever match, and if we do we do not know how it will turn out for the recipient – but we participate anyway because it is a way for us to help someone in need without the anticipation of receiving anything in return."
Last Thoughts
After participating in the event, many of the students were glad that they signed up, because they knew that they had a chance to save a life. This was the case for Connor Thomas '18.
"I feel good. I don't regret signing up. All it took was signing some paperwork, swabbing my cheek, and I was done. It might be awhile before I get called to donate bone marrow, or it might be never. But the fact that I could be called upon to save someone's life is gratifying and sort of scary at the same time. It's a big responsibility."
John Bowen '18 additionally felt great after participating.
"I was glad that I had signed up and although I haven't done any actual work for the program, I think it was good to take that first step towards helping others."
Nico Elizondo '18 was very proud of the senior class after the event.
"I really liked how many people of the senior class came together with this and also signed up. I feel like the more people that sign up, the more opportunities we could have in impacting someone's life, and this, I believe, is what we are taught to do at Jesuit. We are taught to be Men and Women for/with others, and this is an awesome way to do that."
A few years ago, Mr. Garrison found out that he was actually a match for someone in need, which was a surreal feeling for him.
"When I found out that I was a match it did not sink in a first.  It was more academic than emotional for me until I got closer to my actual donation date.  As I went through the process and neared the donation the concept of someone, somewhere who was suffering and who might find an end to his suffering through me became much more real and much more personal.  I cannot describe the connection that I felt to this complete stranger, other than to say that I couldn't help but imagine him embodied in my loved ones – in members of my family – in my parents – my wife – my son – my friends… any of them could become ill at any time and it became my prayer that, should that happen, they too might have an opportunity to find help through something like the Be the Match registry…..somehow thinking of my loved ones made the abstract concept of my recipient into someone who became very real for me."
In the end, the Be the Match event was a huge success.
"We've had 14 of our students match, so it is very inspiring and it really is the quintessential example of how to be a man for others," commented Mr. Perry.
"I'm very proud of our students for carefully considering joining because it is a commitment. And I'm very proud of them for being men for others, I think it was a huge success."
The final collection for the students who were potentially a match was on Wednesday, May 9.
The Be the Match organization is always looking for the help of others, so if you are interested in helping volunteer, click here to see what volunteering opportunities they have.
For more news about service at Jesuit, stay tuned to The Roundup!