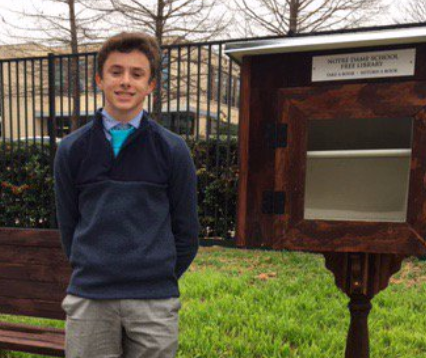 "To give and not to count the cost" comes straight from St. Ignatius of Loyola's Prayer for Generosity. Jesuit strives to cultivate this desire of service without reward within each of its students. One student who has answered this call to service is Sam Henrion '21, the Jesuit sophomore who built a "Little Library" for The Notre Dame School this past week for his Eagle Scout Project.
Henrion has been a Boy Scout for six years and recently decided to initiate his own service project: a miniature library for the Notre Dame Students. Henrion expressed the motivation for his project:
"When brainstorming ideas for my Eagle Scout project, I knew I wanted to help The Notre Dame School. I thought it'd be an interesting way to encourage reading in an interesting way, and when I proposed the Library to the school, they said it would be perfect. I thought it was cool when I delivered my books to the school; I noticed a couple of books had already been put in the Library.
Building the bench was a beast in itself, as Henrion explained:
"The experience of building it was more difficult than I expected, but I did work with friends to get the job done and have fun, too. We had changed the plans of the little library to make it more weatherproof and have a stronger structure. It made it more difficult to build as it had more layers and took more precision to build, but I am happy about the way it turned out for Notre Dame."
Stay tuned to The Roundup for more Jesuit student profiles and community service updates.