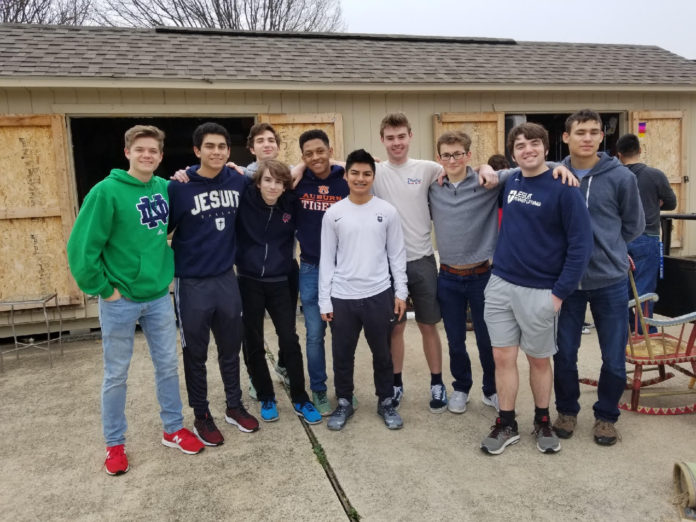 Do you waste your Saturday mornings sleeping in until 12 pm? Are you tired of logging into your x2vol account and seeing all the service hours you are missing? Do you need help finding new service activities? Do you enjoy donating and delivering furniture to people in need? Do you have some friends in desperate need of service hours? Do they also enjoy helping out their community? If you answered yes to all or most of these questions, then you should consider gathering your group of friends to help out Saturdays from 7 am to 12 pm serving the Bed Start organization.
Most people take having a bed to sleep on every day, having a table for family meals, or even sitting on the living room couch to watch TV for granted. However, not everyone in our community has these luxuries, and sadly, some people have to sleep on the floor because they are unable to afford beds. Most of them have very unfortunate backgrounds, and need as much help as they can get to improve their living conditions. Bed Start is an organization created to help these families in need have these essentials in their homes such as beds, tables, couches, etc.
Last week during the Junior Service Day, a group of eager and benevolent juniors woke up early in the morning and went to help out the Bed Start group at 7:30 am to pick up and deliver furniture from one house to another. The group learned about the origins of the organization and shortly after received a list of places where they would go pick up and deliver all the furniture.
Will Nickols '20, the junior service leader, helps out the organization almost every Saturday, and he was very appreciative of all the juniors who came out to help for the first time. After seeing all the juniors serve, Nickols said, "It was great to see a bunch of Jesuit friends helping refugees, veterans, and people moving out of homelessness. Whether it was the first time the guys had seen someone sleeping on the ground or the thousandth, I hope they remember how much poverty there is in our own community, and I hope they continue to help."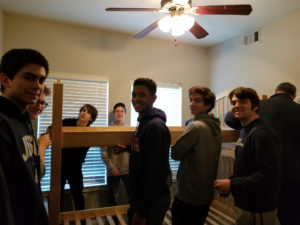 After picking up the pieces of furniture, the group arrived at a small house where they helped place the furniture where it belonged. The group first set up a small dining table and chairs for the family in the living room, giving the family a place to gather together and enjoy some family time. After that, the group helped set up a bunk bed in the kids' room, which surprisingly did not take very long, as multiple people helped to set it up.
After picking up and delivering multiple pieces of furniture, Geoffrey Miller '20 said that "knowing that people don't have beds to sleep on really encourages me to do this service more often."
Michael Scheibe '20 also said that "[serving others] was great. I loved helping out," showing both of their passion and willingness to serve their community. After helping set up all the furniture, the group left to pick up and deliver furniture to other people around the city.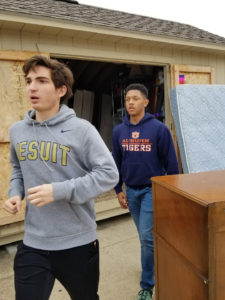 There were multiple groups that split up to go help out in different places, so they could help as many people as possible in the short amount of time they had. The groups continued driving around picking up the donated furniture, and driving back helping set it up in a family's  home.
As Blake Mahowald '20 ardently stated, "the long rides were worth it because we got to deliver furniture to people who needed it," which shows how the juniors' efforts hugely impacted other's lives. At the end of the day, everyone met at the parking lot where they started and helped gather the extra furniture into a storage room which they would use the week after to donate to other people.
Everyone enjoyed setting up the furniture at people's houses, being rewarded with the families' smiles of appreciation.
Jamison Briscoe '20 stated, "I enjoyed seeing the happy faces of the children and the parents when we built all the beds for them," and Dagmawe Daniel '20 similarly said that "the families were happy and appreciative of what we did and I was very happy about it," which proves how both of these juniors, and the rest, truly enjoyed and cherished their time spent serving others.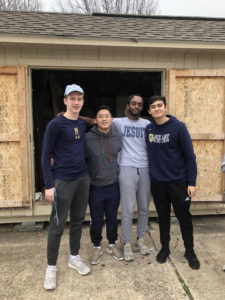 If you and your friends want to know more details about the Bed Start organization, you can click here to view their web page or you can ask Will Nickols '20 for more specifics on the organization. Here is a volunteer documentary from their page if you want to know more insights on this organization: