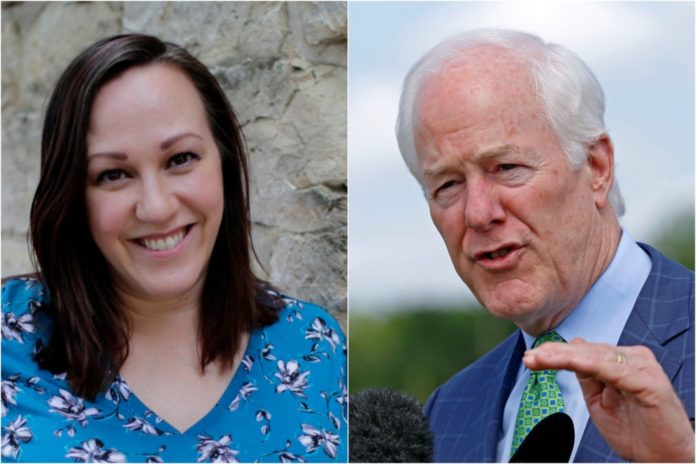 The last day to register to vote in Texas is Oct. 5. The last day to request a ballot to vote by mail is Oct. 23. Early voting starts on Oct. 13 and ends Oct. 30.
John Cornyn and MJ Hegar's race is competitive in Texas, yet they maintain a low profile compared to 2018's Senate contest. Incumbent John Cornyn is pitching himself as a "steady hand on the wheel," while Democratic challenger MJ Hegar says that hand is driving Texas toward a cliff. With that being said let's start with the individual backgrounds of each of the US senate runners. 
Background – 
Cornyn – First elected in 2002, is seeking a fourth term to the US Senate. He's served in leadership positions as the Senate minority whip from 2013-2015 and then as the majority whip from 2015-2019. Cornyn serves on the powerful Senate Select Committee on Intelligence, the Senate Finance Committee, and the Senate Judiciary Committee. His seniority in the Senate and long tenure representing the state means he currently holds a massive cash advantage in a large state that takes a with multiple expensive media markets that requires a lot of money to compete statewide.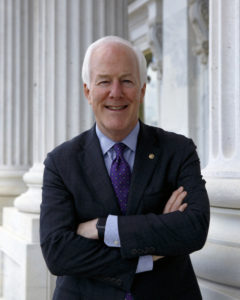 Hegar – Ran for the House of Representatives in Texas' 31st district in 2018, gained national attention for a powerful TV ad she aired highlighting her military service and her work breaking down barriers for women in the military. In 2017, she published the memoir Shoot Like a Girl, which describes her service in Afghanistan. She also sued the U.S. Air Force to remove the Combat Exclusion Policy.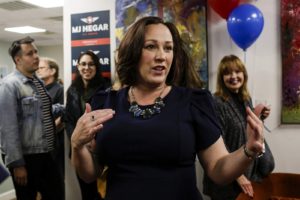 Importance – 
In addition to winning back the White House, regaining control of the US Senate for the first time since 2015 is a top priority for Democrats and would be a major accomplishment towards either delivering on a future president Joe Biden's policy goals or thwarting President Donald Trump's second-term agenda.
Currently, the US Senate is made up of 53 Republicans, 45 Democrats, and two independents that caucus with Democrats, winning that Democrats need to win back a net total of four seats in order to have a 51-seat majority.
Also, within hours of Ruth Bager Ginsburg's death, Senate Majority Leader Mitch McConnell of Kentucky pledged that Trump's nominee for the high court would receive a vote on the floor of the Senate, and Trump said the day after that he would name a replacement "without delay." Fast forward, her replacement is now Judge Amy Barrett.
Trump and McConnell's posturing on the issue has excited conservatives enthusiastic about the possibility of Trump getting to appoint a third justice in his first term, but infuriated liberals who accused McConnell of blatant hypocrisy after he refused to hold confirmation proceedings for Obama's Supreme Court nominee Merrick Garland in 2016, citing the upcoming presidential election.
The issue is already shaping Texas' Senate race due to Cornyn's role on the Judiciary Committee. Already, Hegar is hitting Cornyn over his remarks in 2016 arguing against holding confirmation hearings for Garland.
Credit: Grace Panetta (Business Insider)
Impact – 
Texas is changing, and November will be the state's most consequential election in decades.
Furthermore, Hegar had to weather a crowded March primary and then a postponed July runoff, each stage requiring seven-figure interventions by her national Democratic allies to ensure her success. And while her campaign has touted fundraising momentum since locking down the nomination, she is all but guaranteed to remain at a massive cash disadvantage with Cornyn through Election Day. He had more than $14 million in the bank at the end of June, while she had less than $1 million.
On the contrary, Hegar believes she can overcome those disadvantages, at least in part, because she is up against an incumbent who continues to register as relatively unknown, especially given his long career in public life.
In a Dallas Morning News/University of Texas at Tyler poll conducted in late August, 27% of respondents said they either did not know enough about Cornyn to have an opinion or had no opinion. That same figure was 49% for Hegar.
Credit: Patrick Svitek (The Texas Tribune)
Fundraising –
Democrat MJ Hegar raised over $13.5 million in three months for her Senate campaign against Republican incumbent John Cornyn.
According to campaign finance totals shared with The Dallas Morning News, Hegar has over $8 million in cash for the stretch run. Her fundraising total, which continues to grow, has now exceeded $20 million for her campaign. She raised $13.5 million from July 1 to Sept. 30.
Hegar's latest fundraising totals, more than eight times the $1.7 million she brought in during the second quarter of 2020, signal that she'll have the money she needs to compete with Cornyn.
Credit: Gromer Jeffers Jr. (The Dallas Morning News)
Polls –
Cornyn has led Hegar in all of the non-partisan polls conducted of the race this year, according to FiveThirtyEight's tracker of US Senate polls.
The most recent CBS News/YouGov Battleground Tracker poll of Texas found Cornyn leading Hegar by five points, 46% to 41%, among likely voters.
Another survey conducted by Public Policy Polling for the Giffords Foundation found Cornyn leading Hegar by four points, 44% to 40%.
Predictions – 
According to FiveThirtyEight's US Senate forecasting model, Cornyn has an 89% chance of defeating Hegar in the November election and is expected to receive just over 10% more of the popular vote than Hegar.
Credit: Grace Panetta (Business Insider)
For more coverage on politics stay tuned to The RoundUp for more!