Regardless of what we think about how the end result for the run turned out, there is no denying that the Dallas Stars' 2020 playoff run was one for the ages. Not since 1999 had the Stars had this level of success in the postseason, and we all know how that one ended: in the most satisfying of ways. Anyway, I'm here today to recap just what exactly went down in the dramatic run in the NHL Bubble, analyze the Stanley Cup Finals series against the Tampa Bay Lightning, and discuss what I believe the team should do as next year creeps closer and closer, plus my general thoughts for the future for Dallas. Anyway, let's get right into it!
Rounds 1 & 2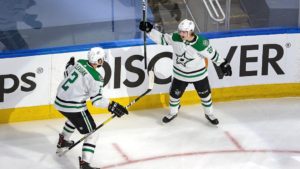 The first two rounds, yeah, I'm planning to cover fairly quickly, but that doesn't mean they aren't important, because they are. In fact, I myself had a feeling that I wouldn't be surprised if this team was upset in the first round or went out in the second round.  But, thankfully, that was not the case. Anyway, Round 1 was against the Calgary Flames, and yeah, there were a couple of scares in that one, such as when the Flames shut out the Stars in Game 3 and took a 2-1 series lead heading into Game 4, but we were able to close the gap in that one and with some strong play down the stretch, especially in Games 5 and 6, we took that first-round series four games to two. Next up was the 2-seeded Colorado Avalanche, the second-best team in the Western Conference that year (behind only the Vegas Golden Knights, but I'll get to them in a minute), and in that one, that was the series that had me most on the edge of my seat, especially when the 'Lanche (bet you've never heard that one before, right?) came roaring back and tied the series at 3 after the Stars had gone up as much as three games to one, and I'll be honest, at the time, I did not think the Stars were going to be able to pull it out. The momentum was on Colorado's side, and I thought they might just run away with Game 7. But, Dallas prevailed in an epic overtime showdown, with none other than little-known rookie Joel Kiviranta netting the game-winning, series-winning goal to lift Dallas to the Western Conference Finals.
Wait, what?
Yeah, I know, that seems a little hard to believe. But it happened, and this win was made even more amazing because after the game, I stumbled across and decided to watch a video of the Stars absolutely drenching Kiviranta in water and Gatorade after his game-winner, and that made the series victory feel that much sweeter.
Western Conference Finals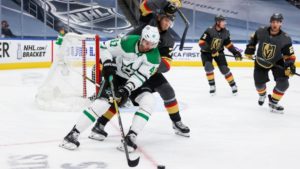 With that absolutely insane win in the second round, the Stars advanced to the Western Conference Finals, where they faced the top-seeded Vegas Golden Knights. Now, going into this series, I firmly believed that Vegas was better than Dallas, and I believed that the Knights were going to dispatch of the Stars in four or five games.
But this was a surprise.
I would argue that Dallas, more or less, dominated this series, as when the series was tied 1-1, Dallas came out and secured a Game 3 victory, and from there, they never looked back. Sure, it took an extra period for the Stars to pull out a series-clinching Game 5 in a 3-2 win, but I think that Vegas was largely unprepared for the Stars' combination of veteran determination to win and young star potential, as well as the entire team's mental toughness. I do think that during that series, the Stars were on a higher mental level than the Golden Knights. That, along with the fact that Dallas simply outplayed Vegas for the majority of that series, led them to the series win in my opinion. And with that, the Dallas Stars had advanced to their first Stanley Cup Finals since 1999.
2020 Stanley Cup Finals: Dallas Stars vs Tampa Bay Lightning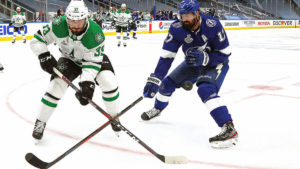 Let me just say something here: going into this series, I thought that while the Stars' playoff run was one for the ages and I loved being alive to witness it, I did not think that Dallas could pull off that huge of an upset and win the Finals series. And, what do you know? I was right, as were, I believe, a lot of other people.
I'll admit, I thought that the Stars might've had something up their sleeve after a 4-1 Game 1 win to take an early series lead. They looked like they had just played better than Tampa, and I thought that their elite combo of, what I mentioned before, veteran toughness and youth star potential would maybe even propel them to victory. Well, the Lightning heard all the fans and critics overreacting a bit to their Game 1 slip-up, and they came out and more or less dominated the series from that point forth. They took home the series in six games, and despite a valiant effort from Dallas, became the 2020 Stanley Cup Champions for only the second time in franchise history. Now, going forward for the Stars, what do I expect from them and what do I think they should do going into next season? Well…
Plans for the Future/Final Thoughts
Okay, I'm just gonna come right out and say it: I think that the Stars should run it back for next season. And frankly, I don't see why they wouldn't! I mean, they have several trusty veterans that bring an edge to the rink every night and a mental toughness and sharpness that can't be easily matched, typically led by the two front-runners Jamie Benn and Tyler Seguin. On the other hand, they have a number of promising youngsters who looked the part this postseason, like playoff hero Joel Kirivanta and several others that could take the lead for Dallas when Benn and Seguin decide to move on, whatever that might look like. Anyway, my firm belief here is that the Stars should run it back and try to compete for the Cup once again, and while the Western Conference in the NHL is still going to be tough, the Stars got out of it once as champions. Who says they can't do it again?
That's all I've got for this article, but stay tuned to The Roundup for more NHL and sports news!