While I'm absolutely sure that everyone who has basketball (more specifically, NBA basketball) on their list of most passionate things to scream at their TVs about has been watching the 2020 season unfold in the magic of the Orlando Bubble, there have been plenty of big moments on the campus, and I'm here today to count them down(in my opinion, of course!) Anyway, here we go!
5. Nuggets-Jazz 2OT Thriller on August 8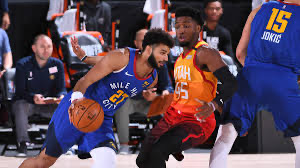 Yeah, OK. I guess the argument could be made that I started with a somewhat weak entry. But I had the chance to sit down and actually watch the end of this game, and holy cow, was it a show-stopper.
Donovan Mitchell led the Jazz with a ridiculous 35 points and made several incredible threes down the stretch of the final seconds of regulation to send the game into overtime. On the other side, superstar center Nikola Jokic led the Nuggets with 30 and I'd say had his fair share of dominance against a guy who's always in the Defensive Player of the Year discussion, Rudy Gobert. Jokic displayed his superior footwork in the paint more than a few times against Gobert, and the lengthy but somewhat slow big man struggled to keep up. And emerging star point guard (point guard? shooting guard? we'll just leave it at combo guard for now) Jamal Murray didn't do so bad either in his first game in the bubble (he was recovering from a nagging injury), notching an astounding 12 rebounds on the night and dishing out 8 assists. What's more, though, Murray stepped up as a closer for Denver, something they've desperately needed, and he was able to create his own shot, as he hit several tough fadeaways with a hand in his face each time, as he and Jokic helped the Nugs put Utah away in double overtime.
4. Blazers' Game 1 Win vs LeBron and the Lakers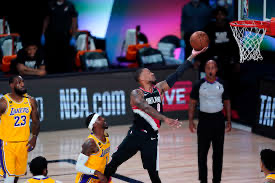 Yes, I know the series after this game wasn't exactly the most exciting thing in the world, but the way Bubble MVP Damian Lillard performed in the closing minutes of the fourth quarter was something to behold. He put Portland on his back to carry them to a 100-93 win over LeBron James and the favored Lakers, and he hit several clutch baskets to round out an impressive 34-point game. This got me excited as a fan, because I thought there was a chance, just a chance, that the Blazers might be able to upset the top-seeded Lakers in the first round. And even though that prediction's looking very wrong at this point in time, this game yet again pointed out the underrated dominance of Damian Lillard in Portland.
3. Devin Booker's Game-Winner Over PG to Sink Clippers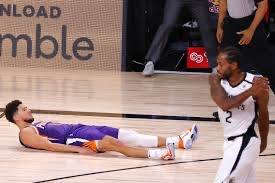 The Suns successfully completed a dominant, yet so unexpected, 8-0 run in the bubble, and even though they wound up missing the postseason, this buzzer beater by Devin Booker was, at the time, seen as probably the best moment in the bubble. Book hit an absolutely ridiculous turnaround fadeaway jumper over the outstretched arms of Paul George, and it (understandably) sent the Suns bench into a frenzy, as they mobbed Booker, whose face seconds after he hit the shot was made into a meme everywhere (and the Suns Twitter page had a field day with the look as well). This, I believe, cemented Booker's status as a true star and not just a stat-sheet-stuffer and the Suns as a scary up-and-coming team. Look out for them next year, folks. It's gonna be a real fun season in the Valley in 2021.
2. Damian Lillard's Unparalleled Dominance to Carry the Blazers to the Playoffs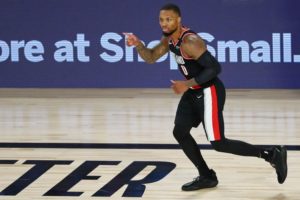 Yeah, I know that was a long title. This entry, unlike the previous three, focuses less on one game and instead more an entire stretch of games. Getting Jusuf Nurkic and Zach Collins (for a little while) helped Portland tremendously, but what stood out for me is the way Dame played for the Blazers. Going into the bubble, I stood by my opinion that I did not think the Blazers were capable of making the playoffs. I just thought that the Grizzlies had proved that they were better.
But Dame must've heard me, and a lot of other people who said the same thing, because he simply went off.
He averaged an otherworldly 37.3 points, 4.3 rebounds, and an impressive 9.6 assists, which more than persuaded the NBA to award him with the Bubble MVP. And even though the Blazers' playoff run looks like it isn't going to last much longer, Lillard's dominance in the bubble is something that we can all look back on and appreciate.
1. Luka Doncic's Game-Winning Buzzer Beater in Game 4 to Stun Clippers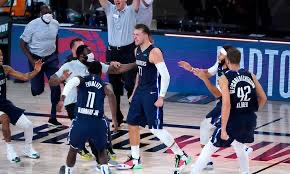 Luka Doncic's legendary status as the Mavericks' bright young star was already starting to cement itself after multiple unbelievable playoff performances, but this game, not just the shot itself but the statline that came with it, further confirmed that Luka was a future MVP winner and maybe even potential champion in this league. A 43-point, 17-rebound, and 13-assist game is a fantastic, fantastic game for even the best of players, and I'm not saying that he didn't have a fantastic game, but for him it feels different because he's done this thing so many times before. And when we delve into the shot itself, the stepback three he's done dozens upon dozens of times, over a helpless Reggie Jackson who very nearly became the bad end of a nasty ankle-breaker, it alone cements his status as the best young star in this league.
That's all I have for this one, but stay tuned to The Roundup for more NBA Bubble and sports news!