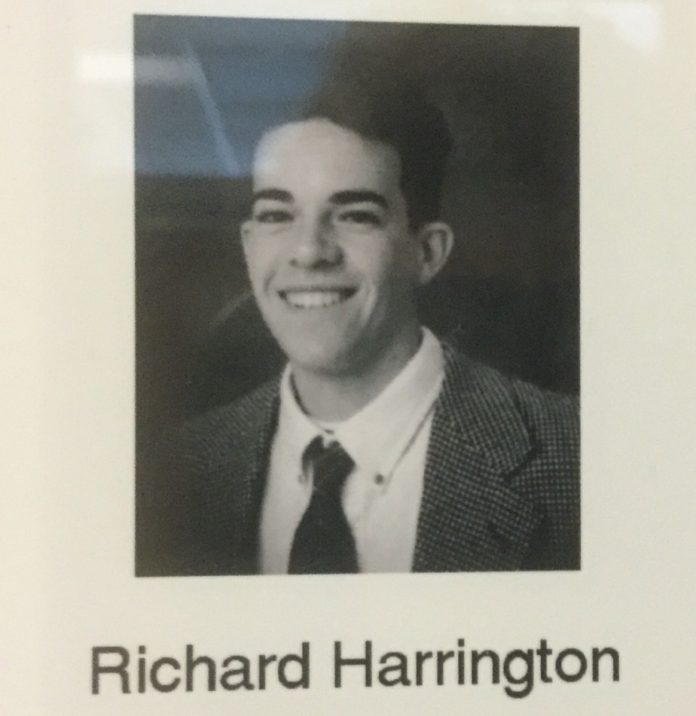 Have you ever wondered where the name for the Rich Harrington Way street sign on the north side of the school came from?
Rich Harrington '95 was a selfless, dedicated, and caring Jesuit student and athlete who fit all of the aspects of the Profile of the Graduate. He loved the atmosphere of brotherhood at Jesuit and enjoyed serving others in community service. Unfortunately, he died on Easter Sunday, April 23, 2000 in an accident in the Colorado River.
When he first arrived at Jesuit as a freshman in 1991, Rich found that he had a passion for Cross Country and Track and continued to follow that passion for all four years of his time at Jesuit. His mother, Karen Harrington, explained how he "worked really hard at staying on the varsity team [for cross country]. He would run all the time and smile…they did not have a structured summer program as what they do [now]. He would always go out and run no matter how hot it was."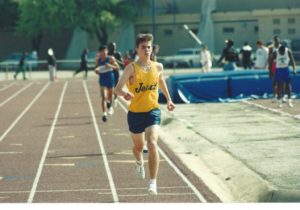 One reason Mrs. Harrington likes Jesuit is the "good brotherhood. After [Rich] would run Varsity he would go and cheer on JV. You would think he was a coach. He just had the heart for it…The cross country family was so amazing. I think they helped us when we lost Rich."
Rich was devoted to encouraging his teammates and wanted success for the entire cross country team. His varsity team won the first State Championship for Jesuit in the fall of 1993 and the second State Championship in the fall of 1994.
Rich was determined for his team to win a State Championship for the Jesuit cross country team.
Mrs. Harrington commented, "I remember sitting at the football games, Rich was a sophomore. They had booklets at the time which showed all of the teams that had State Championships. Rich said there is nothing in here for cross country. I said 'You know you guys are pretty good, if you guys work at this.' [The team] was so proud, [his] junior and senior year was the first time Jesuit [cross country] ever won a State Championship."
Rich got a running scholarship to Creighton and Xavier. He wanted to attend a Jesuit College. His father, Jim Harrington said, "We looked at Xavier, but he chose Creighton. He got an educational scholarship too…He was going to major in physical therapy. [During the] summers we encouraged him to work. He worked for a company called Breaking Ground. [It was] a huge lawn service. They did $100,000 jobs [and] they would create landscapes in people's backyards."
"He decided then that that's what he wanted to do. He wanted to become a landscape architect designer and he was going have to go to the University of Omaha to finish school," said Mr. Harrington about Rich's intention for college and a future job.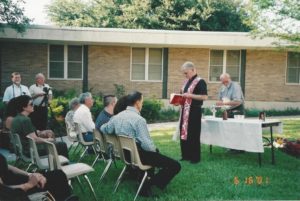 After Rich passed away in 2000, there was a Memorial Mass for Rich at the St. Mark Catholic Church in Plano celebrated by Fr. Phil Postell, SJ, Fr. Patrick Koch,SJ, and pastor Fr. Duffy Gardner '62. Many Jesuit classmates, teammates, faculty, and parents attended.
Mr. Harrington discussed how the idea for a tree was introduced and how "Father Postell suggested a tree and plaque [at Jesuit] because there are some plaques around Jesuit…He said 'What about a tree? That would be really nice.'
The following year Jesuit dedicated a tree and plaque with a mass near the tree in the courtyard. Where the tree is now is actually where [the school's] construction stuff was all piled up [when they were building the Terry Center]. I said I don't know what we would do back there… And Father said 'Well trust me… that's the best place. That way the tree is always there, you can get to it anytime you want to.'"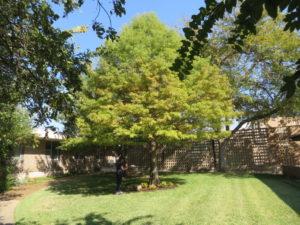 Mr. and Mrs. Harrington created the Richard J. Harrington '95 Scholarship Fund to assist students attending Jesuit. The same year Rich died, Athletic Director Steve Koch and Fr. Postell created the Rich Harrington Cross Country Award to be presented during the Cross Country Banquet each year. This award is presented to a senior who best exemplifies the qualities of Rich, which are leadership by example with team unity first and foremost, doing whatever it takes to make the varsity team excel each day at practice, and love and enjoy the sport. The award is presented by 1995 Teammates of Rich who attend the banquet with the Harrington's.
Mr. and Mrs. Harrington have supported Jesuit ever since Rich and their other son, John, attended the high school. They attend cross country meets and support and assist with tents that they donate in memory of Rich and his teammates.
They also invite Rich's classmates and previous Rich Harrington Award recipients as guests to the Cross Country Banquets each year. They were members of the Parent Athletic Board and were team parents for cross country while Rich and John were at Jesuit. Mr. and Mrs. Harrington have supported the Jesuit Celebration Auction for over 25 years, with sponsoring a table each year and inviting Rich's classmates and previous Rich Harrington Award recipients to the Auction.
Mrs. Harrington has been a valued member of the Jesuit Women's Auxiliary (JWA) for over 20 years, the JWA Board for 18 years, the Jesuit Prayer Network for 18 years, and was awarded JWA Woman of the Year in 2006 while also awarded the Patrick H. Koch, S.J. Award in 2017.
Even though Rich passed away, his spirit lives on in his friends, teammates, and any and all students of Jesuit. He cared for others through community service and treated everyone he met with kindness and compassion. Karen noticed that one thing that "he really liked about Jesuit [was] his faith…he liked…the atmosphere at Jesuit. It was just a real brotherhood. He loved the community service. He really loved that."