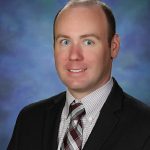 This Summer, nine members of our faculty and staff are walking a route in Spain with sites related to the life of St. Ignatius. The following post by Mr. Matt Duross '05 is the seventh in a series of their reflections.
Saint Ignatius suffered a traumatic leg injury in Pamplona when a cannonball struck his leg during a battle. I can't imagine the intense pain, or how frustrated he must have been during his recuperation. Yesterday I found myself in Pamplona at the train station on our way to Lleida. We arrived just a few minutes after that morning's running of the bulls had concluded. As result the station was filled with people wearing the traditional white and red, and many people looked like they had just barely escaped with their bodies intact. In fact, parts of the station were reminiscent of a civil war field hospital, with people clutching various parts of their bodies, groaning about their aches and pains. More than a few white shirts seemed blood stained, or perhaps just stained from too much wine. I can't help but think that Saint Ignatius would have found humor in the situation, and may have laughed at the new "battle" taking place in Pamplona.
The running of the bulls has always been something that fascinated me. I think a part of me wants to actually run in Pamplona to cross it off my bucket list. The reality is that right now I can barely walk, much less run. Three days ago I felt my right knee pop during one of our long hikes. The pain when bending my knee is intense, and as hard as it is for me to admit it, my Camino is over. My walk has become a series of short train rides from town to town. I must say I was, and still am, frustrated at my inability to complete the pilgrimage on foot. All my training back home seemed to be for nothing, and I can admit that I was a little mad at God.
I am generally uncomfortable not knowing what is coming next, and I am reluctant to give up control of situations I find myself in. This helps to explain my frustration and anger. But as I sat on the train from Pamplona I turned on my phone to listen to some music and to briefly escape from my frustration. I hit the play button on accident, and the song "Wanting Memories" by a group named Cantus came on. The first line is "I am sitting here wanting to see the beauty of the world with my own eyes." The song goes on to say that sometimes it's hard to hear God's voice "through the storms of life." Wow! What a perfect message to hear when I was too focused on my own situation. Certainly we had experienced our share of actual storms in the Basque Country, but for me my "storm" was a debilitating knee injury. I certainly was having a hard time hearing God's voice at that point.
Then, I think I dramatically changed my outlook. The train was zooming by some of the most spectacular scenery, and I began to cheer up and reflect. I think God was asking me to live in the moment, and to be more trusting. My injury necessitated that I give up control and rely on others, and so far this trip has been very smooth. I have experienced the love and concern of others, from my fellow pilgrims and townspeople to our wonderful tour guide Emmanuel who has gone out of his way to help me. I have seen some spectacular things, shared meals with people who have challenged me to be better, and I have learned to accept that some things are out of my control. I heard that each pilgrimage is unique, and that God connects to each pilgrim in a specific way. I should mention that the last line in the song I heard on the train is "I know that I have been blessed again and again." For me, this reminder has been made manifest a thousand times over on this trip. I think God needed me to hear that.