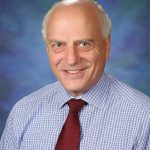 This Summer, nine members of our faculty and staff are walking a route in Spain with sites related to the life of St. Ignatius. The following post by Mr. David Berend is the tenth in a series of their reflections.
Greetings from the Finance office rep in Spain! Our hostel last night in Cervera was operated by nuns. Part of their mission is a daycare for 60 plus children of the underserved in the area. It was wonderful to see the love shown by the nuns to the children and to us during our stay. It reminded me of the Jesuit Dallas recent study of day care for its faculty/staff and the need to help working parents. As with all the Spanish people the nuns showed a great deal of hospitality. After early morning breakfast and Mass, we set out for our next stop Jorba.
For me the time to reflect has been interesting. With my business slant at Jesuit Dallas I think about the time St Ignatius had to think, as he walked thru the countryside. Just as we take time today for Jesuit strategic planning, St Ignatius, had time to think about his strategic plan, which turned into the spiritual exercises. For me the slow pace of walking let's us see the world with a different lens. Far away from the main thoroughfares you see another side of the city and the countryside. In the cities you see the run down areas of town with the underserved. St Ignatius might have walked thru these areas of need that influenced his concern for those in need, and at a pace to give him ideas of how to solve. The countryside with the fertile land, growing corn, wheat, alfalfa, grapes, dates, apples, pears, and peaches, along with sheep, goats, cows, and pigs, shows the ability of this country to provide food for many. And the slow process of walking allows you to build relationships with people, to understand their needs and wants better and therefore build a better organization….as St. Ignatius did with his followers, and as our trip with fellow faculty/staff will serve to enhance our mission at Jesuit Dallas.
Today our trip started with three approaches. One group left at 6am to complete the full 18 miles, one group left at 9am to walk half and bus half, and the remainder took the bus for the entire trip. Yes, the wear and tear of over a 100 miles of walking is tough on the body. Our constant Spanish guide caught up with the half walk group and drove them to our hostel instead of us riding the bus. He took us to a self serve cafeteria with coin operated turnstile entry for $5 for all you can eat and areas to grill your food. Very interesting concept with minimal employees. We are staying at a tiny hostel/restaurant run by a priest tonight. Off on a train for an initial start tomorrow and then a 10 mile walk to Montserrat, only two days of walking left.