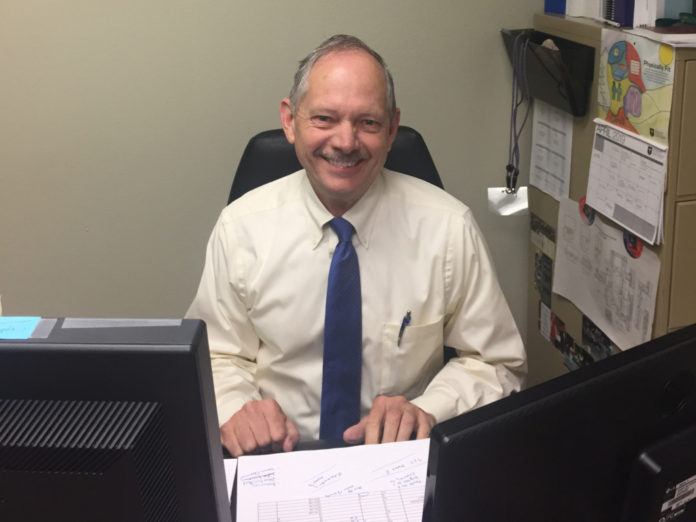 Every year during the early part of the second semester, underclassmen select their schedules for the next year on RangerNet, as they use a drop-down arrow to pick the subject they wish to study. After this, most students don't think about their classes until the schedules are released in July, and they get ready for their next year. However, despite how easy it is for students to select their classes, it's not quite as easy for the faculty and administration to design the curriculum for said classes and make sure everything is up to Jesuit's high standards. This whole process is all led by Mr. Patrick Naughton, Jesuit's Director of Curriculum, who after 35 years as an educator and administrator is calling it a career.
Background
Mr. Naughton was born in Indianapolis, Indiana where he went to high school. He then went to a Franciscan seminary in Detroit, where he studied for about 7 years with the Franciscans. Naughton completed graduate school at a theology school the Franciscans had in Dayton, Ohio, and then left the Franciscans to move to Cincinnati, Ohio. He then became a teacher in Cincinnati.
Did you have any intention to become a Franciscan?
I did, I studied and stayed with them for a couple of years, and during this time I discerned that the religious life wasn't for me. I then went into teaching at a Catholic boys high school, about half the size of Jesuit, and I taught theology as well as being a counselor there for six years.
Was it after those first years that you decided to come to Jesuit?
Yes, around the age of 30 I was wondering where I wanted to land for the rest of my life, and I was looking in the Southern US. I sent a resume here to Jesuit, as they've always had a reputation for education, and I actually got my graduate degree at Xavier, so I was familiar and well-educated with Ignatian tradition. I interviewed here with the soon to be principal, Father Geoffrey Dillon, who hired me, and I started in 1985.
What did you start out teaching at Jesuit?
I actually started out as the Junior counselor for six years while also teaching two sections of theology.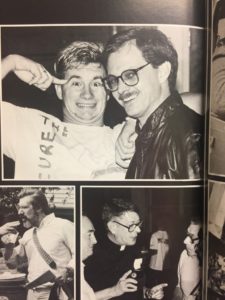 Was theology the only subject that really interested you in terms of wanting to teach it?
I enjoyed it, and had the background for it, and I had taught the scripture and morality class, and I enjoyed teaching the junior age group due to the change that occurred in them from the beginning of the year and the end of the year, as they were able to think on more abstract ideas towards the end of the year.
So after being a junior counselor, what did you do after that?
I actually left Jesuit for two years and was an elementary school principal in Fort Worth in an inner city school. It was a very different experience which I'd never had before, but being in the city there were a lot of financial struggles and I found that I spent the majority of my time worrying about the finances and the operation of the school rather than the education. So I left that school after two years, and then returned to Jesuit to teach theology full time.
So after teaching theology, how did you end up in administration?
It was kind of a gradual move, which I began by working with the former assistant principal on the master schedule, and eventually, over time the admin team began to come about. It initially only had three people, but when Mr. Earsing was the principal he expanded upon it and included a director of curriculum and faculty development, and I became the curriculum director. Over the years I've still taught theology, and even psychology in the social studies department, as the need has arisen.
In your job right now, what are your primary responsibilities?
So over the years, my job has involved planning in-services with the departments as well as working with the departments in order to make sure that one's experience with one teacher isn't completely different from another teacher if they're both teaching the same subject.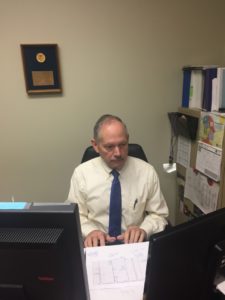 Why did you choose to retire?
Why retire?
I think there are multiple answers to that question, but I'll give you two quick answers.  A) I've been in the education area for over 40 years. B) I can!
Now that you're retiring, what do you plan to do to fill your time?
Everyone keeps asking me where I'm going to travel, and I definitely am looking forward to doing that, but the real opportunity is being able to travel in October or the middle of February where I'll be able to escape to somewhere with better weather. For now though, I'll have to sit for a month or so and kind of figure out if I have to do anything.
As you're leaving Jesuit, are there still people you're going to keep in touch with?
Oh yeah, I hope to, if the need were to arise, to sub, and after looking back over the 35 years I've been here and the relationships I've had, I definitely look forward to keeping up those relationships. It's going to be difficult to leave after spending such a large portion of my life here, but we'll see what happens.
Of all the things you've done at Jesuit, what would you say has been your favorite part?
Oh definitely the classroom, as over the years I've noticed that the students always seem to have a passion for learning, and while the student body doesn't really change as it's always 14-18 year olds, I've always found enjoyment in teaching them.
What do you consider your greatest achievement at Jesuit?
If I am pressed for my "greatest" achievement,  I hope that it would be that I was able to further the mission of the school. I have an unwavering belief in the value of a Catholic Jesuit education. I feel privileged to have been a part of the formation of the young men whom I have encountered over the years. I hope that I have had some type of positive impact on them. I know that these past years would not have been successful if it weren't for the tremendous collaboration I've experienced with the men and women I worked with.  They have been a real blessing to me!
Faculty Relationships
Over his years of working at Jesuit, Mr. Naughton mentioned some of the relationships he has had with fellow employees, and many of them had a thoughtful statement to say about Mr. Naughton.
Mrs. Stewart and Mr. Fitzsimmons
Mrs. Stewart, a longtime colleague of Mr. Naughton in administration, said "As we have worked so closely on the Administrative Team for close to 20 years, the word that comes up for me time and time again to describe Mr. Naughton is 'brilliant.'  He always laughs when I declare his brilliance. What I mean is that he has a unique perspective and when he sheds light on a challenge, even if he does not resolve the issue all on his own, his ideas always lead to clarity and directness to move forward. I also appreciate that he never lets us forget that what makes us who we are as a school is that there is a cross on the lawn and Jesus in our time; he always reminds us of what we are aiming at."
Mr. Fitzsimmons said "If I think of one word to describe Pat Naughton it would be dependable. He is very steady and calm during all situations. If anyone needs something done without complaint, they learned to go to Mr. Naughton. Through all of his jobs – in the counseling department, teaching theology, or as Director of curriculum, Pat has always been there for the Jesuit community. He has been a great colleague and friend."
Mr. Reese
A close friend of Mr. Naughton who has worked with him for many years, Mr. Reese, said "This image, which can be found in front of St. Ann Church, Coppell, says volumes about Patrick Naughton. We have been friends, traveling companions, and employees of Jesuit for almost 34 years. He has always been one who puts others first, who demonstrates the compassion of St. Francis of Assisi and the leadership of St. Ignatius."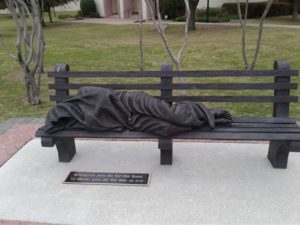 Continuing, Mr. Reese mentioned how "Several years ago, Patrick and I walked a portion of the Camino de Santiago in Spain. He always sought to ensure my safety and comfort before his own. He expressed a genuine sensitivity toward the multitude of strangers we encountered on our journey. During the hike, he served as a confidant to my reflections and never seemed to tire of listening."
Summing up his thoughts, Mr. Reese said "While he is often quiet and unassuming, his spirituality directs his life choices. His involvement in education goes beyond Jesuit. He has taught in the adult religious education program (RCIA) in his parish. He models Ignatian servant leadership in all his roles at Jesuit and has been involved in national leadership programs in Ignatian education. Patrick's steady and focused vision of a hopeful future has been an inspiration for me and has given me courage in life's most challenging obstacles. Patrick lives the words found at the base of this sculpture at St. Ann Church."
While we're all certainly sad to see Mr. Naughton leave, we congratulate him on his retirement and wish him the best of luck in any of his future endeavors!