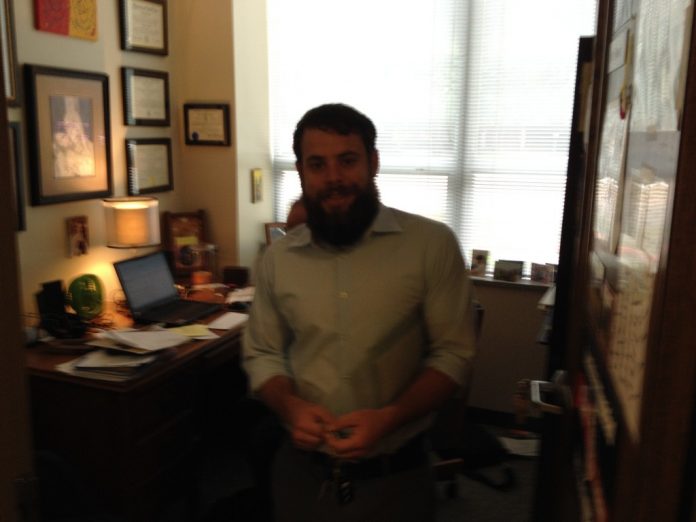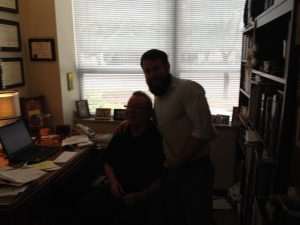 This year, we welcomed many new faculty members into the Jesuit community, and throughout the year, we have learned more and more about these new faces. We have either had them as our teachers or heard about them from other classmates. One of these new faces in our community has made a big splash in his first year as a coach on the wrestling team as well as the teacher of several theology courses. This brilliant teacher-coach is Mr. Austin Emerson.
Mr. Emerson was born in South Florida and graduated from Spring Hill College in Mobile, Alabama majoring in Theology. He then left Alabama for California to study at the Jesuit School of Theology at Santa Clara. Before his employment at Jesuit, Mr. Emerson lived and worked in Oakland, California, always keeping his ties with the Jesuits and the Jesuit way of life.
After a few years in Oakland, Mr. Emerson set out to find employment as an educator at one particular Jesuit school that he had his eyes on, Jesuit Dallas. He knew about Jesuit Dallas because he went to school with several Jesuit Dallas graduates and was well acquainted with several members of the Jesuit community. "The idea that service is at the very forefront of everything" intrigued Mr. Emerson into joining our Jesuit community. He wanted to find a place where he could teach in an environment where "Men for Others" was the guiding philosophy.  Jesuit Dallas seemed like the perfect fit for him, and it has been so far.
Mr. Parker, a Co-Chair of the Theology Department, often checked into Mr. Emerson's classes to see his progress. Mr. Parker believes that Mr. Emerson's charisma and his passion add to his teaching ability because if a teacher is passionate about the subject he is teaching it is a much better experience. "He is energetic, knowledgeable, and I think he is relatable. His students come and visit him, and he is really engaging." Mr. Parker believes that he has brought so much to the Theology Department, and the entire community through his contributions to many clubs.
Ms. Stewart, the Director of Faculty Development and AP French teacher, works with the newest members of the faculty in becoming "the best Ignatian teachers that [they] can be." Mr. Emerson's development was all but usual according to Ms. Stewart, as he had the opportunity to teach a Jesuit class before the school year even began. Shadowing Mr. Parker, Mr. Emerson began to learn about teaching a class at Jesuit by watching Mr. Parker teach a class in the morning, and then teaching that same topic in the afternoon to his own class.  According to Ms. Stewart, "He completely and appropriately controlled his enthusiasm; he's not somebody you can put a damper on. He's enthusiastic, energetic, and personable."
Mrs. Stewart added that he is on the path to becoming a great teacher because of the way he understands the Jesuit philosophy. For Mr. Emerson, being a theology teacher is more than just a job because "everything is very spiritual." All of those who are around him know his passion and enthusiasm for theology and this translates to his teaching. Mr. Parker said that "he looks like he's been here for two to three years already." Additionally, Mr. Emerson mentioned that he believes that he has fit in very well not only in the theology department, but also in the Jesuit Community.
He describes himself as a man with many hobbies, as he quickly moves from one to the other. For instance, he is currently interested in industrial art and general adventuring. Llike many others at Jesuit, Mr. Emerson has fallen victim to the enticing distractions that Netflix has to offer as he is currently watching Breaking Bad and House of Cards. He is a fan of football, especially college football, and he is happy that his Florida St. Seminoles won the BCS Championship this year.
Mr. Emerson recently announced that he will not be returning next year; in fact, he has decided to join the Jesuit order, entering the Novitiate this fall.