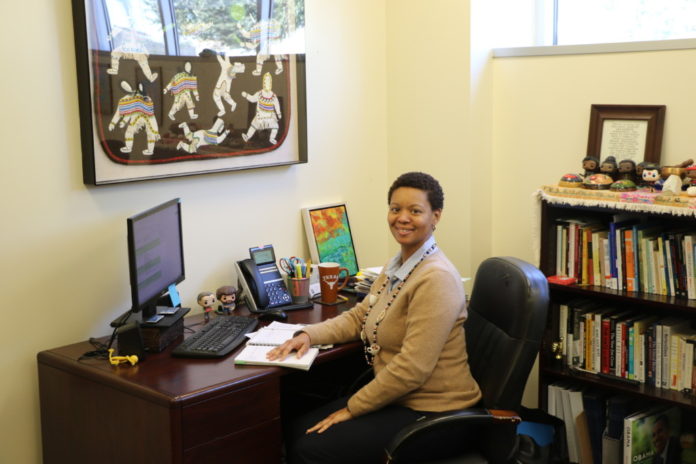 "Can I have some taffy? Oh, BET! Colors!"
Two juniors stroll into Ms. Carter's 2nd story office, excited to find a basket of taffy open for the taking. As the interview continues, more and more students file into the room, each saying hey, pulling in a chair, and beginning to chat. By the end of the interview, the room is completely packed with students all here to hang out with Ms. Carter.
So who is Ms. Carter? Lucky for you, she kindly sat down with The Roundup to tell us about herself and her job.
How Would You Describe What You Do at Jesuit?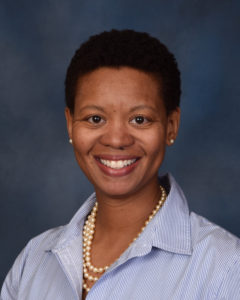 I colloquially call myself an aunt of 1,140 young men. I do a lot of interacting with kids and counseling. I also do outreach because there are some pockets of Dallas that don't even consider Jesuit for whatever reason: misconception, preconceived notion, lack of information.
So part of my job is to educate people that we might be an option for them. I also do parent and faculty engagement, but my favorite part is interacting with students. I have such great conversations with students; I'm fascinated by you guys.
Where's Home for You?
I call LA home, but I've lived in seven states. I was born in Japan, my dad was in the military so I've lived lots of places. After Hurricane Katrina, I moved to New Orleans to open up charter schools which were an amazing adventure. Those original 5th graders graduated from college last year.
It was a unique time and place to help rebuild the city, do innovative things in education, and be responsive to the individual kids in front of us. I've been in Dallas for the last two years. I am a sort of adventurist, so when a work opportunity comes up out of state and feels like the right thing to do, I go for it.
What did you envision yourself being when you were a kid?
I wanted to be a doctor… or Whitney Houston. Those were definitely the two options.  That's what's so interesting about life, people have such clear ideas at 16 or 17 of what they want to do. I'd say that the majority of positions I've had in my lifetime, I didn't know existed when I was 16 or 17.
So I always encourage young people to be open to what may come in between your plan.  My life hasn't been point A to point B, but I've enjoyed the journey and learned a ton along the way about myself, other people, and job skills.
What are your thoughts on how the Jesuit community can be loving to everyone and combat common Jesuit stereotypes?
Sometimes I hear students make assumptions about other people and I remind them that sometimes I'm out in the community combatting preconceived notions about you–Jesuit students.
What I want people to know is that "diversity and inclusion" doesn't just mean I'm here for brown kids. Diversity means variety–all of us. I like that I have a rotating cast of people in my office that are black, Latino, Asian, white, from this party of the world and that part.
What Was It Like Coming to Jesuit?
It was interesting coming into an all-male, teen environment. I was somewhat anxious about many things, like how will they receive me? How will I connect to guys? How will I indicate that I'm approachable and all of you should come to talk to me?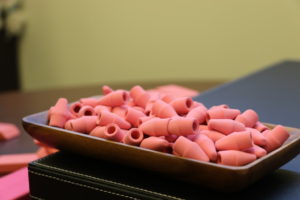 So I decided on a bowl of candy and my eraser collection. I also try to keep a variety of snacks and games in my office.
Originally, there is a show on Netflix, Last Chance U. Their counselor woman always had pencils, so they called her the "pencil lady." So, I thought I would take the concept and become the "eraser lady."
Then it got deeper because as I counsel students and try to help you guys problem solve I thought, "look at a pencil. There is all this lead and a little eraser. What message does that send about it being okay to make mistakes and learn?"
So my message to you all is, "have as many erasers as you need–keep trying–keep moving forward."  Deep huh?
What Are Your Goals at Jesuit for the Next Few Years?
I want to make sure that families throughout the metroplex are aware of Jesuit, see us as a viable option for their sons, see what this place is like, and don't believe the hype. I want communities to come to understand what type of school this really is.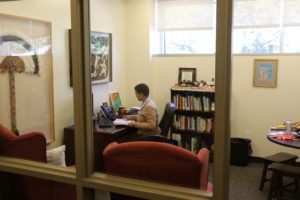 I also want to support students in whatever way that means. If I need to teach a class or counseling all day, then so be it. I want our faculty to be educated on issues of diversity and inclusion, to feel comfortable having conversations with students, and to trust me as a resource if there is a sticky conversation coming up.
My overarching goal is that every young man in this building feels supported and has a positive Jesuit experience.
What Would You Tell Students Who Have Not Met You Yet?
Dude! I would say you're missing out. I want them to come to meet me and I want to meet them. We get so hung up on the external–I'm black and you're white–but there are a million things besides being black and a woman that I have going on; I'm pretty fabulous.
Sometimes I think that people believe they can only talk to me about race things or woman things, but I'm also an Air Force veteran, a music enthusiast, someone who loves to watch documentaries, and a foodie.
Swing by the Diversity Commons upstairs to say hello to Ms. Carter. Stay tuned to The Roundup for the latest community profiles!