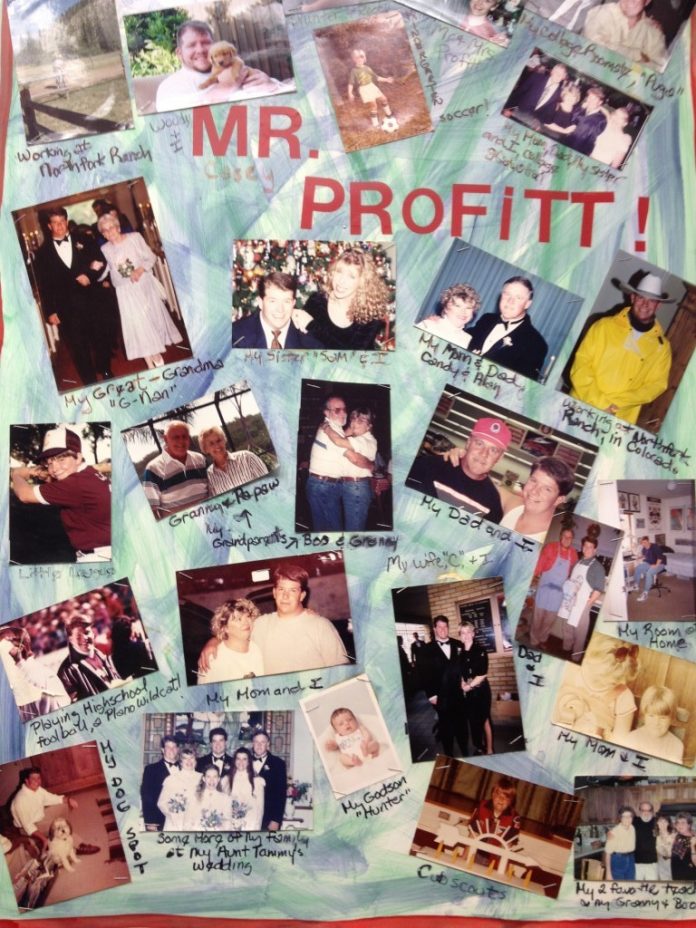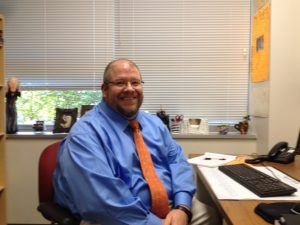 He stands at the front of the class, switching back and forth between slides filled with pictures, graphs, and text from places and events around the world.  "This is mind-blowing!" he says, pointing to a chart of demographic growth across history and seamlessly tying it back to the period of history his class is studying before the afternoon bell rings. Who is this man at the front of the room? It's none other than world history teacher and co-chair of the social studies department, Mr. Casey Profitt.
Mr. Profitt first attended the University of Texas at Austin thinking he would go into law, but after realizing that wasn't the path for him, he chose to go forward as pre-med. After his second year of college, he transferred to Austin College for personal reasons as well as their pre-med program, but after feeling like that wasn't the right path either, he felt God pointed him in the direction of education. "Throughout my college career," he said, "I volunteered to tutor kids and to go to elementary schools. In the back of my mind, I always knew I liked talking about history and English. I decided what I'd rather do is teach."
He approached the teaching department at Austin College in his senior year to pursue education prerequisites and a one-year master's degree program after his final undergraduate year. While at Austin College, he met many of the people who would play a major role in his life, including current principal Mr. Tom Garrison '92 and his future wife Citabra. He and Citabra have been married since 2001, and they have had two sons: Caleb, 2, and Caeden, 6.
After getting his master's degree through Austin College's teaching program, he began teaching middle school. His teaching journey led to him to many different schools, from the ACT Academy, where he taught as a high school English and social studies teacher, to Pegasus High School in Dallas for five years where he served as the assistant principal and a high school English teacher.
Following his time at Pegasus, he found an opening as a senior English teacher at Plano Senior High, his former high school. "I went from having a two-hour class of integrated English and social studies courses and being able to be pretty creative and innovative with my students to the Plano system, where each week they'd hand me a lesson plan and it was basically a script," he said.
That spring, Mr. Garrison  informed him of an opening within the English department at Jesuit, leading Mr. Profitt to apply for a teaching position at Jesuit, but he had also applied to teach at Highland Park and Allen High School. "Whichever one of the three places that called first, that's where I would go. Jesuit called first." Jesuit found someone else to fill the English position but ended up hiring him as a social studies teacher because of his dual-certification in both subjects to begin the AP World History program, a class he continues to teach. "That was in the '05-'06 school year. I've been here ever since, and the only person who's [taught AP World History] here ever since. No one else wants to do it!" he said, laughing. "And that's how I came to Jesuit."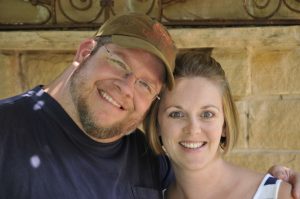 Two years ago, Mr. Profitt was asked to be a co-chair of the social studies department, and like his status as the sole AP World History teacher at Jesuit, he retains that position to this day.
Mr. Profitt has served as a source of support for many. "Because I was in his department, he went out of his way to talk to me, ask me questions," Mr. Patrick Triplett '99, a fellow world and U.S. history teacher, told me about his relationship with Mr. Profitt. "He's always taken time to stop in and check in on me and see how I'm doing, and to ask if I need help."
Mr. Raul Ornelas '01, a sophomore counselor recounted his major contributions to not only the history department, but to Jesuit ideals at large. "Him [sic] being a [department co-chair] has helped him grow, the faculty grow, and that of course leads to our students' [growth]."
"He's very selfless. He's always looking to help other people," Mr. Triplett continued. "When he's here, he's all in, not counting the cost." Braeden Freitas '16, a student of Mr. Profitt said, "He always does the best he can to help us succeed and his passion for the subject always comes across in class."
When asked what interests him about what he teaches, Mr. Profitt described his personal fascination with history. "I enjoy talking about the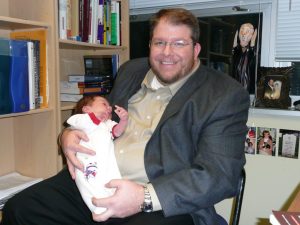 connections between the past and today. When you talk about social studies, anything relates. Literature relates, art relates, music relates, current events relate." As he continued to share more about the connections between the Taiping Rebellion and Gandhi in the past few centuries, the ancient debates in China over the merits of legalism against Confucianism, and the problems Rome experienced by losing their middle class with the present-day United States, the bell caught him. "I love the big history," he said as he picked up his things to prepare for his next world history class. "It's not a timeline, it's a web of interactions."
Across the board, everyone can agree about his incredible passion for the subject he teaches. "One thing I really admire about him is his level and passion for history," Mr. Ornelas said. "One of the things I know that distinguishes Mr. Profitt is just his attitude in the classroom, his professionalism." Current AP World History student, William Chu '16, agrees. "Throughout the year, Mr. Profitt has always kept his class interesting through his passion for history and how he makes certain that every student develops a better understanding of each time period."
When asked to describe his teaching style, Mr. Profitt used one word: eclectic. "I try to focus on what seems to work. I think education and good teaching is something you design," he said. "The teacher's job is to be more of a consultant, someone to compile resources and hold students accountable."
For Mr. Profitt, teaching provides him enrichment, and the most rewarding part for him is "watching students get it," he said. "The thrill of an 'aha!' moment where something clicks and they have a newfound inspiration or insight." To him, there's nothing in the world like helping someone figure something out and creating the conditions where students can talk and think, including listening to students in seminars and being able to appreciate his students' ideas. "It gives you hope for the future," he said. "It's a very hopeful profession."