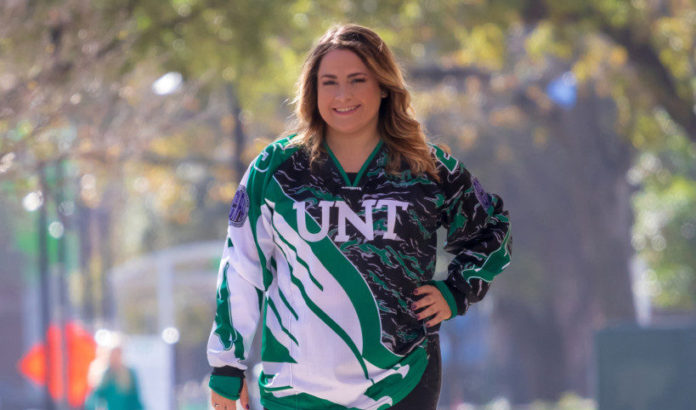 Have you ever wondered who produces all of the media for all of Jesuit's events? In the past, this job has been taken on by some people part-time, but no one has ever been solely in charge of producing content for Jesuit. Well, not until now.
This summer, Ms. Selina Estrada joined the Jesuit staff as the first ever Video Production Specialist. Below is a conversation I had with her about her career, her goals, her hobbies, and everything in between.
---
How would you describe what you will be doing at Jesuit?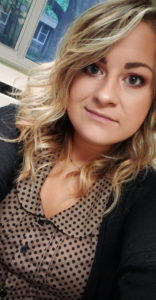 "I'm doing everything and anything video. Being in the Communications Department, I am in charge of a lot of different video aspects within the school when it comes to making promotional videos and highlight videos and thank you videos from our celebration auction, to our fundraisers, our challenge drives, anything you can think of that the advancement department is involved with. 
But I'm also doing more engaging things for students, like the first day of school video. I'm going to be working a lot with creating promotional highlights of different activities and sports. One thing I'm really focused on this year is creating videos for open house to show potential parents what we're about here at Jesuit.
For instance, a Fine Arts video showing all the art classes we are involved with. A STEM video that shows all the science, technology, engineering, and mathematics that we do and then the last one being athletic videos, highlighting all of our sports and extracurriculars. Not just the big ones like football. I'm really focused on just highlighting everybody that's here.
I really want to highlight just about everything that I can. Mr. Redding, who was in this position before me, was a teacher part-time and did this part-time, so I'm actually the first full-time video production specialist that Jesuit has on campus now, so I'm going to have a lot more time to really give myself to Jesuit and help out with Campus Ministry and academics and sports and just about everything. So I'm really looking forward to building and molding this position.
What's your background? Where are you from? Where did you grow up?
I'm from the DFW area, I went to Wylie High School and grew up in the Garland and Wylie area my whole life. From Wylie High School, I went to the University of North Texas, and now I'm here. I haven't gone far and I didn't want to leave Texas, so I've been in the Metroplex my whole life. 
What did you do before Jesuit?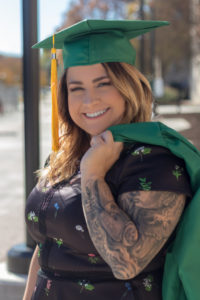 So during college, I was a part-time bartender and bar manager at Mellow Mushroom in Denton, and then part-time I was a gymnastics coach at Kurt Thomas Gymnastics in Frisco. I did that to help support myself through college to pay for college.
From there I started working with Spinning Leaf Films, so then from 2016 to 2018 for two full years, I dedicated myself to working full-time with Spinning Leaf Films. They are a wedding company in the Dallas Metroplex, so I was strictly editing, doing something that I love. 
That's probably my most passionate thing about film in general is editing. I love all the other components, but that was what I was hired to do and that's what I love to do. So for me, this job is a huge transition in my career because not only am I editing, but I'm doing everything. I'm filming, producing, directing, writing, so it's a challenge but it is an awesome challenge that I'm excited to take on because I haven't had that opportunity before. 
But I filmed a few weddings over the two years and I forgot how much I loved it, and I was like maybe I should start looking into filming again and I started looking for positions elsewhere. I came across Jesuit and I thought that would be a great opportunity to grow and be here, do something to better myself and any future things that I can encounter.
How did you find Jesuit?
When I was looking for new positions on LinkedIn and Indeed and stuff I saw this ad pop up for this job position and it was something that I had every aspect of the job role and I was like, this is something I could really take on and apply myself and really challenge myself to help myself grow in the film business.
Going to Wylie High School, we played Jesuit in high school, so I knew of Jesuit and I was like, hey, this would be a cool opportunity and I applied and I got a call and it went uphill from there and it still is.
What are your goals at Jesuit?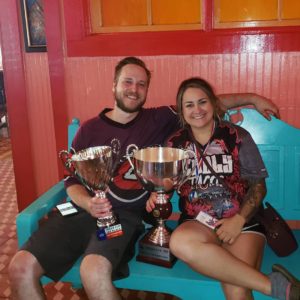 So I already have a whole calendar of certain video products that are expected of me and required within this position, but I also have other new availability to where I'm trying to branch myself out and create other videos that Jesuit has not done before. So one thing I want to start doing more is student profiles. I want to make highlight videos of all these activities that we have on campus that don't get a lot of recognition because they should. For instance, I know we have a Fencing Club and a crew team, and I've heard amazing things about them, but it doesn't seem like they get a lot of focus because nobody has had the time.
I just want to show every aspect of what Jesuit has to offer and so that being a short-term and long-term goal is I just want to build a giant portfolio of everything that's involved here on campus, not just focus on the main things.
What's your favorite thing about Jesuit so far?
So far, the community has been my favorite part. When you start a new job, in your first two weeks you're kind of timid. You're not really sure how to fit yourself in with all your other co-workers, but I didn't feel that way at all here. I felt like I'd already been here a year because that's how welcoming everyone has been and that's how close our community is within all the departments and I couldn't have asked for a better community to have joined.
What would you tell someone that hasn't met you yet?
I guess I would just tell them I'm the new videographer on campus. I'm filming and editing and creating stories to be told. Storytelling is a huge passion of mine, and I think that's one reason why I love editing so much is because I can create and mold these videos into these beautiful stories that can be told.
I do everything and anything video, and I've also been really big on reaching out to teachers and faculty and staff about if anything is happening on campus that's interesting to your students or is really fun and engaging, let me know because I want to film it. Just because I don't have an actual product that I'm going to be using that for, I'd rather get more footage than less because more is always better in my field.
I'm looking for what do we not have? What do we not have covered? I went through all our old b-roll and watched all these old videos and it makes me see where we are comfortable. So for me, I want to go outside of that. I want to do other things that can really just show the school off, because it's such a wonderful school.
I want potential parents to send their boys here. I want to show them what all we have to offer. So I want to show them crew, lacrosse, golf, tennis. There are so many sports that are here that don't have any videos and that's just because we haven't had the time.
What is something interesting about you?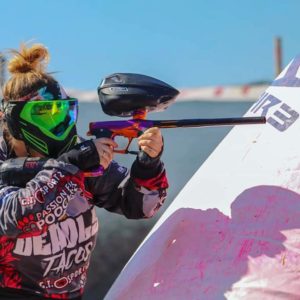 [Something interesting about me is that] I've been playing paintball for two years, and everybody on my team has been playing for at least 10 years.
My boyfriend played for about six years, and then he went off to college and that's when we met. Two years ago, he wanted to get back into paintball, so he got back into it for a couple months and he wanted me to come out and play it.
So I just went out with him one day and we played regular paintball, and I had a blast doing it and he wanted me to join his team. I've been on the team ever since my first tournament two years ago, and we won first place in a three-man tournament, so I got a lot of gameplay and I thought that was really awesome.
---
Ms. Estrada is really excited to work at Jesuit and produce great videos. If you want to talk to her, her office is in the Advancement Department where Mr. Redding's office used to be.
For more profiles on new faculty and staff, stay tuned to The Roundup!