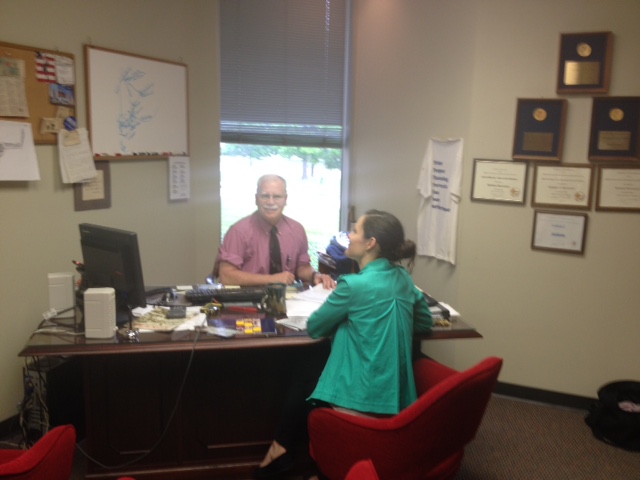 At the conclusion of the 2014-2015 academic school year, Jesuit will bid farewell to one of its most familiar faces, Mr. Fred Donahue. Donahue will retire once the year has ended, but the mark he has left on the school and the effects the school has left on him will never cease to remain prevalent.
Donahue has worked at Jesuit for 29 years and has been employed in his current job of Assistant Principal for 19 years. When asked to describe how working at Jesuit has impacted his life, Donahue stated, "Most of my life in Dallas has revolved around Jesuit… my wife worked here for a while as well and I met most of the people I hang out with in Dallas here." Ever since moving to Dallas from Oklahoma, where he taught in the public high school system, Donahue has enjoyed being a part of the Jesuit community and relished the relationships and experiences he has accrued.
Over the years, Donahue has witnessed Jesuit's evolution and many changes as it has adapted to the needs of students in the ever-changing world. For example, Donahue explained that Jesuit has become much more student-centered, citing how when he "started here at freshman orientation [the teachers] would tell the students 'look to your left, look to your right. One of the three of you will not be here at graduation.' When you got admitted you either made it academically or you didn't. There wasn't much help from the institution." Classes at Jesuit today typically only lose five to ten percent of the population before graduation, a stark contrast from the days when twenty to thirty percent attrition rates weren't uncommon. Donahue states he has seen Jesuit become "much more caring as well as much more concerned and helpful for student achievement."
Similarly, Donahue foresees Jesuit's continued changes in the future, as Jesuit has already logistically evolved several times: moving campuses, expanding the size of classes, and employing iPads, for example. He stated that the changes made at Jesuit have been "good changes. Change always happens. These have been changes that you see and that we wanted to affect."
Finally, when asked what legacy he expects to leave at Jesuit, Donahue remained extremely humble, saying, "I don't know if I'm leaving any legacy at all. There's a lot of teachers here who I taught or were at least students here while I was in administration… I hope that at least part of the reason they wanted to be here is because they liked the way the school operated… If I have any legacy I hope it is through them and that it will carry on." He continued, explaining how important the values he and Jesuit preach are to him, explaining "brotherhood, commitment, and integrity: I say it to you guys as freshmen, and that's what I expect to guide my life with for whatever time I have left." He continued, stating how money, success, or anything material mean nothing in the end to him as long as people remember him for his central values: brotherhood, commitment, and integrity.
Even though Donahue leaves Jesuit at the end of the year, his time here will never be forgotten. His booming voice will echo throughout the halls for years to come.