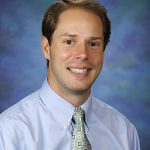 This Summer, nine members of our faculty and staff are walking a route in Spain with sites related to the life of St. Ignatius. The following post by Mr. Austin Nevitt is the ninth in a series of their reflections.
Over the past two days we have walked through two very different landscapes. On Sunday we walked 24 km from Palau d'Anglesola to Verdú, and today we walked 16 km from Verdú to Cervera. Both cities are distinctly different, and our experiences in both have been unique. Verdú is a small, intimate town, as well as the birthplace of St. Peter Claver. Cervera, though is a hill topped, fortified city with a rich history.
In the last two days what I have come to understand as I pray and reflect is that God is listening to me. In my normal busy lifestyle I find myself often not willing to listen to Him, and as I reflected today I realized that I could not remember the last time that I felt like God was listening to me. Today I felt like He was not only listening, but listening intently.
My prayer as I walk for the next three days is for His voice to be heard by me, as mine has been heard by Him. I have had many conversations with my fellow pilgrims over the last few days that have given me many opportunities to learn and grow. I pray in my final 3 days of my camino that I able to have these types of conversations with God, and be nurtured by His presence.
Tomorrow we begin our 4th straight day of walking as we migrate toward the city of Jorba. As always I will pray for safety and health as we move closer to the end of our camino.