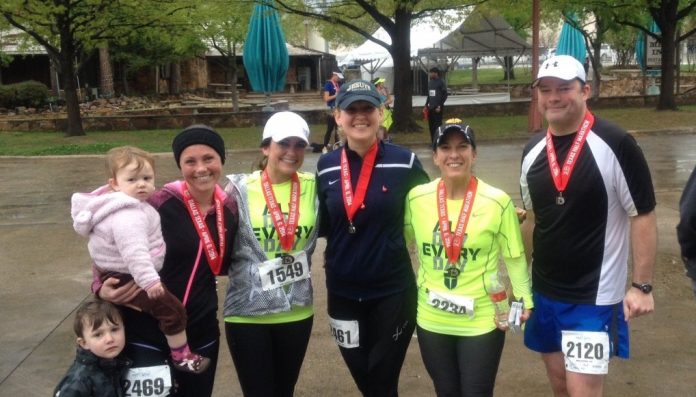 On Sunday, April 6, five teachers, English teacher Mrs. Mary Beth Farrell, math teacher Ms. Patricia Watson, science teacher Dr. Sarah Smith, Campus Ministry director and math teacher Mrs. Gretchen Crowder, and computer science teacher Mr. Matt Trost '95 attempted an impressive feat, running a half-marathon at the Big D Texas Marathon.
The half-marathon started in Fair Park, running through several streets in the area and near White Rock Lake, ending with a long stretch down Swiss Avenue before ending again in Fair Park. "It's a fairly small race compared to the [MetroPCS Dallas Marathon]," shared Mrs. Farrell, running the race for her second time. "This was a nice, more intimate, smaller race."
According to Ms. Farrell, who had run in multiple half marathons before this, the race took her about four months of preparation. "Now once you run one, you get a good base, and you keep up six, seven, eight miles every time you run, you can pretty much do thirteen." For Dr. Smith, a former college athlete, the run was about channeling her passion for running into an event with other staff members. "I enjoy running, and I've made some friends with other faculty who enjoy running," she said. "I've never completed a half-marathon, and so I decided to sign up for one and we got together to find one we could all do."
"I'm getting back into running," Mr. Trost '95 said on his decision to do the half-marathon. "I'm gonna do a marathon in August and an ultra marathon, a 50-mile run, in March, so I'm stepping my way back up."
However, Ms. Watson's decision to try a half-marathon came purely from an exercise standpoint. "I didn't have a gym membership," she said. "It was a little bit of trying to get ready for the wedding by exercising more." Unlike other faculty members who weren't strangers to running, Ms. Watson was new to the half-marathon scene, and her beginning went off to a rocky start. "I just did it purely with cardio, and I hated it! If you can only run half-a-mile without wanting to die, then it's not really fun because you hate it at the beginning," she shared. "Once you can run four or five miles pretty easily, you can enjoy your surroundings and it brings you into a place of peace."
Most of the teachers trained on their own for the race, managing to balance their work schedules, personal relationships, as well as training, but still having the group for accountability. "It's good to have common goals when working with a group. It was good for motivation," Mr. Trost '95 shared.
A close bond developed between Ms. Crowder and Dr. Smith as they trained for the half-marathon together. "I've become very good friends with Mrs. Crowder through this," Dr. Smith said. "It's been nice to have a bond of both friendship and training partner." Mrs. Crowder agreed, adding, "We both have small children, so we have a lot in common in that way, and as new parents, it's fun to talk about those kinds of things—school as well as having families—while we're running." While she said Dr. Smith pushed her harder than she normally would've run, she only had one goal: "I just wanted to finish [the race]!"
On the morning of race day, it began storming . "It was gorgeous weather two or three days before the race, but that morning, the storm was coming down," Mrs. Farrell said, adding she also thought the race would be postponed. "I literally ran to the run because it was raining so hard," Ms. Watson said. The rain didn't last too long, and the rest of the half-marathon was fairly calm, aside from a few drizzles. But the weather refused to stand down. "As all of us finished, it started down pouring, and it was a very wet walk to the car," Ms. Crowder said.
All five of the teachers started together and ended with slightly different times. Dr. Smith finished first with a time of 1:48:58. Mr. Trost finished next with a time of 1:57:42, a record time for him. Next finished Mrs. Crowder, who ended with a time of 1:58:41, closely followed by Mrs. Farrell with 1:58:58, and ending with Ms. Watson at 2:02:03. "My phone said it was a little under two hours, but my clock time said it was about a minute over, which was a little bit of a bummer, but I'm going with my clock which said I finished under two hours," Ms. Watson said, laughing.
Most important, however, were the close ties the teachers developed over the course of the months leading up to and finishing the marathon. "It develops a camaraderie that would not happen otherwise," Mrs. Farrell said. "When you get to know people outside of [teaching], it's nice. It adds a special touch to coming to work."