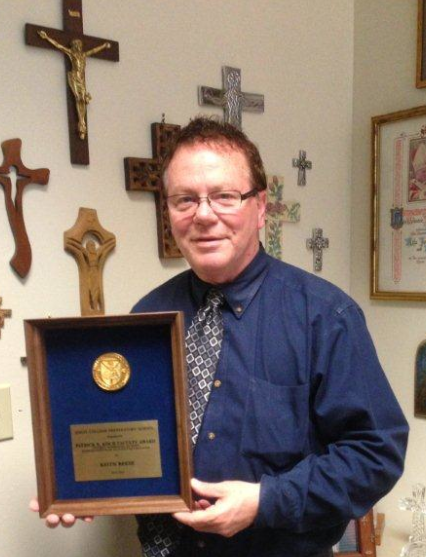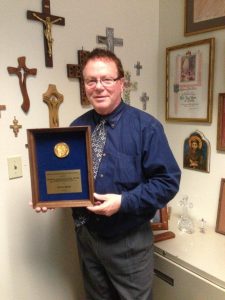 It's after school Thursday April, 18th. All the students have gone home but the faculty remains on campus. The men and women who have dedicated their lives to teaching and running Jesuit have all gathered for a special dinner and awards ceremony. As the award ceremony begins to pick up, the announcer begins to describe the recipient of the Father Koch Award. Initially, a general description such as caring and diligent is used to describe the winner, but as the description continues, more and more people begin to realize that the man being described is none other than freshmen theology teacher, Mr. Reese!
Serving as just another example of how Jesuit has always listened to its students, the Father Koch Award reminds the Jesuit community of the value that Jesuit puts on its students and their opinions. According to Mr. Tom Garrison, principal of Jesuit, the Father Koch Award was created in 1995 to honor a member of the faculty for their service to the school. Initially, the award was given by the Jesuit Administration; however, in 2012, the award became an award based on student recommendation in order to honor the memory of Father Pat Koch, Jesuit alumnus and former president, whom Mr. Garrison described as beloved by the students who attended Jesuit during his time here.
Mr. Mike Earsing, Jesuit's president, mentioned that Father Koch was a "student-centered" man, who "affected almost every student in a positive way." The award was named after him due to his ideals, ideals that focused on the student body. Most importantly, "Father Koch believed that his biggest blessing was the students," and this award goes to show that Jesuit truly values its students and their input. Serving as the ideal model of a man who truly cared for his students, Father Koch truly deserves an award such as this one to be named after him, an award that really speaks out and says that Jesuit cares for the students' opinions. By naming the award after Father Koch, Jesuit has once again shown that it not only values its students now, but it has always valued its students through its many years.
Since he started teaching at Jesuit, Mr. Reese has been an active participant in both campus ministry and diversity. Demonstrating all that Father Koch strived to be for the students of Jesuit, Mr. Reese earned the Father Koch Award through his constant dedication to the students of Jesuit. William Chu '16 described Mr. Reese as a "passionate [man] in his work [who] always makes his class interesting to his students," and " constantly motivates his students to stay active in class." Chu mentioned that he believes Mr. Reese "is a great teacher because he makes sure that his students understand all the material, [making] the material interesting and applicable." Chu continued, saying that he believes that Mr. Reese deserves the award due to "the hard work and passion that he puts into teaching Theology and because he is a fantastic teacher and a benevolent Man for Others."
Sharing Chu's beliefs, Aidan Leahy '16 described Mr. Reese as "a hardworking teacher, who cares about the students." Believing that he fully deserves the award, Mr. Reese's students attest for him and truly acknowledge him as an excellent teacher. This dedication to his students and their willingness to speak on his behalf show that Mr. Reese deserves this award.
Humble in his acknowledgement, Mr. Reese displayed his gratitude and joy in being recognized. He commented that he was especially happy that he'd received this award in particular "because it is named after Pat Koch, who was one of the most loved and respected priests to have gone through this school."
Mr. Reese went on to say that he is "overcome with joy" to receive this award as it means that he is seen as a caring teacher, a caring teacher that the students respect and value. He also called the award "special because it was a student nomination, and to have heard the comments made by the students was overwhelming." Showing his appreciation and care for the student body, he was especially happy "to have been selected and to have been nominated by [the students] was really special."
The plaque on the award reads "our students enjoy providing feedback and praise to each other and their teachers. The recipient of this award was nominated by the student body to be most representative of an Ignatian educator." Certainly, Mr. Reese embodies these characteristics and serves as a perfect example of what it means to be a teacher at Jesuit.