It's a cold Friday in January, and Jesuit is on morning liturgy order. In the Terry Center, a special guest is presiding over mass and finishing up the day's gospel, the story of the paralytic whose friends lowered him through a roof to be healed by Jesus.
The last time he was here, back in 2015, he had simply walked over to the pulpit to preach, but this time around Fr. Carlos Esparza, S.J., '98 has something different in mind.
Esparza walks past the pulpit, down some steps, and into the crowd of heads all turning to follow him before he finally stops in the middle of the Terry Center. From there, he begins his homily. He identifies the true heroes of the story he has just read: the friends of the paralytic.
Esparza says that we all need good people around us to reach our potential: "With whom we choose to surround ourselves is an important decision. We have the potential to become like those we are closest to… With good friends and mentors, we can build each other up."
He would know. He has been surrounded by loving people his entire life.
Early Life and High School
---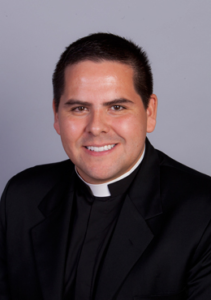 Esparza grew up in a Catholic family in Richardson and was a member of St. Paul the Apostle Catholic Church. He attended public school for most of his life, but as early as second grade he had his sights set on Jesuit Dallas, the high school where his older brother went.
"I looked up to him, and I'd always wanted to go to Jesuit because of that," he said frankly. "I had no other reason why."
He was able to hang out at Jesuit often while his brother was there, but it wasn't until August 1994 that he finally stepped foot on campus as a bonafide freshman.
He distinctly remembers the beloved Rev. Phil Postell, S.J., Jesuit's president at the time, in front of the Hall of Honors that day: "On the first day of school he was greeting all the students as they came in, all the freshmen, so I remember meeting him on the first day."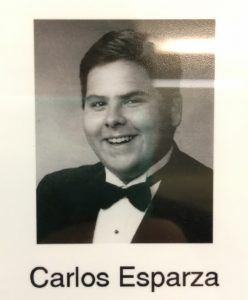 Even though he only knew one other kid coming in, he quickly made good friends in his first year as a Jesuit student and immediately got involved. He managed the basketball team for all four years as well as managing baseball during his junior and senior year. He led retreats, was a Eucharistic Minister, became president of the math club. He immersed himself in practically every corner of the school.
"I really enjoyed Jesuit a lot," Esparza said. "My teachers were good, and they were very caring. So I found the high school a fun place to be each and every day."
Many of his old teachers still teach at Jesuit today, but among the most impactful were the Jesuits. They would continue to make an impression on Esparza even after his high school career. Notably, he had Mark Thibodeaux, S.J., for sophomore theology and the notoriously difficult Fr. Mike Dooley, S.J., for junior theology. He considers himself lucky to have been taught by Jesuits early on. They were approachable people. Thibodeaux even took Esparza and a few other students to a pool hall to play billiards many times after school.
Indeed, much of Esparza's appreciation for Jesuit seems to be rooted in these varied extracurricular activities. It wasn't just that he learned inside the classroom, it was he bonded with his brothers, teachers and mentors outside it.
"I have very fond memories of Jesuit and of the Jesuit priests there specifically, but also of the other school faculty there, too," he said. "I would not be where I am today if it wasn't for Jesuit Dallas."
College
---
After graduating from Jesuit in 1998, Esparza attended Harvard University with a scholarship from the United States Department of Defense to study computer science. Moving from Dallas to Cambridge was a culture shock, but it wasn't all different for Esparza up there—he managed Harvard's basketball team just like he had Jesuit's.
"That was a neat experience, getting to travel to different universities across the country." Esparza explained, "It's nice to get out of the small world of a college campus every once in a while."
A familiar face had also ended up in the Boston area with him. Thibodeaux was studying at Weston School of Theology, which at the time was close to where Ezparza was in Cambridge.
"He would have me along with a couple other Jesuit grads probably a couple times a semester over to his Jesuit community for dinner," Esparza remembers. "We would get to meet the Jesuits, have fun, enjoy ourselves, have a meal and just talk about stuff. I built a friendship with Mark and kept in contact with my faith through Mark and the Jesuits."
Still, during his first two years of college, practicing his faith was secondary to school and social life. He really didn't think about the priesthood, and it wasn't until his junior year that he was finally convinced him to go back to mass again. 
"One of the things…about going to a Jesuit high school in America is that you have a connection to other students across the country that went to Jesuit high schools… For us it's just having that Jesuit identity," he explained. "One of my good friends went to St. Ignatius Prep. in San Fransisco and played basketball… My junior year I remember he told me, 'Hey you need to go back to mass,' and I was like, 'Yeah… I'll go next week,' but he said, 'No, we're going today.'" He came over to Esparza's dorm, and they walked over to 5 p.m. Sunday mass together.
He told me, 'Hey you need to go back to mass…today.
"That's why I really started going back to mass and receiving the sacraments regularly, because of him. He's the one who dragged me to the door," said Esparza. Now, they are lifelong friends. Esparza has baptized two of his kids, with plans to baptize the third.
Then came senior year. By this time, Mark Thibodeaux had completed his studies and was going to be ordained. Esparza attended the ordination, and it was there that he had a life-changing realization. At one point during the ceremony, he was suddenly overcome with the feeling that God was calling him to become a priest. Coincidentally, a friend from freshman and sophomore year who Esparza hadn't spoken to in a while emailed him out of the blue, explaining that after college he was going to enter into the Jesuits. Esparza was thinking the exact same thing.
Discernment
---
Still, this feeling about the priesthood surprised Esparza, to say the least. He was attending Harvard on a scholarship from the United States Department of Defense. He was working there during his summers and had a great job just waiting for him until he graduated.
He did graduate with a bachelor's degree in computer science, but his thoughts about becoming a priest stayed with him. On the one hand, he had a car, a house, a stable job, everything he ever wanted―and straight out of college no less. But on the other hand, he still felt that there was something missing from his life, and he was still thinking about what it would be like to be a priest.
"The priests that came to mind were the Jesuit priests I knew [at Jesuit Dallas]… Those are the men that I found were neat, they could hold conversations, they did interesting things, I thought they were smart, they were friendly, they engaged me," he explained.
He was still conflicted about leaving his current life, a life that was nice and that he really appreciated: "Sometimes I was like, 'Yes, I want to be a priest!' sometimes I was like, 'I'm not so sure…' It went back and forth."
Esparza eventually talked to Fr. Postell, whom he'd grown close to during his time at Jesuit and who told him to talk with spiritual directors and pray to discern if he should really enter the priesthood. He said that he eventually just came to Jesus and just asked once and for all if it was what he should do. Esparza was young, able, and it would be all too easy to just put off year after year. It was now or never for him, the right time to act.
Becoming a Jesuit
---
Esparza decided to enter the Society of Jesus in 2004. It was a big step for him and a step that surprised many of the people around him, but there was a lot about the Jesuits that appealed to him. They travel, live in community and contribute their talents to myriad activities beyond simply being a pastor of a church. He remembered the good experiences he had with them at Jesuit Dallas too.
So, he went down to Grand Coteau, La., to begin his studies at St. Charles College, the novitiate for the Southern Province. There he met Jesuits new and old. Fr. Dooley, who had taught Esparza as a junior in Dallas, would now teach him as a Jesuit novice. 
"Students [at Jesuit Dallas] looked up to him but at the same time avoided him because he was so strict," Esparza laughed. "He had this personality and this reputation in the classroom. My first year as a novice seven or eight years later he was in the novitiate as the Assistant Novice Director, so I had him again! So all the other Jesuit novices came to me…like 'Mike taught you in high school? How was he in the classroom?' They wanted me to give my insights about how to handle him!"
As a novice, Esparza completed his experiments, teaching math in El Salvador and Belize and working in a hospital.
Then, he took his first vows and became a Jesuit scholastic and was sent to New York, where he completed more schooling and engaged in three more years of community service. He earned a master's degree in philosophy from Fordham University in 2008 and a master's degree in statistics from Columbia University in 2009. He also tutored students at a local elementary school, helped young adults in their faith formation and worked at a Jesuit parish in Manhattan, St. Ignatius of Loyola.
After New York, he was sent to Houston to teach math at Strake Jesuit College Preparatory School for three years. He was a chaplain for their sports teams and also moderated the Hispanic Student Union. He actually expected to experience a bit of rivalry in Houston because he was a graduate of Dallas Jesuit, but the students actually welcomed him immediately but he still managed to foster a bit of rivalry for the traditional rivalry. Coincidentally, while Esparza, a Dallas Jesuit alumnus, was teaching at Strake, a Strake alumnus and fellow scholastic John Nugent was teaching up in Dallas.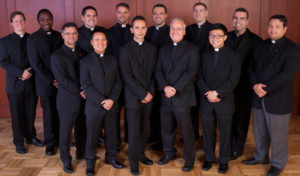 In 2012, he was sent to study at the Jesuit School of Theology at Santa Clara University in California. He earned his Master of Divinity degree—his fourth degree to date. While in California he also served as a deacon for St. Isidore Catholic Church in Danville, Cali., and taught at the University of San Francisco. It was being in California that allowed Esparza to reconnect with his old basketball friend from Harvard that had brought him back to Church so many years before.
Finally, on June 13, 2015, Esparza was ordained a Jesuit priest. It's one of his favorite memories of being a Jesuit, finally becoming a priest after years and years of hard work. Directly thereafter he served at St. Ignatius Loyola Parish in Denver for one year. There he was able to learn the practical aspects of the priesthood like administering the sacraments and saying mass.
Present Day
---
After his brief time in Denver, the Society sent him back to school, this time to the University of Texas, where he is now working on a fifth degree, a doctorate in economics. At UT he is helping out with campus ministry and celebrating the sacraments with students and surrounding parishes. He is the only Jesuit in Austin, but he is still living in community with Holy Cross brothers.
With whom we choose to surround ourselves is an important decision. We have the potential to become like those we are closest to… With good friends and mentors, we can build each other up.
There is a need in the Church for priests who are also social scientists, and Jesuits, being on the forefront of higher education, can most easily fulfill that need. As an economist and a Jesuit, he would do research and teach. He's currently looking into macroeconomics and the economics of education: technology in schools, the implementation of lunch programs and peer effects, peer effects being the ways in which those who surround a student can impact that student for better or for worse.
Esparza, somewhat of a lifelong student himself, has learned to surround himself with good people: "I remember my mother came and visited me while I was working before I became a Jesuit. She said, 'You have really good friends.'
"I think its a blessing from God. Sometimes, I didn't realize how good of friends I really had, friends that will reach out to me, who will do anything for me if I ask them, help me, support me in any way that they can, friends that stay in contact."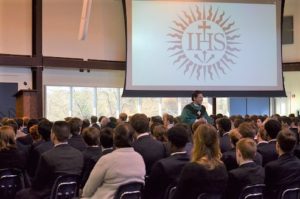 He has had good friends, like the big brother who inspired him to attend Jesuit, the Jesuit who invited him to play pool after school, the friend in college who finally got him to come back to mass and that same Jesuit who invited him to his ordination. These are but a few of the many people who have helped build up Fr. Carlos Esparza, S.J., Jesuit class of 1998, all his life.
So it is no wonder why he would return to his alma mater and implore the students sitting right where he sat not too long ago: surround yourself with good friends, friends your mom would like, friends who would lower you through a hole in the ceiling, and allow yourself to become like them.