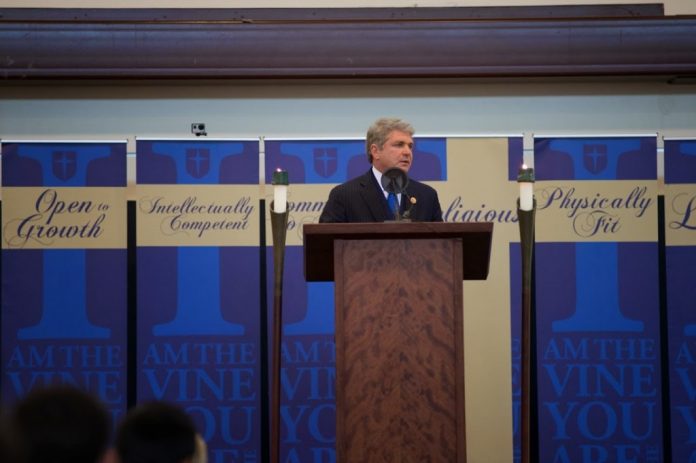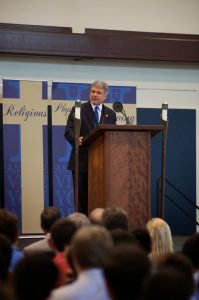 Evidently the chairman of the Homeland Security Committee in the U.S. House of Representatives started his career in a sandbox in Dallas, so claims his classmate and friend Michael Reichenstein '80.
Perhaps it was the grit required on the Dallas Jesuit wrestling mat that prepared Congressman Michael McCaul for a life of virtuous service, which earned him recognition on Friday, October 24, as Jesuit's Alumnus of the Year.
Whether from sand or sweaty rubber, the honor proves well-deserved. McCaul graduated Jesuit in the Class of 1980. He is a Republican who has represented the 10th District of Texas for almost 10 years, and currently lives in Austin, Texas. He attended Trinity University (Bachelor of Arts in Business and History), the St. Mary's University School of Law (Juris Doctor), and the Kennedy School of Government at Harvard University.  McCaul initially worked as an attorney and federal prosecutor, including time as Deputy Attorney General in the Texas Attorney General's Office. McCaul has also been involved in the U.S.-Mexico Parliamentary Group, the Congressional Childhood Cancer Caucus, and the Congressional High Tech Caucus. His full biography can be found here.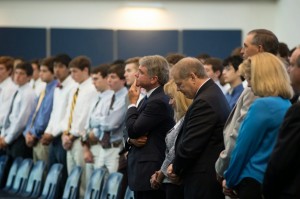 The award ceremony included remarks by a few of McCaul's closest high school friends and  a video detailing his accomplishments, including his notable advocacy for childhood cancer research. After receiving the award from Jesuit President Mike Earsing, McCaul spoke to the entire Jesuit community. In his talk, McCaul discussed how Jesuit's motto of "Men for Others" applies to his job in Congress, and how he feels called to serve others in the U.S. House of Representatives. McCaul first explained that he grew up as one of four brothers, who all attended Christ the King before Jesuit. At Jesuit, McCaul participated in both football and wrestling. A captain of the wrestling team as a senior, he described several life lessons that he learned from the sport. One particular skill that he acquired was the ability to be independent. Wrestling is a 1-on-1 sport, which prepared him for the 1-on-1 nature of campaigning. "It's just you and the arena," said McCaul, "it provides you with an inner strength."
Truly appreciating his Jesuit education, McCaul recalled the relationships he was able to make during his time at Jesuit, promising that "the friends you will make here will last for a lifetime." He went on to assert that Jesuit prepares you not only for college, but for life as a whole. The values learned at Jesuit will guide you throughout college, career, and beyond, allowing for a "purpose-driven life."
"The demands of justice in the world have guided my life."
McCaul also stressed the importance of self-confidence, of believing in yourself and dreaming to achieve with your God-given talents. "Believe in something greater than yourself to leave the world a better place," McCaul advised. He explained that a combination of passion and work ethic towards a "worthy cause" is the formula for success in life. A dream that McCaul recalled was one that included his father, who passed away several years ago. In the dream, he was flying "like Superman" with his dad. In disbelief, he realized that he was flying, began to fall, and woke up. He compared the story with that of Peter walking on water in the Gospel. When Peter lost his faith, he began to sink. The moral of the story: "As long as you believe, you can achieve anything."
"There are always critics," McCaul told the audience, "don't listen to them."
McCaul said he believes passionately that technology is the future of this country. "Technology will be the solution to the problems we are facing today." McCaul gave a brief history of his career in public service, which has included a vital role as the chairman of the  Homeland Security Committee, recently helping "secure three Unmanned Aerial Vehicles for Texas to provide law enforcement with better border surveillance."
He and his wife have invested heavily in finding a cure for childhood cancer, spearheading the Creating Hope Act. The legislation essentially acts as an incentive for pharmaceutical companies to invest in childhood cancer research. These businesses are profit driven, and without a fruitful market for childhood cancer treatment, drugs have not been developed. With the implementation of the Act, however, corporations are given a voucher that is exchangeable for funding of other, more profitable drugs. This voucher can only be used if the company spends money on research for childhood oncology treatment. They can also sell the vouchers to other companies, which can redeem them on the same condition.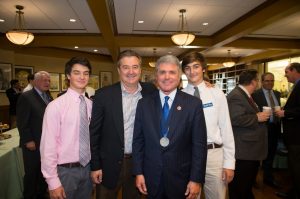 "At Christ the King, one of my best friends died from leukemia. It was a death sentence back then. I realized that children didn't really have a voice in Congress. I founded the Childhood Cancer Caucus to give them a voice. These children don't have lobbyists and activists. I want to provide that voice for them. And then also turn it into good policy. The Creating Hope Act was huge in terms of incentivizing the drug capitalists who put money into childhood cancer research. Now we have the first childhood cancer drug development since the 1980s."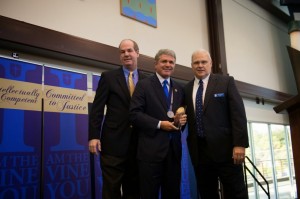 McCaul alluded to the great support of his wife Linda, who he "met at the Air and Space Museum in [Washington]D.C.." He continued, saying "I bumped into her and I said, 'You're from Texas, right?' And she said, 'I work for naval intelligence as an oceanographer. I track Soviet submarines.' I was like, 'Wow, I've never dated somebody that tracks Soviet submarines.' So now we drag our kids back to the Air and Space Museum to show them where we met."
He mentioned that his wife, who sits on the board of M.D. Anderson Cancer Center in Houston, was instrumental in supporting the passage of the Creating Hope Act. She even recalled "standing outside the men's restrooms waiting" for the congressmen to exit, then making sure they would all be voting for the bill. She said, "Cancer research is very important to me. Michael had a constituent in his district who lost their child very tragically to cancer. They asked him to take up the cause of cancer in Congress, so he formed the Pediatric Cancer Caucus. The director at M.D. Anderson told us to take this to the national level." And they did. Because of Mr. McCaul's efforts with childhood oncology in Congress, he will be receiving an award from the National Cancer Institute on Sunday in Chicago. Unfortunately, he "had a very dear friend die in Austin from ovarian cancer. She could not get the medication from the drug company that had it. We're trying to work out legislation we can advance next time to change the law so they can get this life-saving medication." McCaul's efforts in cancer research resonate in his expressed desire to make a difference in the world, to live for others.
"We should hand down a better America to the next generation…what we leave here on Earth when we die is our legacy."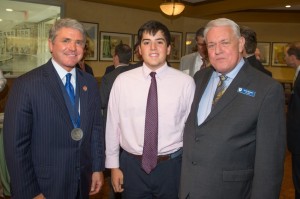 McCaul discussed his passion for politics, but noted that he does have concerns regarding the contemporary political spirit, noting that politicians are putting "service to power and party over service to nation," a policy that pits the two parties against one another instead of encouraging collaboration. He noted how the same is true of the three religions of Abraham: Islam, Judaism, and Christianity. Though all descend from the same founder, they have deep-rooted divisions and hostility to one another. He warned the Jesuit community about the dangers of these animosities and expressed hope to improve them.
McCaul also gave a few shout outs to his former teachers who are still at Jesuit: Ms. Jan Jones (biology teacher) and Mr. David Oglesby (former English teacher and current college counselor). Oglesby reminisced about his past pupil, mentioning how McCaul was "in [his] English class. He was a very good writer and…very, very analytical. To be a good wrestler you have to be analytical. He had a real closeness to his classmates as well. Usually when we do these things not that many classmates show up so it shows something about him. He was just a friendly, kind, compassionate kid. If you asked me when he was a senior if I thought he was going to be a congressmen, it never would have crossed my mind. I figured, 'Hey, he'll go and be a lawyer or an engineer because he was smart.' He was a nice kid, he was a smart kid, but he had an analytical mind and still does. It's interesting that who he is isn't who the press says he is."
"At some point he decided, 'I want to do more.'"
Oglesby continued, "The big Jesuit value that he brings most of all, one that he doesn't get much of a shoutout for, is that he has made big impacts in cancer research for children. His wife sits on the school board, they are involved in their children's lives. They are good people."
"He is the richest man in Congress…his wealth is about a half a billion dollars. With great wealth comes great responsibility."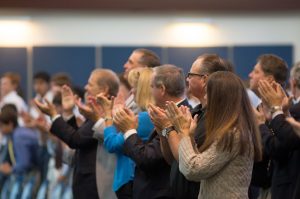 Mrs. Jones also remembered McCaul from his days at Jesuit: "he was a very good student. Good kid." She continued, "When I look at my students today, I realize that they could be great and wonderful. What they are in the classroom is going to be completely different from the way they are in their life. They are going to have many different life experiences that are going to make them who they are. And those life experiences can make you a good person or not a good person. But remember this: you always have your choices. And that's what the congressman was trying to say. Don't let anyone tell you you can't do it. I'm a true believer in that. [Mr. McCaul] wasn't going to listen to anyone telling him no. He said not to listen to that [criticism]—you can do whatever you want."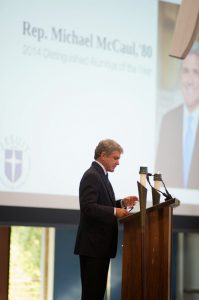 Jesuit Principal Mr. Tom Garrison also had words of praise for Mr. McCaul: "What he said about look to your left, look to your right, I think that's very important because none of us know where we are going. None of us know what our full potential is. We need each other, we realize that. We need to help each other along the path. These guys can go anywhere, and this is a good example of that. I think it's important to be reminded of that. There are many paths to service. It doesn't matter what you end up doing as long as you keep the values close to you."
When asked how his Jesuit values cause tensions in Congress and how he works through that tension, McCaul said the "Man for Others discipline has pushed me to do more and get into the zone where you're not complacent. You want to do it not for your own. I see some electives who do it for self-glorification or stroking their own egos. For me, it's 'Can I make a difference? Can I protect the American people from Al-Qaeda threats? Can I help with children's cancer?' That's all from the Jesuit purpose…the Jesuit model taught me."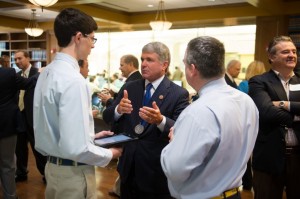 The Distinguished Alumni Prayer Service is always a highlight of the school year, for both students and faculty members. Admissions Director and Counselor Mr. Tim Host explained how one of his"favorite prayer services is this alumni prayer service because I think it inspires a lot of us, not just the students, but the teachers as well. Because you look at what's possible, and you think, 'Hey, that guy is just like me, and look what he's done.' Whether it's a doctor, a civil servant, whatever career, I think it's very encouraging." Jesuit has recognized Distinguished Alumni in all sorts of fields. "Just last year the gentleman who was the distinguished alum grew up in poverty, lived in Mexico, was on the streets, went to poor schools and yet look how he was formed," said Host. "Then you have this man who had more opportunities at Christ the King, and how he was formed. Mr. Jack Fitzsimmons was the distinguished alum a few years ago, and he's an educator and counselor who does a great job. It doesn't matter who you are or what it is, we all can make a difference. So I think that's really cool." Students truly value the service, for they can see an example of a man living out the Ignatian values and teachings.
"It was very inspiring. It shows that Jesuit really does make leaders," said senior Matthew Miller '15.
Junior counselor Mr. Paul McDaniel likes to think about who the future Jesuit distinguished alumni will be. "When you look around the halls and stuff and wonder who will be the person 20 or 25 years from now standing there. I think it's inspirational." The question is: Who will be the Distinguished Alumni in the years to come? I guess we'll just have to wait and see.