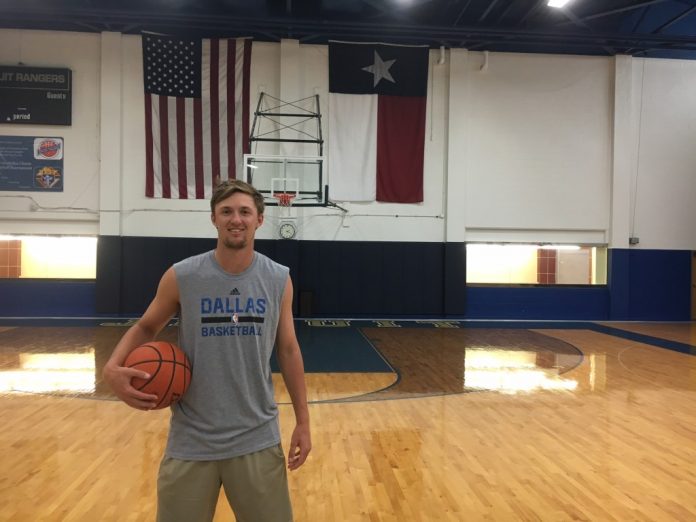 Before he played at Brown University and with the Mavericks this summer, Steven Spieth '13 was just a regular student here at Jesuit. Just like his brother Jordan Spieth '11, he's a world class athlete, and this summer, he's been hanging around campus honing in his skills.
So, I was able to sit down with him and ask him some questions. We spoke about his time at Jesuit, about going to Brown to play basketball, about playing with the Dallas Mavericks Summer League team, and about going to play professionally in Switzerland this year.
Question: What are you in town for?
Spieth: Just living here in the summer. I take off in 8 or 9 days for Switzerland, so I've just been here since Summer League.
Q: The Mavericks summer team right?
S: Yeah. It was a pretty roster-heavy summer league team, but it was a really good experience to go out there.
Q: You probably met some pretty cool people!
S: Yeah! Yeah, I met Rick Carlisle. I met pretty much all the coaches before at the actual workout for pre-draft, and I met a bunch of the guys on the team. Obviously the guys who played, but also the guys who were working out there before.
Q: How did you get that sort of opportunity [to play for the Mavericks in the summer]?
S: I signed with an agency in New York with about a month left in school. So most of May and then most of June I was actually down in New York working out. We had a bunch of us there working out, Malik Monk, Harry Giles, Derrick White, Dylan Ennis, Dylan Brooks, a bunch of high name guys with the same agency. We had a pro day where basically there were 130 NBA personnel who came and saw me there. I ended up doing five NBA workouts.
Q: Did coming back to Dallas factor into your decision?
S: For sure. And to be honest I didn't know that they were going to play Yogi Ferrell, I didn't know that Dorian Finney-Smith was going to be on the team. When you get offered, you don't really know who is going to be on the team. At first I thought I was going to end up going to Orlando to play, but then they switched [the summer league venue] to Vegas.
Q: Who are you playing for in Switzerland?
S: It's a club called BC Winterthur, a professional club that plays in the top league in Switzerland. They have two Americans, so I'm one of those two spots that you're allowed to have. I'll go over there and hopefully put up some good numbers and move up to better leagues, better salaries, stuff like that.
Q: Do they limit the amount of Americans?
S: Yeah, every country has slightly different rules. Germany has a weird rule where they have to have three Germans on the court at all times, both teams. Some leagues will allow four Americans, some will allow two, they're all a little different.
Q: How long do you plan on being in Europe?
S: I don't know really. I don't have a plan right now, but I want to play at the highest level I can play at. I'll go over [to Europe], hopefully get another shot at the summer league, see if I can make a roster, if not then go back over there and just keep playing. I'm going to keep playing until I feel like I can't compete at a high level anymore.
Q: What do you think the biggest challenge of being in Europe will be?
S: Probably just the new culture. I've kind of done it once, going from Dallas, Texas to Providence, Rhode Island—it's a weather shock, it's a culture shock, it's everything. So I feel like I'm pretty ready for it. It'll be tough, the six hour time difference will be tough, being away from friends and family, stuff like that. But I've done it once, and I'll try to make the most of it.
Q: What kinds of challenges did you see when you went up to Providence to play at Brown?
S: The biggest thing for me was the weather up there. There were blizzards that we would walk through to practice. And especially around campus it's a really liberal school, so that's obviously really different from anything I'd grown up seeing. Everybody is really politically involved at school there. I know what's going on, but I never put in my two cents. But I think most of it is just being away. I think [my time at Brown] will help me adapt to being overseas, being away for four years even though I grew up here [in Dallas], born here, raised here, never really left for more than a week.
Q: How did Jesuit prepare you for all the traveling and things you have done?
S: I think Jesuit overall, not even just the traveling, has influenced me in a big way. The whole "Men for Others" mantra is something a really try to live by. I think that Jesuit has instilled good characteristics in all of its students and for 99% of them it really sticks.
Q: How has it been returning to Dallas this summer and doing workouts on campus?
S: I love coming here. I come [to Jesuit] pretty much every summer to work out. I know Coach Al and Coach Hill really well, so they'll let me come get the keys, get some extra shots in whenever I want. It's pretty awesome being back here. I was just back there with Coach Hill watching one of our old games, so it's fun to reminisce a little bit.
Q: Have there been changes to campus since you've been gone that have surprised you?
S: Yeah this room! [HH100] I actually walked around for the first time a little bit yesterday. I walked around for the first time in a few years. I would always come and work out, lift, go out to the field, run a little bit, but I hadn't walked around the school. Everything's structurally the same, but everything's a little different.
We wish Spieth luck in Switzerland and luck with the rest of his career!