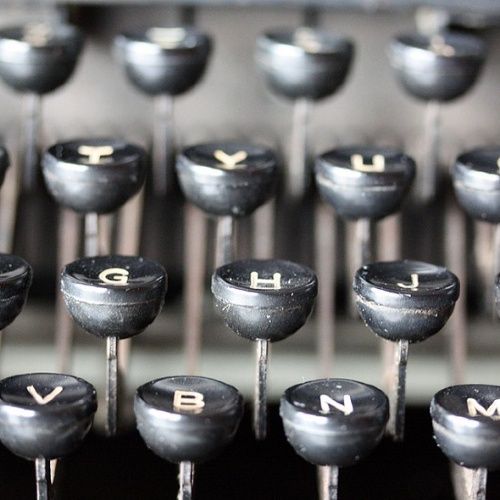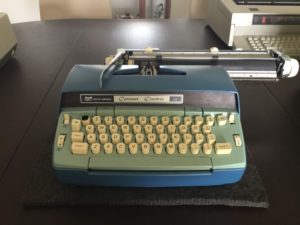 CLICK-CLACK-CLANK.  The sound of the vintage keys striking the black ink-strip fills the room.  For freshman Nathan Volle-Kobell, these are soothing sounds.
The Roundup recently got to interview Nathan Volle-Kobell '21 about his marvelous collection of typewriters, and collections in general.
Why did you decide to come to Jesuit?
"The reason for why I came to Jesuit is because of how much guidance this school gives in preparation for life and for college. It has and hopefully will continue to help me discover who I truly am."
I asked him some questions about the typewriters, regarding the beauty of them and how he got so passionate about them in the first place.
How did you get into collecting typewriters?
"I had become interested in typewriters right after my great aunt had passed away at the end of my 7th grade year. Out of nowhere, I found this 1951 Smith – Corona typewriter that she used when she was a Dominican nun teaching the blind.
I, for no reason, wanted to try it, and then suddenly, I have grown to have a comfort in the use of this machine. I live in different homes, so transporting this machine, I realize, would not come easily, especially considering the fact that any kind of these machines cost way much more than a typical laptop.
I recalled that my father had kept his 1970 Smith-Corona from his years of c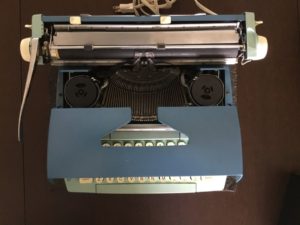 ollege, I then started to use this typewriter as well, and of course, typewriter's would have developed by quite a bit from 1951 to 1970. One very revolutionary thing happened in the late 60s and early 70s, as typewriter's started to have electricity run through them.
Yes, back then people worked with things without screens or electricity in/on them. I grew to become more and more interested in these, and I have collected a few other typewriter's from the 70s and 80s which were very revolutionary as well. I personally think that finding something simple in our lives lately has become something not simple to do. I hope to continue my interest in these strange machines and I hope to inspire others."
What is the beauty behind typewriters?
"People who are collectors of typewriters/typewriter repair men, and people who used typewriter's understand these feelings of simplicity running in these machines, and that's what I love seeing, people who understand my way of thinking towards these revolutionary objects.
I have had many different reactions from people when they discovered that I am a collector of typewriters, young people (my age), have a lot of trouble understanding the feeling of simplicity and this interest that I have taken.

I had thought that it would be like this to people my age and younger for the rest of my life, until I met a freshman here at Jesuit named Gabriel Tan '21. He became fascinated by my collection and wanted to discover more about typewriters. I explained many things about these machines, and he now has a growing collection of typewriters, just like me.
I hope to discover more people like Gabe in my life, and if you would like to see others who think the same way I do and perhaps understand why, you can see a movie called
California Typewriter.
It came out a year ago, and I highly recommend it to you all."
Nathan's passion for typewriters is very apparent in all of my quotes and after hearing him talk about these machines, it's an understandable obsession. Typewriters are a gateway to the past as they are affected by the style and brand that the company wanted to show. I asked Nathan to elaborate on the beauty of typewriters and this was his response.
The Beauty of Typewriters
"I find that there is a real beauty in these machines, in the sound, the mechanisms and the different designs and functions of these machines, and how they type is also an art to typing. In the movie, California Typewriter, there is an artist who takes typewriters apart and makes sculptures out of those machines."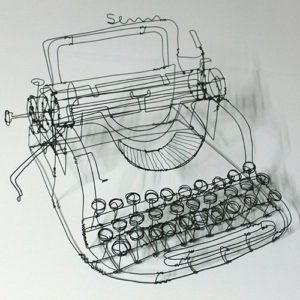 I asked Nathan about his view on people having hobbies or collections that they are passionate about he responded with,
"…people my age have a collection of theirs, and it is the collection of likes/thumbs up on Facebook, Snapchat, or whatever social media related topic you can think of. Typewriters are a strange thing to collect but I am very happy with the way that I think and people can have any thoughts on what I think and I can have any kind of thoughts toward what other people think of me, but I don't bother them, and hopefully, they won't bother me."
While many of us don't have a particular collection or passion, Nathan's passion is something that we can all appreciate. We all have something that we view as unique to us because of multiple reasons, and in Nathan's case it is typewriters. All of these reasons are warranted as they help guide us to be unique and help guide us to shape our ideals.
Stay tuned to The Roundup for the latest student profiles.