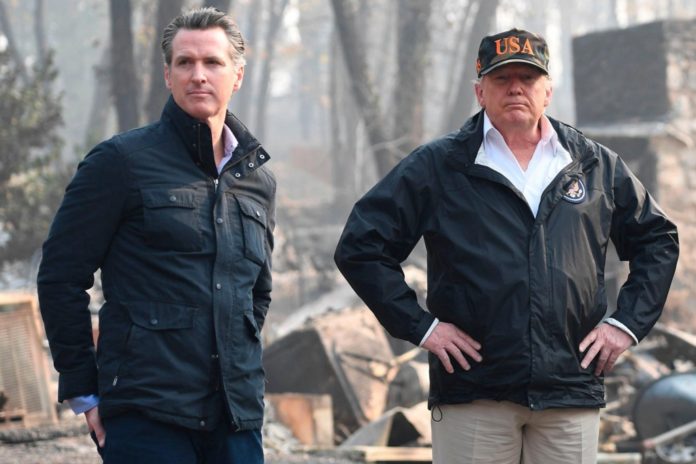 In recent weeks, dozens of wildfires have ignited across California, threatening to burn rural and suburban communities while covering cities in a smoggy haze. Record-breaking wildfires are occurring more and more often. On the 9th of September, the massive August Complex became the largest fire in the state's history. Summed together, they trump the ten biggest fires from the decade before.
Moreover, President Trump participated in a briefing with Gov. Gavin Newsom at Sacramento McClellan Airport on the California wildfires. State and local officials briefed the president on the historically devastating wildfires ravaging the state. California Natural Resources Secretary Wade Crowfoot asked the President to consider the impact of climate change. "It'll start getting cooler, you just watch," said the president. "I wish science agreed with you," replied Mr. Crowfoot.
More in-depth remarks at the Briefing on Wildfires –
President Trump: "Great to be here. Great to be with the Governor. We've been speaking a lot about the problem, and it's a big problem, and it'll get solved. We want to pay our love and respect, and we say 'God bless you' to those that were killed in this horrible fire, because it's a series of fires.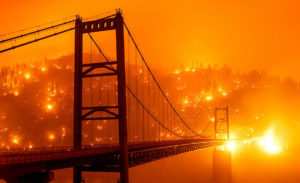 But we are showing and give unwavering support for the people of California and, I have to say, for the state of Washington and Oregon, who we're very much in touch with — also declaring your declarations.  We have declarations for all three.
The governor of California called me up, and we immediately signed the declaration.  I think a lot of people would take a lot longer, but we wanted it fast. And I want to thank all of the FEMA people for doing such a great job.  We really appreciate it. They've been fantastic. They've been fantastic."
Governor Newson: "We obviously feel very strongly that the hots are getting hotter, the dries are getting drier.  When we're having heat domes, the likes of which we've never seen in our history; the hottest August ever in the history of the state; the ferocity of these fires; the drought, five-plus years; losing 163 million trees to that drought — something has happened to the plumbing of the world. We come from a perspective, humbly, where we submit the science is in and observed evidence is self-evident that climate change is real, and that is exacerbating this.
And so I think there's an area of, at least, commonality on vegetation and forest management.  But, please, respect — and I know you do — the difference of opinion out here, as it relates to this fundamental issue on the issue of climate change."
In addition to the President and Governor's response to the fire, you can visit Cal Fire – https://www.fire.ca.gov/incidents/ – for an extensive overview and interactive map of the ravaging California Fires.
Moreover, Cal Fire said that "nearly 16,500 firefighters have been battling 28 major wildfires in the state, which have left 24 people dead and over 4,200 structures destroyed." For those who have avoided the flames, smoke from the fires has choked the air and kept people inside. The continued risk of future fires has forced partial power shutoffs for thousands of California residents.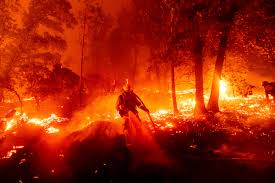 When reporters asked the general public, many expressed frustration: "Denial doesn't work when it comes to climate," Garcetti told CNN's, Anderson Cooper. "The cost of denial is that people lose their lives and their livelihoods." Garcetti said, "it's disappointing to see the President portray the state's devastating wildfires as a partisan issue and blaming the state as it suffers from a natural disaster."
Furthermore, for those wanting to help, there are many places you can go to learn how to help and even contribute to helping mitigate this pressing environmental issue.
Here are three ways you can help today:
1. '$1 plants 1 tree': Donate to One Tree Planted
Global reforestation non-profit One Tree Planted specifically benefits tree planting projects in California. Donating $1 will plant one tree. To donate: Click here. 
2. Donate to the California Fire Foundation
The California Fire Foundation's Supplying Aid to Victims of Emergency (SAVE) program is currently accepting donations to bring immediate relief to victims of wildfires.
3. Donate to the Napa Valley Community Disaster Relief Fund
In response to the LNU Lightning Complex fires, the Napa Valley Community Foundation has committed $100,000 to the Disaster Relief Fund. The foundation is seeking donations to continue to assist urgent needs and gather information to boost long-term recovery efforts. They are currently accepting donations.
Read more here: https://www.thecalifornian.com/story/news/2020/08/20/california-fires-how-to-help-river-lake-carmel-wildfires/5618698002/
Read more here: https://www.sacbee.com/news/california/fires/article245111995.html#storylink=cpy
– Video shows a series of fires known as the CZU Lightning Complex burning in Northern California. including footage of a pair of wildfire cameras capturing the moment a fast-moving blaze destroyed a camera. By David Caraccio
In conclusion, climate change is real. Both the President and State need to work together to better address and help prevent these catastrophic events. If these fires continue to be overlooked, only worse can follow.
For more coverage on politics and the environment stay tuned to The Roundup!