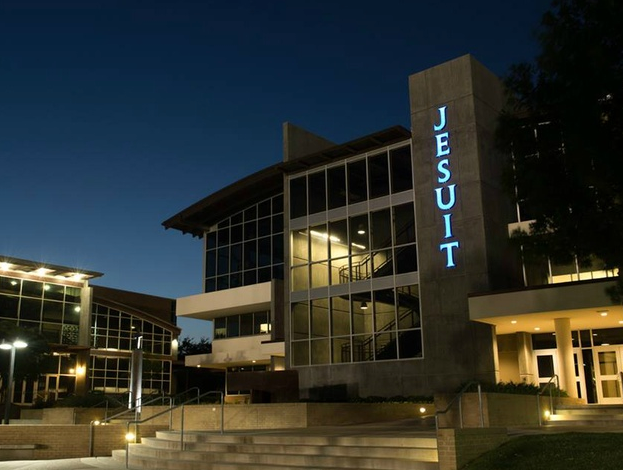 12:16, Monday afternoon. The sixth-period bell rings, and junior Thomas Cluck races down the breezeway, hustling to secure a spot toward the front of the cafeteria line. As he sprints past the senior courtyard, he ignores his surrounds and hones his focus on the prize of warm chicken and rice. He approaches the entrance of the empty cafeteria, nothing separating him from getting his bread. Or so he thinks.
He passes a figure on his way to the line he perceives to be Mark Knize, greeting him with an automatic, 'Hey Mr. Knize,' and proceeding to rush to the front of the line. Cluck advances another 5 paces before he stops dead in his tracks, realizing the gravity of his misdemeanor. When he turns back around to apologize, he finds Dr. Knize with withdrawal papers in hand. Cluck realizes his sealed fate when Dr. Knize mutters, "Meet me in my office. And bring your things."
Cluck learned from the incident never to address Dr. Knize as Mister, but it was too late for his poor soul…
New EdDs
In reality, the recent recipients of the doctorate in education would not chastise a student for addressing them as 'Mister.' Nevertheless, The Roundup extends its congratulations to Jesuit's recent EdD recipients: Mark Knize, Michael Riemer, Patrick Parker, and Jeremy Weeks.
Teach.com defines the EdD, or Doctorate in Education, as "a terminal degree with a focus on applying research and foundational knowledge to real-world organizational, leadership and education issues. EdD programs prepare students for academic, administrative, clinical, professional or research positions in K-12 and higher education, civil service, private organizations or public institutions.
Rather than focusing on developing new research (as with a Ph.D. program), EdD candidates use existing research to inform decisions around specific issues that lead to improved practices within their area(s) of study."
The Roundup picked the intelligent brains of these EdDs to shed light on their experience earning the doctorate in education.
Dr. Mark Knize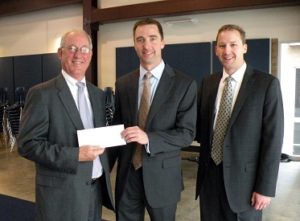 What motivated you to pursue an EdD?
I have enjoyed working in education as a teacher, coach, counselor, and administrator.  In my time working in schools, I push myself in keeping up to date with best practices and the most current research to be as effective as possible with the formation of students.  I need a challenge and want to grow as a lifelong learner.  This program and the timing of this opportunity was ideal.  The studies were very practical to my daily work at Jesuit.
What was the process of earning your EdD?
I was accepted into the program in the fall of 2014 but began courses in the spring of 2015.  Most classes were in Dallas.  To establish residency as a doctoral student at St. Louis University, in the summers, I traveled to St. Louis and stayed on campus to take courses, meet with professors, and study during summer semesters.  The reading, research, and shared discussions with other professionals in the field created for me a full blanket of knowledge and practice.
How did you balance your education with your job and everything else in your life?
It was a challenge to balance all the rigor of the academic doctoral program while working full time.  But, the courses of study were extremely applicable to my work at Jesuit.  I was able to use my work experience to augment the class work, and vice versa, use the class work to find ways to improve my job performance here.
How have you integrated what you learned within your career at Jesuit?
I took courses on leadership, team building and ethics, curriculum, law, finance, and various courses that challenged me to research current and past models of educational leadership.  Perhaps the easiest part of the program was finding ways to integrate what I learned into my job.  It has been quite natural.  The coursework and intense study of this doctoral program proved to be the most practical educational journey I've experienced.
Dr. Michael Riemer
What motivated you to pursue an EdD?
I like school. I like being in the classroom. I finished my masters degree in 2006 and I have missed being in the classroom with peers and pursuing my own education, knowledge and growth. People often ask "What are you going to do with your doctorate" – I guess because the operating assumption is that one only pursues such a degree with specific career goals, advancement goals, in mind – my response is "I'm going to hang it on the wall." Truthfully, I did not pursue the degree because I have a larger career plan – I was simply interested in the material, the program, and the opportunity to be back in the classroom to push myself intellectually and academically.
What was the process of earning your EdD? 
I started in January of 2015 along with 7 other individuals (including Dr. Parker and Dr. Knize). Our cohort also included two staff from Christ the King School, two from smaller diocesan schools in Dallas as well as one individual from the Oklahoma City Diocese. The degree program was through Saint Louis University but we actually met for classes on campus at Jesuit. The faculty flew down to Dallas every other weekend and we attended class from 9 am – 5 pm. Additionally, we had to spend two summers in residence on campus at SLU – living in the dorms and attending classes in the School of Education. Beginning in June 2015 we were placed in research teams for the purpose of completing our doctoral research project, the EdD version of the dissertation. The research took three and a half years and we defended as a team in November of 2018. The defense took place in Saint Louis and included an individual defense in addition to the team defense. Since the research is done as a team we also had to write an individual analysis report, almost as long as the original research report and complete an individual defense. The entire defense process took the better part of a day.
How did you balance your education with your job and everything else in your life? 
I have to admit this was not easy. I often remarked how difficult it would be to do this if I had a family, a spouse. I can't imagine. It was four years of late nights and early mornings. Weekends were either spent in class or reading/writing at Starbucks. I pretty much carried my books with me wherever I went hoping to have a few extra moments to read. School was never not on my mind. If I'm being honest, it took a toll, not only my relationships but also on my health – all of which I'm trying to recover and repair. I have heard at different times (from both faculty and students) that the EdD is some sort of "lesser" doctoral degree – which considering the sacrifices I had to make in my own lifetime, relationships, health, it is difficult not to resent such statements. I've had to be very measured and patient in my responses.
How have you integrated what you learned within your career at Jesuit?
I think the impact on my work at Jesuit has been profound. The research our team completed was in the area of the integration of faith, evangelism, and social justice. Many of the conversations we are having in the Service and Justice Office, about how we can do better, how we can challenge students to go deeper, and how we can minister spiritually to students through the act of service is rooted in much of the research I and other members of our team completed.
Dr. Patrick Parker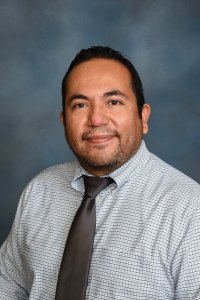 What motivated you to pursue an EdD?
Earning a doctorate has been a goal of mine for quite a long time. After college I thought that I would pursue a graduate degree in psychology. However, I decided to try teaching through Notre Dame's Alliance for Catholic Education (A.C.E.) program and that changed everything for me. In education, I found the place that was right for me and I found friends and mentors who demonstrated that it was possible to work in both the high school and college levels simultaneously. I thought that type of situation would be a great blend of both milieus for me. And perhaps one day, I would consider finishing my career in higher education.
When I left California in 2006, I also left behind a doctoral program at the University of San Francisco. So when Saint Louis University came to Jesuit offering a program, I knew I had to jump at the opportunity.
What was the process of earning your EdD?

In the spring of 2015, I began my doctoral program in Educational Leadership at Saint Louis University. In fact, I joined a doctoral cohort that included such popular names as Dr. Reimer and Dr. Knize, along with five other Catholic educators from the Diocese of Dallas and one from the Diocese of Oklahoma City. The program required two years of coursework, which is standard, and for my team, two years of research and writing the dissertation. Dr. Reimer and I were on the same research team, and we earned our degrees in December, 2018.
It was challenging in more ways than I could imagine. A tremendous amount of growth occurred in me and not just academically, but personally and professionally. Attempting to balance life with scholastic, family and professional commitments takes quite a toll. Something always suffers at the expense of another. However, I received great support from my family and my colleagues at Jesuit, and I am proud of the work we accomplished and earning the degree. But, I am happy it's over.
How did you balance your education with your job and everything else in your life?

That is the million dollar question for me. I don't think that I did strike a balance. There was very little harmony throughout my journey, and I found myself constantly living in some type of tension created by my roles and responsibilities. As I mentioned before, something always suffers at the expense of another, it seems – it could be the coursework or research, family, the workplace, and even your own well-being. I suppose I could say that I was successful because I achieved the academic goal, but I wouldn't say that I performed every role perfectly. There is a lot I could have done better or differently. I think family, friends, and colleagues could attest to that.
I don't mean to paint a negative picture or discourage anyone from doctoral studies. This is one person's experience and in reflection, it wasn't easy – it requires considerable contemplation and strong commitment. Especially with a family on board.
How have you integrated what you learned within your career at Jesuit?
During the course work, I was able to integrate my experience at Jesuit as a context for certain projects such as program evaluations and policy analyses. We studied and conducted research on leadership formation, in particular, within K-12 Catholic schools as well as their counterparts in Catholic higher education. Faculty formation and professional learning, as well as curriculum development and services to meet the needs of diverse learners,  were also areas of interest for me. I hope that I will be able to integrate acquired principles and skills into my leadership roles here at Jesuit and that I may be able to serve with greater understanding and capacity, this institution and each person I encounter. Based on my research and overall experience, I feel that I am a more confident and competent advocate for Catholic education.
Dr. Jeremy Weeks

What motivated you to pursue an EdD?
Several things motivated me. As a first-generation college student, I wanted to change the educational path of my family. I highly value education and wanted my daughter to understand how important it is to me. Secondly, I wanted to open up professional opportunities beyond athletic performance. And most importantly, I prayed about it regularly, and God answered my prayer in a powerful way – I knew then I was supposed to pursue my Doctorate.
What was the process of earning your EdD? 
I studied at Dallas Baptist University. The applied for the program in the summer of 2014 and started the fall of 2015. I defended my dissertation in June of 2018 and officially graduated in August of 2018.
The application process wasn't much different than what Jesuit students endure. I had to take a few standardized tests, the GRE and MAT. Then, I had to write a few essays, followed by in-person interviews. Once I received admission, we were placed on a three-year curriculum, if I stayed the track I would graduate in three years, including my dissertation. We started with a group of 15 and only five of us completed on time. Nine of our initial group dropped out of the program. I am not a "natural" student. Formal education has never been easy for me. However, I am stubborn and very persistent. Once I set my sights on something, I will relentlessly pursue it until I achieve my goal. I believe this characteristic was developed while playing sports from a young age.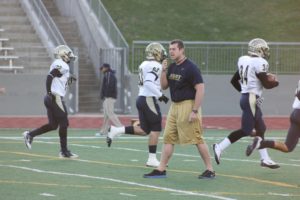 How did you balance your education with your job and everything else in your life? 
I am thankful to have a great wife and daughter. I did my best work at Jesuit after my normal work hours. Often, I would not come home until after 10:00 pm. My day at Jesuit typically ends around 6:00 pm. Once the weight room was empty and the lights were off, I could focus on my school work. My wife understood this and she supported me. Without her, I could not have done this. Also, I had my daughter's name in my DBU password – this kept me focused on my "Why" every time I logged in to complete an assignment. It's the little things that keep you going. Balancing life was very difficult. To say I did a great job of balance would be a lie. Honestly, I struggled. The stress of assignments would constantly be on my mind, even when I had much more important things in front of me. My stress level was maxed many times and at times I felt like I was drowning. Its times like this when you learn how much support you actually have. The key is to allow yourself to step back, slow down, and see all of those that are "on your team." If you never step back and look, you may think you are in this by yourself. This will only lead to added stress.
Stay tuned to The Roundup for more accolades on behalf of Jesuit's impressive faculty.