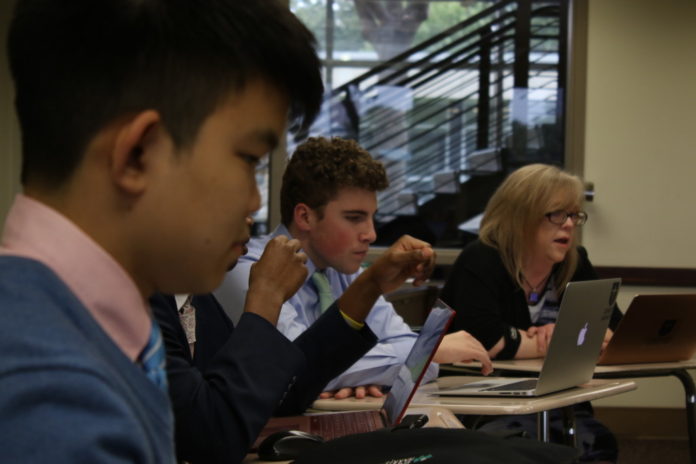 As the clock ticks down, the silence in the room envelops the people within it. Eyes narrowing like a hawk, the debater rapidly looks through his evidence, frantically clicking through his computer to find the right arguments to answer the others. Locking into one place, the debater grabs the evidence he needed and with a sigh of relief looks through his flows. Double and triple checking to make sure everything's there, the debater breaks the silence by stopping prep time.
After a successful season traveling to various tournaments across the first and second semester, the Jesuit debate team's season wrapped up with the 3 biggest tournaments, from Texas to Chicago, to both the Varsity and Novices on the team.
TFA State
The Jesuit debate team sent a record 8 teams to TFA State, making Jesuit the school with the most of the 107 teams that competed in the Policy debate division. After 6 rounds of arduous debating across two days, 6 teams remained in top 32 making clearance into elimination rounds, junior-senior team Chris Tran '19 and Adam Hall '20, junior-senior team Jack Griffiths '19 and Garrett Nagorzanski '20, senior team Jack Moore '19 and Riler Holcombe '19, senior team Giovannie Ferrer-Falto '19 and Ethan Jackson '19, senior team Jack Madden '19 and Pete Weigman '19, and senior team Logan Kim '19 and Ashik Amar '19. Only three Jesuit teams made it into the octo-finals, senior team Moore and Holcombe, junior-senior team Nagorzanski and Griffiths, and Kim and Amar. Clearing into the quarterfinals, Moore and Holcombe beat Greenhill and Nagorzanski and Griffiths beat Liberal Arts and Science Academy. Unfortunately, in the quarters on 2-1 decisions, Moore and Holcombe lost to Westwood and Griffiths and Nagorzanski lost to The Woodlands. Moore, Tran, Hall, Griffiths, Jackson, and Holcombe all were awarded 3rd, 4th, 6th, 13th, 16th, and 20th speaker respectively, being some of the top speakers out of the over 200 competing debaters.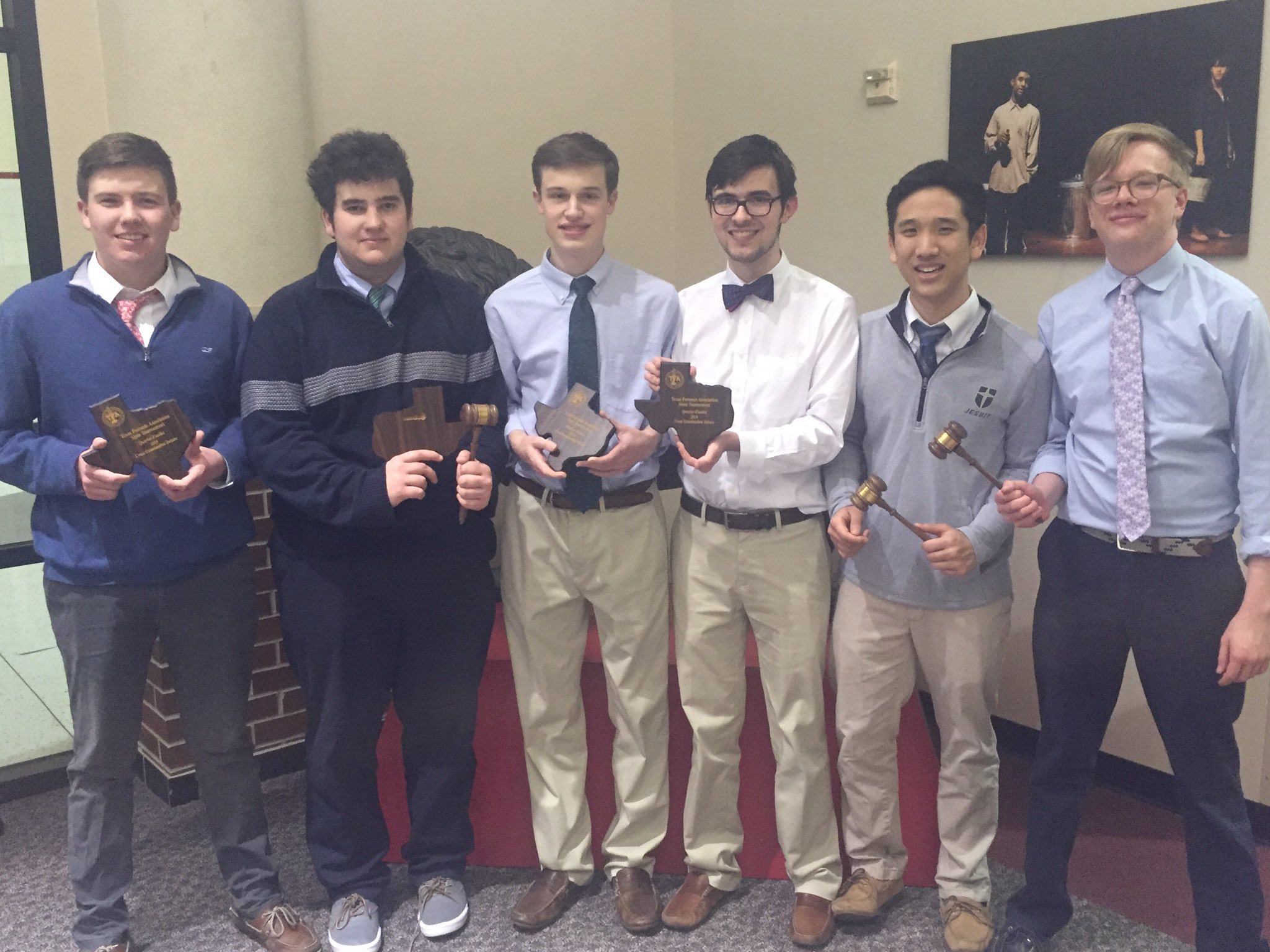 NDCA Nationals
From April 13-15, Jesuit competed at the NDCA Nationals in Chicago, a tournament with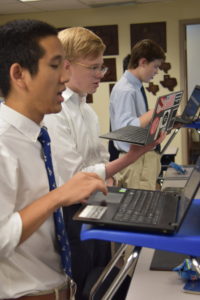 102 of the best teams in the country. Jesuit sent three teams to compete, senior team Riler Holcombe '19 and Jack Moore '19, junior-senior team Garrett Nagorzanski '20 and Jack Griffiths '19, and junior-senior team Adam Hall '20 and Pete Weigman '19. After six rounds
across two days, all three Jesuit teams were 4-2, saving a spot for each team in the elimination rounds. Unfortunately, the Jesuit teams lost in the double-octofinals with Moore and Holcombe losing a close 2-1 decision to Washburn Rural. Both Moore and Holcombe were recognized within the top 40 speakers from the 204 debaters that competed.
Novice Roundup
On May 4th to May 5th, Jesuit sent their Novices to their first-ever national tournament at St. Marks with 26 other teams from around the nation. After six rounds of debating the teams in their pods, junior Chris Martin '20 won 2 rounds and 7 out of the 12 ballots that were available. The freshman team Aarin Jain '22 and Sam Steffler '22 won two rounds and five out of the twelve ballots that were available. Unfortunately, both Martin and Jain and Steffler weren't able to clear, but Martin seeded 12th and Jain and Steffler seeded 18th which is impressive for these prospective novices who will enter Varsity next year. Martin was also 11th speaker out of the 56 debaters that competed.
Stay tuned to The Roundup for more Jesuit debate news!