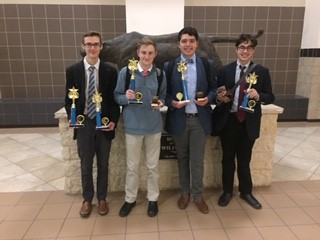 Ethan Jackson '19 walks to the stand like a predator, preparing himself to deal the death that is his 1AC. Fear radiating from the eyes of his opponents, he clears his throat and delivers the most compelling speech of all time.
That's how Jackson and his partner, Giovanni Ferrer-Falto '19, earned a convincing victory in the Denton Guyer Invitational this past weekend.
Jesuit's debate team lived up to its high standards at the Guyer Invitational in Denton, which attracted 25 skilled debate teams from the Dallas-Fort Worth Metroplex.
Jesuit's Performance
Varsity
In the varsity division, the team of seniors Giovanni Ferrer-Falto and Ethan earned first place.
The teams of seniors Ashik Amar '19 and Login Kim '19 and of sophomores Justin Burns '21 and Jack Martin '21 tied for third place by reaching the semifinals. Amar commented on how he and Logan have grown as a team over the season:
"Unlike last year, Logan and I have been in a lot more elimination round debates and we have had more decisions go our way, so I think we are better at handling high-pressure situations (like needing to win the last prelim round at state to qualify for the double octafinals). We've also debated or watched a lot of the teams that are going to be at state, so we have a good idea about how to strategize against the biggest threats."
Seniors Jack Madden '19 and Pete Weigman '19 as well as sophomores Kyle Cribbins '21 and Joshua Ramos '21 reached the quarterfinals and earned fifth place overall.
Novice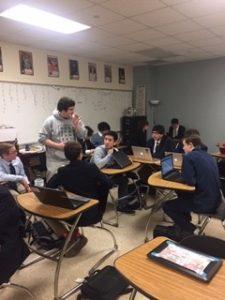 Jesuit's novice teams dominated their competition,  competing against in the finals against one another. The team of Junior Chris Martin '20 and Aarin Jain '19 faced freshmen Ethan Beyer '22 and Sam Steffler '22. Martin commented:
"It felt really good to reach the finals of the tournament. It was nice to have the hard work pay off this way. It was really cool that there was success with a lot of the Jesuit team and has encouraged all of us to work harder and hopefully turn this momentum into some more success before the season's over."
State Qualification
To make the Guyer Invitation even more memorable, four more teams qualified the State Debate Championships. The senior teams Ferrer-Falto and Jackson and Amar and Kim as well as the sophomore teams of Cribbins and Ramos and Burns and Martin each gained the 2-4 points needed to join the other four Jesuit teams and qualify for the state championship.
With these four new state qualifications, the Jesuit Debate team will be sending a school record of eight teams to the State Championship to be held in Houston during Spring Break in March. Amar voiced his pride for the team as a whole:
"This entire year has been pretty historic for our squad. I think that it's really cool to be a part of a team that is sending the most kids in Jesuit history to state. We've debated or watched a lot of the teams that are going to be at state, so we have a good idea about how to strategize against the biggest threats."
Mr. Lingel summarized it perfectly by explaining, "it truly was a historic weekend for the Debate Team."
Stay tuned to The Roundup for more updates from Jesuit Debate.