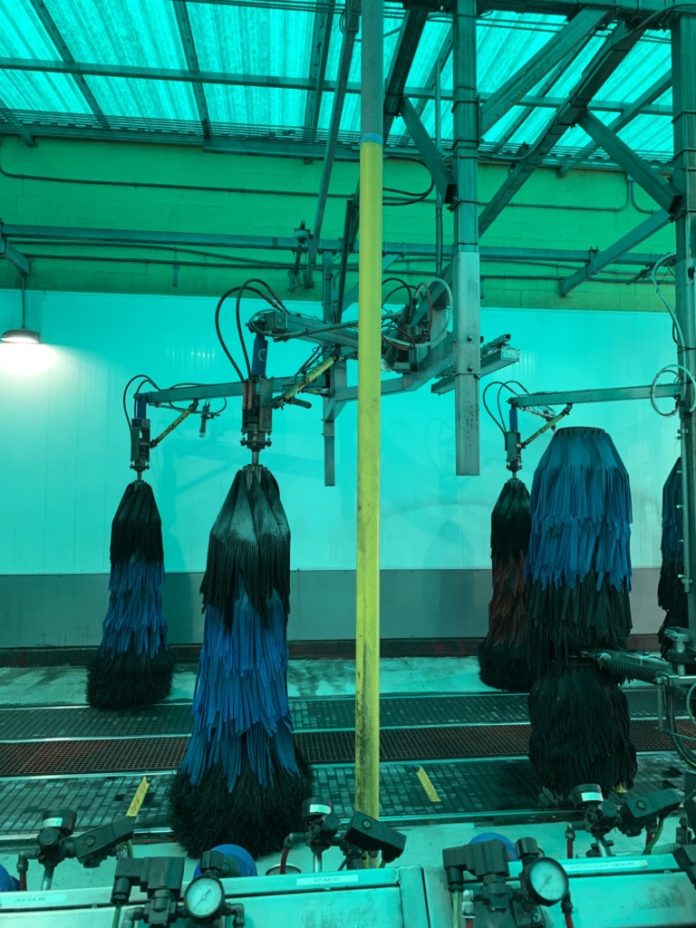 Are you really into car washes? Like really, really into car washes? What about typewriters? Have any other peculiar interests?
Well, if you ever enter the Math commons by chance after school, you may see a student named Gabe Tan '21 roaming around the Math Commons, talking with teachers and listening to music on his AirPods. A genuinely nice guy, Tan, nevertheless, has some odd idiosyncrasies such as a love for typewriters and sprinklers, and car washes among other interests. I spoke with Gabe to learn more about some of his more peculiar fascinations.
Q: How would you describe yourself?
I describe myself as a funny person who uses logic instead of emotion, because if you are in a business, you don't want investment to be something you want, but something you need.
Q: Are you interested in business?
Yes, in fact, I work for a business called Expert Vehicle Care LLC. out of Lansing, Michigan.
Q: What's behind your strong interest in car washes?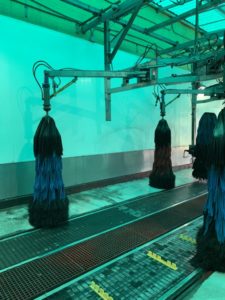 Personally, I am mechanically inclined [hands-on person]. So, that means I like tinkering with things, and I like anything that spins, sprays water, or has a chain. So I was quite interested, and I frequent a local car wash in the Lewisville area. I know the management and ownership and they invited me out to do some work. I now do tunnel design with Expert Vehicle Care, but before that, I was invited by the Local Car wash to go to the Southwest Car Association of last week. That's where all the new stuff is, that's where you get to learn network. A lot of people were willing to share their stories, kinda like old memories and new stuff on how they've improved products.
Q: Is this what sparked your interest in car washes? How did this all start?
Yes, my start was at the local car wash, where I first went through. In fact, I used to be an enthusiast, but the thing that helped me act upon my dreams, which was to own a car wash, distribute, etc., was an iPhone.
Q: How did an iPhone spark your interest in car washes?
I had an iPhone 6 Plus and it was strange for a twelve-year-old to have an iPhone 6 Plus. The manager came out and saw me taking pictures, and gave me a tour of the location. They invited me to their newest location because they are a chain. From there I got invited to the SCWA (Southwest Car Wash Association) trade show and that's how I became involved.
Q: Are you affiliated with any car wash companies?
I, right now, am affiliated with two companies. It's a company out of California called QC Pacific. We sell chemicals and brush material that comes out of the Netherlands, which is a drying material for your car. The other company, which I am more involved with, is Expert Vehicle Care. We're trying to expand towards Dallas and the Carolinas. We sell three lines of tunnel equipment, which are the brushes, applicators, and the arches, as well as four lines of chemical equipment, which is the stuff that goes into the arches and gets sprayed onto your car.
Q: If you could describe yourself in one word, what would it be?
I would describe myself, most of the time, as courageous… maybe. I'm taking that first step. Being a sales manager and the first one at Jesuit sets the goal. It sets the standard, and if you're young, and if you keep at it, then you'll get better and better. That's why you want to keep on doing something consistently because you know what you're doing, and it turns out that I'm good at doing this stuff.
Q: You also have a fascination with typewriters?
Typewriters have a lot of bells and whistles and little gears, so it has to do with my mechanical inclination to tinker and fix stuff. I learned a lot from mentors in terms of the typewriting aspect and other aspects too.
Q: Do you use it for enjoyment? Or for what purpose?
I use it for fun, and I've actually started using it because I don't want to waste the thirty dollars of ribbon and sit in the dust. Because I design tunnels, you need to lay it all out, blueprint it basically. So, I list it all out, and type it on a typewriter, and send it out to the clients, and they make the changes. The typewriter is involved with just typing stuff.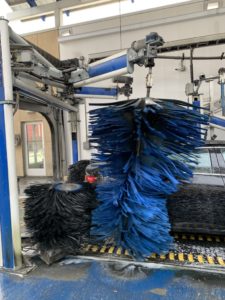 Q: Is there anything else you're interested in?
Photography. I have the iPhone XS Max, so I like the photos I take and I take videos of what I see. When I tour a car wash, I want to know what's in it, how it's working and why this is happening. After that, I take a video of the car wash and post it on YouTube to see how each piece interacts with the other pieces.
Q: How does the distributing process occur?
I help sell equipment parts for clients that have already installed the equipment. We sell parts and service their equipment for them, so if something isn't working right, we can go in and fix it. However, with new clients, we go and design a new tunnel and tear out the old equipment and put in the new stuff.
Q: What are your future plans for the car wash business?
Right now,  I'm in a position where I would like to focus on the present, and I enjoy working for Expert Vehicle Care. It's very fun, and you get to know things that most regular people wouldn't know. Right now, I'm in a happy place, so I guess the next step would be to work for the manufacturer. There's a tier system, a manufacturer to the distributors and then to the clients, so I may want to move up the system or move down, and using the knowledge I have as a manufacturer or a distributor to make a quality car wash.
If you're interested in learning more, then I would highly recommend going to Gabe Tan's YouTube Channel. Here's the link:
https://www.youtube.com/user/sapphirebluegabe
Stay tuned to the Roundup for more fascinating profiles!