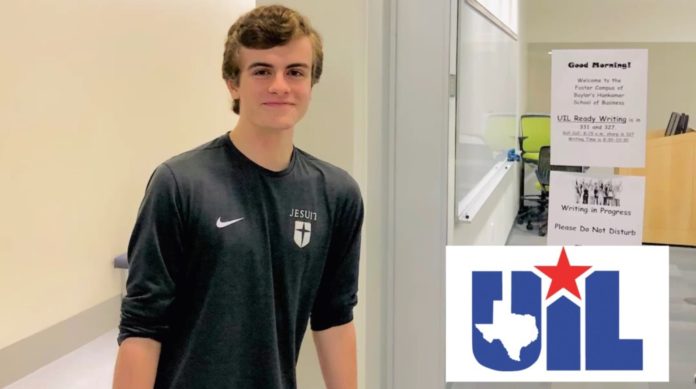 This past Saturday was hectic for Jesuit's Class of 2020. Dozens took the ACT early Saturday morning, then spent the rest of the day getting ready for prom the same evening. This frenzy was only amplified for Will Florer '20, who represented Jesuit at the UIL Regional Ready Writing competition Saturday as well.
Not only did Florer compete in this rigorous academic competition, but he also managed to place third in the region and secure himself a spot at the State competition on May 3 in Austin. The Roundup interviewed Florer following his impressive victory:
"Regionals was a very different experience than District. The night before the competition I brainstormed several ideas that I could potentially use in my essay. Instead of just focusing on literature, I also pulled from America History, famous plays, and stories from my own life.
The morning of Regionals, my dad and I drove out to Baylor in Waco, and the competition started about an hour later. I got a great prompt and was able to write an essay strong enough to qualify for State. I look forward to representing Jesuit at State on May 3rd and I plan on preparing for this event over the coming weeks."
Stay tuned to The Roundup for more Jesuit academic news!