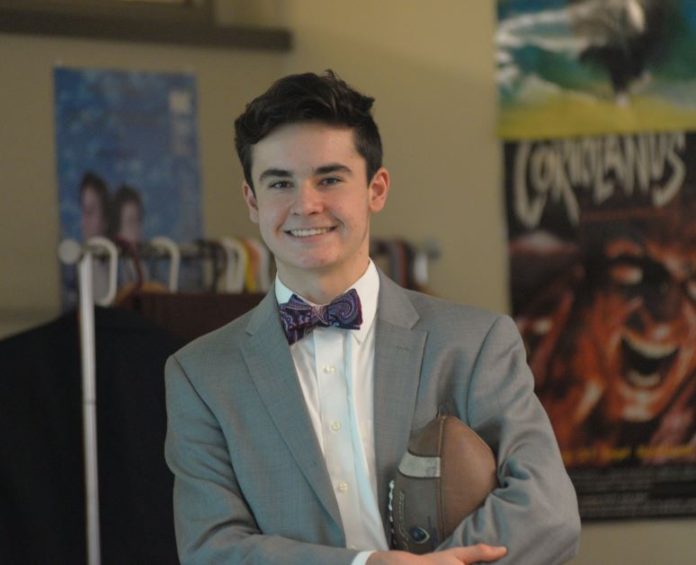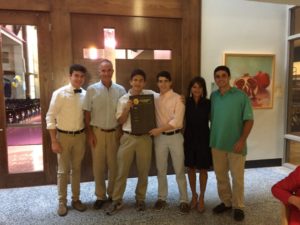 Dear Readers,
"Why are you a journalist?" was the question of the hour at this year's High School Journalism Day. Around 330 high schoolers had gathered in one of the ballrooms in the swanky new Statler Hotel downtown for the event. The Dallas Morning News was hosting us, and Grant Moise, The News' publisher, was the speaker on stage who posed that question.
It was a simple question, but it really got me thinking. It actually gave me a mini identity crisis. I was hung up on that title, journalist. Journalist. Sounds very important, the word journalist, and the first thing that comes to mind when I think of the word journalist is this ABC World News with David Muir promo. That's a very important-looking promo.
Before I could really process his question or my answer, Mr. Moise threw this interesting object out into the crowd so we could answer: Catchbox, the World's First Soft Throwable Microphone.
Very soon I realized that I was sitting in an entire ballroom's-worth of David Muirs. People talked about fighting for those without a voice. Others talked about fighting fake news. Others talked about fighting for the truth. A lot of people profoundly stated that journalism is important now more than ever.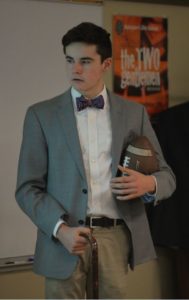 Based on those answers, it seemed like everyone there was a fighter, an epic champion doing battle for the truth. They got me thinking about what I've ever championed with my newspaper writing—nothing as important as it seemed they had. I've never thought of myself as a champion. Does this mean I'm not allowed to think of myself as a journalist too? I don't think of myself as a David Muir. David Muir "leads the charge." What charge do I lead? Never mind. why—am I even a journalist in the first place?
Okay, yes, I am a journalist, even if I'm not much of a champion. That's because a journalist is more than just a champion; a journalist is a historian too. The term journalist encompasses these two equally important ideas. Having developed this understanding after four years at The Roundup, I am ready answer Mr. Moise's question. The proverbial World's First Soft Throwable Microphone is in my lap.
---
When I think about why I'm a journalist, I think back to my freshman year. When I walked into my first newspaper meeting, I didn't know what I was doing or what I was getting myself into. I was only there because I thought I could find some clubs to try through the newspaper. Who knows? Maybe one of them would end up being the club for me. I was a small freshman, and Jesuit College Preparatory School of Dallas was a large and unfamiliar and important-sounding place. For a long time The Roundup was just a way for me to get to know it.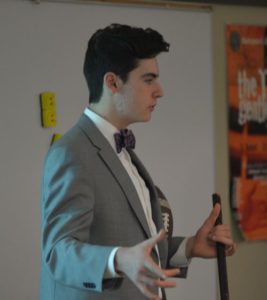 So why did I stick with it? Well, on one level, I never found anything else more interesting to do. On another level, I may have intuited that sticking with something from freshman to senior year opened up leadership opportunities. On yet another, I was stuck in Dr. Degen's English class sophomore year, so quitting would have made things a little awkward.
I continued to stay involved into sophomore year, and soon the seniors gave me extra responsibilities. Most importantly, the Sports Editor asked me to cover the freshman football season. Granted, I didn't consider saying no. I was a sophomore, he a senior, and God only knows what unspeakable things they do to sophomores that don't write their articles.
So write those articles I did. However, the thing about covering the whole freshman football season is that I had to come out with an article a week. This was a difficult task, especially since freshmen are not exactly known for responding to emails, like, at all. (It's not all their fault… I was a lazy sophomore.)
But when the players didn't respond to my requests for an interview, it seemed like they didn't care whether or not they were written about. And based on the views my articles got when they were posted, it seemed like many readers didn't care either. And when no one else seems to care, it's hard for you to care too. Thank God the scary senior editors cared because I don't think I could've stayed motivated without them.
Still, here I was, nearly missing deadlines and staying up late and stressing about the freshmen, of all people. I was not really getting to know the school, not really giving voice to the voiceless or fighting for what was right—or fighting for anything, really. Journalism was onerous now more than ever.
I failed to see how what I was doing was important. I'm sure many current The Roundup writers can relate. So why did I stick with it? In the end, I think it was Dr. Degen's view on why my articles actually were important. He always said that The Roundup is important because it records the history of the school, and that's exactly what I was doing, recording the history of freshman football.
The Roundup is in many ways a collection of historians, and because we are historians, it's our job to care even when no one else does. It's not up to us to decide which football game is important enough to write about. It's our duty to treat each game and player with the same respect by writing them into Jesuit's history, because if we don't, it would be like they never played, practiced, or prepared for their game at all. For The Roundup, it doesn't matter if anyone cares. It only matters that Jesuit's history will be preserved for years to come.
So flash forward two years back to the David Muir convention at the Statler where everyone is saying that journalism is important now more than ever. I think I want to disagree with that statement. Journalism has always been important, and will always be important. Its enduring importance lies in its commitment to do the past justice, not just to fight for a more just future.
There is a quote frequently attributed to Phil Graham, former president and publisher of The Washington Post, that calls journalism the "first rough draft of history." If you take Phil Graham and you combine him with David Muir, I think you get the ideal journalist: champion and historian. I do wish I was more of a champion at The Roundup, but at the very least, I had the opportunity to appreciate the ways in which I am a historian.
I really do appreciate both aspects of journalism because they make it important together. Why am I a journalist? Because I think it's a noble job that I've come to appreciate and love. It's been a big part of my life for a long time now, and it's become a big part of my identity. I remember that back when I was a freshman, I chose journalism because I didn't know what else to do, but now, I can't imagine doing anything else.
---
I want to thank everyone who has made my time as Editor-in-Chief this year so memorable.
Thank you first to all of our staff writers. So many of you really took the initiative this year to write about what you are passionate about while still taking on and completing assignments. You've written countless game and food reviews, written series on Catholic Social Teaching and sudoku, and written about theater, robotics, football, lacrosse, art, campus ministry, and everything in between. You filled out my Google forms, tolerated my emails, and made it through my meetings (some of you at least). I'm happy to count all of you as friends.
Thank you to the Associate Editors. This year we opened this position up to sophomores, juniors, and seniors rather than just juniors, and it really paid off. I'm so happy to see that more sophomores are becoming Associate Editors. The Associate Editors are the workhorses of the paper, so I mean it when I say The Roundup couldn't exist without you.
Thank you to Michael Miramontes. Michael, I couldn't have asked for a better partner in crime this year. Your work ethic is something I constantly admire, and your April Fools article about Jesuit accepting female applicants was and is legendary.
Thank you to Dr. Degen, Mr. Nava, and Mr. Asche. The Roundup couldn't survive without the consistent support of its moderators. Thank you especially to Mr. Nava for creating the website that earned us a Mark of Distinction from the NSPA this year.
Thank you to Emmet Halm and Reed Zimmermann. I wish both of you the best as you assume the roles of Editor-in-Chief and Managing Editor next year.
Finally, thank you, Reader, for reading.
Best,
Connor
EIC
photography by Matthew Cox '19