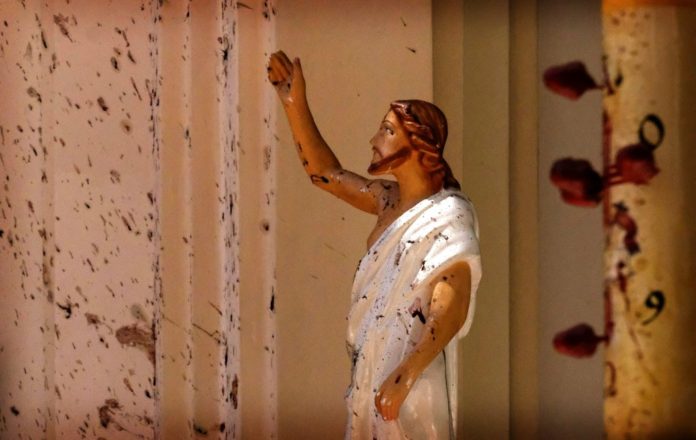 For those who are Christians, it must have been joyous to celebrate the Resurrection of Jesus Christ this Easter. However, not for Christians in Sri Lanka as over 300 people have been killed in the country on Sunday. Over the course of the afternoon, three churches and three hotels were attacked by suicide bombers as people celebrated Easter at the hotel or in the Church.
What Do We Know So Far?
When the clock's hand on the steeple of St. Anthony's Shrine struck 8:45 AM, the explosion of the first suicide bomber's vest obliterated the wooden pews of this Church as Eastern Catholics were preparing for the mass and praying this Easter morning. A few minutes later, a second explosion decimated the tranquility of one of the Shangri-La's restaurants called The Table One. The Table One Restaurant was considered a favorite spot for foreign tourists to eat.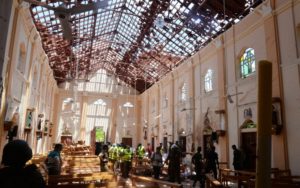 Within a few hours this Easter, a collection of suicide bombings had hit three Catholic Churches and three upscale hotels in the Indian Ocean island nation of Sri Lanka, which is still recovering from a twenty-five year-bloody civil war. As of what we know right now, more than three hundred civilians have been killed and at least four hundred injured in this series of gruesome terror attacks that have shocked this country this Easter, one of the most celebrated Christian holidays across the planet. As of currently, there are over thirty-five foreigners that have been identified in this terrorist attack that has shaken Sri Lanka. According to the New York Times, this recent attack is the "deadliest attack on Christians in South Asia in recent memory and punctuated a rising trend of religious-based violence in the region."
Chaos and Internal Response
This sheer brutality and sudden terrorist attack have put Sri Lanka into a state of chaos and despair, which has spread throughout all of the nations. The St. Anthony's Shrine blast left a scene of broken bodies, billowing black smoke, and splintered wood. As one witness described what he saw, "It was a river of blood," said N. A. Sumanapala, a shopkeeper near the church who said he had run inside to help. "Ash was falling like snow," he said. "I saw limbs and heads. There were children, too."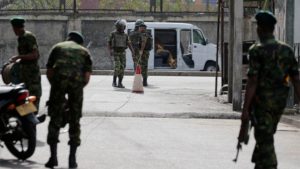 Moreover, news of this bombing spread throughout the global Christian community this Easter morning, interrupting ceremonies and liturgies across the world in a week, where Christians are still mourning the disaster of the Notre Dame Cathedral in France that was brought about by a fire. In addition, by Sunday afternoon, the capital of Sri Lanka, Colombo, was initiated into a tight securitized phase. From more recent news, soldiers have shut down roads across the country, a devastated government issued a day-long curfew on social media, including Facebook, Instagram, and Twitter, and all police officers were immediately ordered into duty without questioning. Even bus companies have banned the use of luggage within their vehicles as a way to avoid possible terror attacks. In addition, after the first blasts, panic quickly spread to other churches, which halted or canceled Easter services.
According to the New York Times, one noted that "Our phones were on silent, but one guy got a text about the bomb blast," said Ranil Thilakaratne, who was at a service in the Colombo suburb of Nugegoda. "Then he alerted the priest. We stopped the service and moved out." As a means to maintain the relative stability and peace of the nation of Sri Lanka, several authority officials have come out to calm citizens across the country.
The Sri Lanka Prime Minister has condemned the terror attacks as "the cowardly attacks on our people today" and urged the country to remain "united and strong."  Furthermore, the Sri Lankan government administration has dispatched military and police forces to catch the ones responsible for the terror attack and to aid peoples, who have been affected by the blasts.
Foreign Response and Global Unity
After these tragic series of events, many global leaders have offered to provide aid to the nation of Sri Lanka after these gruesome suicide bombings that have rocked the nation.  World leaders including Narendra Modi, Imran Khan, Theresa May, Donald Tusk, Jean-Claude Juncker, Donald Trump, and Vladimir Putin condemned the attacks and expressed their sympathies to the victims. May called the violence "truly appalling" and said that "no one should ever have to practice their faith in fear".
This outpouring of spirit demonstrated by these foreign leaders illustrates how the world can unite together in the wake of tragedy, violence, and despair. Numerous leaders have commented on the Sri Lankan bombings, and have offered to provide whatever aid necessary to return the country back to its normal state. Donald Trump tweeted the following at 6:20 AM on April 21, 2019:
138 people have been killed in Sri Lanka, with more that 600 badly injured, in a terrorist attack on churches and hotels. The United States offers heartfelt condolences to the great people of Sri Lanka. We stand ready to help!

— Donald J. Trump (@realDonaldTrump) April 21, 2019
In addition, Theresa May expressed her sympathy:
The acts of violence against churches and hotels in Sri Lanka are truly appalling, and my deepest sympathies go out to all of those affected at this tragic time.

We must stand together to make sure that no one should ever have to practise their faith in fear.

— Theresa May (@theresa_may) April 21, 2019
Emmanuel Macron, the President of France, also expressed his condolences on Twitter:
We are deeply saddened by the terrorist attacks against churches and hotels in Sri Lanka. We firmly condemn these odious acts. We stand by the people of Sri Lanka and our thoughts go out to the loved ones of the victims on this Easter Sunday. https://t.co/NytqQP9aE7

— Emmanuel Macron (@EmmanuelMacron) April 21, 2019
Narendra Modi, the Prime Minister of India, who has had conflict with India in the past, also Tweeted his feelings on the matter:
Strongly condemn the horrific blasts in Sri Lanka. There is no place for such barbarism in our region. India stands in solidarity with the people of Sri Lanka. My thoughts are with the bereaved families and prayers with the injured.

— Chowkidar Narendra Modi (@narendramodi) April 21, 2019
This form of unity over social media expressed by numerous leaders from foreign nations demonstrates that we are able to put aside our differences and conflicts and join together for a common cause of helping the devastated and the afflicted.
Conclusion
Overall, Christians rival Muslims in having recently become the target of persecution. 2016 showed that Christians were the most regularly "harassed" religious group in 144 countries, while Muslims achieved that dubious status in 142. The three countries with the most extensive violence against Christians as of 2018 were in Pakistan, Nigeria, and the Central African Republic.
Presumably, Sri Lanka will soon join the list of countries where martyrdom is a strong possibility for Christians. Thus as Christians, we should still strive to remain steadfast in the faith, no matter the persecutions we may face.