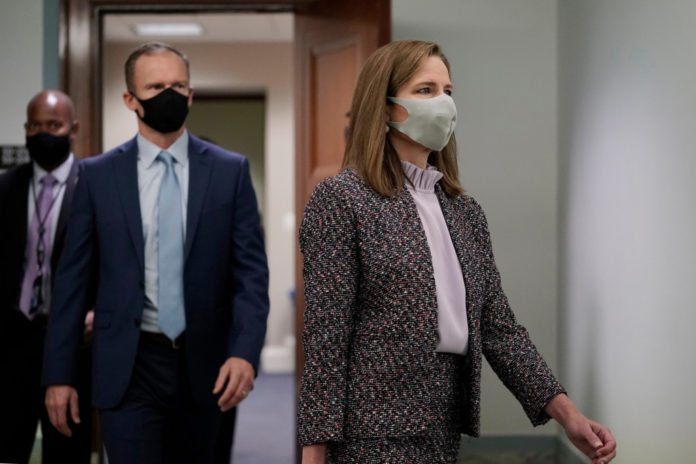 On Wednesday, senators began their questioning of Judge Amy Coney Barrett during her third day of Supreme Court confirmation hearing.
Graham praised Barrett for being 'unashamedly pro-life,' saying her confirmation will be a breakthrough for conservative women.
Opening Remarks:
Senator Lindsey Graham, Republican of South Carolina, opened Wednesday's hearing by proclaiming Judge Amy Coney Barrett's coming confirmation a historic victory for conservative women who he said have faced steeper obstacles in public life than liberal women.
Mr. Graham said, "This is the first time in American history that we've nominated a woman who is unashamedly pro-life and embraces her faith without apology, and she is going to the court."
Brief Mention of Roe v. Wade:
During the hearings, Judge Barrett has declined repeatedly to answer how she would rule on a challenge to the Roe v. Wade decision that established abortion rights, but she has made clear that she opposes abortion rights.
At the beginning of the second day of questioning by senators, Mr. Graham said, "This hearing, to me, is an opportunity to not punch through a glass ceiling, but a reinforced concrete barrier around conservative women. You're going to shatter that barrier."
Furthermore, Mr. Graham echoed statements on Tuesday from the panel's two Republican women, both of whom argued that conservative women had been marginalized for their beliefs.
Praise:
"I have never been more proud of the nominee than I am of you," he said. "This is history being made, folks."
Later, Senator Josh Hawley, Republican of Missouri, echoed Mr. Graham's praise as he concluded his questions, announcing that he would vote for Judge Barrett and saying: "There's nothing wrong with confirming to the Supreme Court of the United States a devout, Catholic, pro-life Christian."
Credit: Luke Broadwater (The NewYork Times)
Barrett's advice for young women: "Make decisions. Be confident. Know what you want. And go get it."
Question:
Near the end of the third day of hearings on Capitol Hill, Senator Joni Ernst, Republican of Iowa, asked Judge Barrett if she had advice for young women.
Barrett's Advice:
Judge Barrett said she did, and passed on some guidance that her father had told her.
"One thing I have often told my own daughters is that you should not let life just happen to you or lead you along. You should identify where your objectives are and identify the type of person you want to be and make deliberate decisions to make that happen."
My dad used to tell us not to make a decision is to make a decision."
She concluded, "Make decisions. Be confident. Know what you want. And go get it."
Hopes and Admiration:
Ms. Ernst told Judge Barrett many young women are rooting for her.
"I would share with you that there are thousands upon thousands of young women out there that see the role that you set," Ms. Ernst said, adding that they see the judge as "someone they can aspire to be."
Credit: Luke Broadwater (The NewYork Times)
Day 3 Full Highlights Vid
Other Important Topics – 
Barrett gave a seminar on severability, with an Obamacare subtext.

Klobuchar presses Barrett on potential election-related litigation, invoking her role in Bush v. Gore.

Barrett refused to discuss climate change, saying it is "a very contentious matter of public debate."

Graham, criticized for invoking 'good old days of segregation,' says he was being sarcastic.

Peppered with questions on Trump's powers, Barrett offered no answers.

Barrett refused to answer questions on Trump's family separation policy at the border.
Article Credit: https://www.nytimes.com/live/2020/10/14/us/amy-coney-barrett-live
What to expect at Thursday's confirmation hearing – 
The Senate Judiciary Committee on Thursday will convene an outside panel of experts to argue for or against Judge Barrett's confirmation to the Supreme Court, a debate that will take most of the fourth day of high court confirmation hearings.
Breakdown: 
Democrats have called four witnesses to burnish their argument that Judge Barrett's confirmation to the Supreme Court before Nov. 3 will lead to the Affordable Care Act being overturned, and threaten existing reproductive and civil rights.
Afterward, the confirmation hearing process will conclude. Under the rules, Democrats will insist the committee wait a week to vote on the nomination, postponing the vote to approve her nomination in the committee until Oct. 22.
Credit: Emily Cochrane (The NewYork Times)
Final Thoughts: 
In conclusion, Day 3 of the hearing was full of notable events. Ranging from much praise and admiration from young women nationwide to those who pinpointed her evasiveness from questions regarding President Trump's power and the topic of climate change, Day 3 of the hearing was one to remember.
Time is ticking down until the fourth day of the Judicial Hearing. Furthermore, this will be one of the most important days and most likely serve as the last day of this Judicial hearing.
For more coverage on politics stay tuned to The Roundup for more!