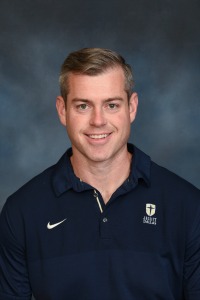 One way or another, almost every Jesuit student within Coach Jeremy Weeks' eight-year career has heard the famous advice, "Eat lots of fruits and drink lots of milk!" Coach Weeks has based off an entire training program on what goes on outside the weight room. Now, it's time for Coach Weeks, himself, to venture outside the 28-acre Jesuit Dallas campus.
Why are you leaving Jesuit?
We are moving to support my wife and her career. Our focus has always been on my career and it's time we shift towards hers. The timing is as good as it ever will be and we are excited to take a chance on something exciting for her.
What awaits you when you leave Jesuit?
That is a great question. I have learned that you need to focus on being in the moment. I am not sure what tomorrow holds, or exactly what our time in the Northeast will hold for us. However, I know what I can control and I plan to focus on the controllable. There is a lot of unknown, which is somewhat exciting. I have faith in God and I know he will take care of us and provide opportunities as long as I hold my "end of the deal" by being a faithful servant to Him and other people.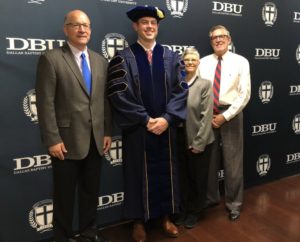 How would you describe your time at Jesuit?
My time at Jesuit is best described as being exactly what I needed when I needed it. That's how God works. You may not see it in the moment, but when you look back you think, "Yep, that was exactly what I needed." We teach the formation of young men, however, something students may not see is how you all form us as educators. The students here allowed me to grow as a coach and a man. You all taught me the importance of being a servant. "To serve others as they deserve…"
What legacy do you hope to leave at Jesuit?
I don't seek to leave a legacy at Jesuit. The only thing I want people to understand is the importance of controlling what you can control. Your effort, over time, produces fair results. I say "fair" because if you do not put forth much effort, the results will reflect it. Now, if you put in full effort and COMMIT yourself to something, "fair" then becomes the desired outcome. It may take time but stick with it. Everything works out just like it is supposed to.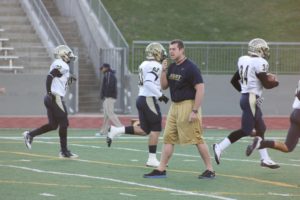 Do you have any final remarks?
Jesuit has become part of my family over the last 8 years, and I am thankful for it. The community has always supported what we are trying to do in the Ranger Performance Center and for that I am thankful. Also, eat breakfast and drink the whole milk!
On behalf of the entire student body, thank you for being a great coach and teacher, Coach Weeks!
Stay tuned to The Roundup to stay up to date on Jesuit news!