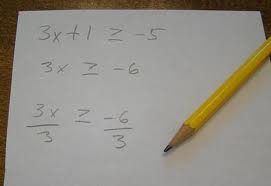 Jesuit's UIL Math team, lead by senior Brendan O'Brien, looks to establish a winning tradition in the competitive arena of high school math competitions. Because only the top three district contestants continue to the regional meet, UIL Math will need anyone who can contribute to the team's success. At the district meet in February, contestants can try their luck in three categories: Calculator Applications, Number Sense, and Math.
Calculator Applications is a competition that not only involves calculator skills but also a strong understanding of math along with intense speed with a calculator. At any given practice, three or four mathletes rapidly plug numbers into their TI-84 calculators while recording their answers in hurried, messy handwriting on a long sheet of paper. Each test consists of 70 questions with topics ranging from geometry to long long-division.
To make the test difficult, only half an hour is given to complete the test, and none of the questions can be plugged quickly into a calculator; all the questions involve multiple decimals. Mistakes are made either in erroneous plugging of number into a calculator or incorrect rounding, because every answer must be rounded to three significant digits. Because the test punishes wrong answers, sophomore Erik Furton can frequently be heard in practice exclaiming, "I got a negative score again!"
Number Sense, also called mental-math, requires little understanding of complex math but rather an ability to work quickly and accurately. The test consists of 80 questions, but testers are given only 10 minutes. Although the questions are not difficult, the student must do all work in his head, introducing a factor of difficulty into the test.
Challenges in this test come from the short amount of time, the mental-math aspect, and the points deducted for skipping questions: all these lead to low scores, possibly even reaching the negatives. "Hopefully I can do well on the test and earn a trip to region," said Sophomore Grant Uy, the team's best Number Sense competitor.
The Math competition requires a thorough understanding of mathematics, as questions range from trigonometry to calculus. With 40 questions to answer in 60 minutes, the time is not much of a factor. However, because of the difficulty of the questions, it is hard to score well. Senior Akos Furton claims, "It's a tough test, but if you practice hard, you can succeed."
Practice is held on most Thursdays and includes both math and food, ranging from trail mix to cookies. If you are good at math and you wish to support Jesuit's team, give UIL Math a try.