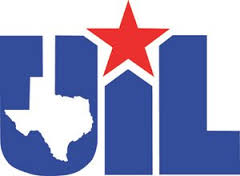 The Conrad High School cafeteria bustles with the chatter of students and coaches.  Its classrooms echo with the cacophony of pencil marks and erases as well as an incessant array of clicks and thuds from the nervous test-takers. All convened with similar goals, these individuals look to emerge victorious from rigorous academic testing, hoping not only to advance, but also to help their school win overall awards.
On March 29, a select group of Jesuit students were deeply involved in this scholarly scene, competing in UIL Academics. Students from every grade gathered to demonstrate their ability in topics ranging from calculator applications to spelling and vocab. Met with stiff competition, Jesuit students were nonetheless able to exhibit their impressive ability despite the rigor of the material and the depth of their opposition. Mrs. Mary Beth Farrell, Co-Chair of the English Department and Head of the Jesuit UIL team, may have described it best when she said this district meet is "a rigorous academic competition that's similar to sports but with a different atmosphere. It's the same kind of competitiveness going on."
Starting early in the morning, the competition opened with number sense. An 80-question, 10-minute test, number sense requires a participant to do all of the math in their head with no scratch work or erasing. The team placed 3rd behind the School of Science and Engineering Magnet (SSEM)–a school that placed 1st every math-science event—and the School for the Talented and Gifted (STG). Despite this, Grant Uy '14 earned 5th place.
Unfortunately, these magnet schools frequently make the meet much more difficult as they invest a great deal of time and energy into these events. Mrs. Farrell commented on this, saying, "The magnet schools that we're up against put us at a bit of a disadvantage in some categories but because that's all they focus on, we have a bit more of a well-rounded group. Considering that, I think we do really well." Despite the great challenges ahead of them, the team trudged on.
Number sense was followed by calculator applications, a 60-question test consisting of word problems as well as tedious arithmetic operations. Uy excelled in this event as well despite his relative newness to the test, placing 5th yet again. Uy said, "I was rather surprised by my success in calculator applications given my lack of experience in that category." Paired with a solid 7th place performance from Erik Furton '14, the team earned 2nd place overall behind SSEM.
Spelling and vocabulary followed calculator applications. Zachary Schutze '15 won 1st place decisively in a test with 30 multiple-choice questions focused on vocabulary and proofreading followed by the written spelling of 70 words. Matthew Boss '14 earned 3rd place in quite an impressive performance. This year was the first in which Jesuit had such great success in this test, and Schutze's score almost doubled the scores of winners in other districts. Mrs. Farrell remarked, "He smoked them," and expects Schutze's scores to take him all the way to the state competition.
After hearing the results, Schutze said, "I felt ecstatic about winning, knowing that all of my hard work paid off. I've been working with Mr. Nielson since November to master the huge 1500 word list. I was fairly confident going into the competition, but I didn't really know what to expect in terms of competition." Clearly, the many hours of study made a great impact. Schutze felt quite comfortable as a result of his practice, remarking, "I remembered a lot of [the words] and it is the format that I have always been familiar with. I started spelling in first grade, competing in PSIA and academic fair for St. Patricks. I feel great about my chances at regionals…I've got a lot of experience that I hope to use to my advantage." A dedicated competitor, he will advance and represent Jesuit well.
Finally, students took the math test—a 40 minute, 60 question exam with problems ranging from Algebra 1 to Calculus. Uy demonstrated his ability for the third and final time with a 6th place performance. Furton contributed an 8th place performance, giving the team a 3rd place overall finish. After a day of standing in the shadow of SSEM despite a good effort, Uy said, "I was actually very impressed by our performance this year, especially given that we've lost multiple key members over the last couple of years, such as Todd Lim '13 this past year, who was our strongest number sense participant." With only a small group, the team performed quite well as a whole.
In the face of a figurative Goliath of UIL math, the math competitors felt that they performed well and that their sometimes dissatisfying placements were simply a product of the competitiveness. Uy commented, "Unfortunately, I don't think we stood a chance against the magnet schools in the district–one local STEM magnet focuses their curriculum exclusively on math and science which puts 'normal' schools at a large disadvantage. Rarely do their four representatives in any math or science category fail to sweep the top four spots. That having been said, the presence of difficult competition certainly motivated us at times despite demoralizing us at others." The district pits the best-of-the-best against each other. In fact, Wesley Runnels, a SSEM student, won first place in every math-science event this year and he looks to capitalize on his two UIL state academic championships he earned as a junior. Ultimately, many of the smartest minds come from Jesuit's district.
With a good outing despite some areas that could have been improved, Jesuit students were able to experience a great environment of academics and scholarship that is not common. Mrs. Farrell explained, "It's exciting for me to watch kids to share a camaraderie centered around academics…This is really a great outlet for many of them." This meet provided students an opportunity to pursue their interests and meet like-minded people as well.
Although the main event is over, the team still faces a bit of a challenge in the coming year. For continued success and to give more people the chance to enjoy this process, the team will need new members. Mrs. Farrell stated, "We need a bigger team, so hopefully we can grow this thing in the future." With many key members having already graduated and many more that will leave this year, the team will need to find new members to ensure further accomplishments.