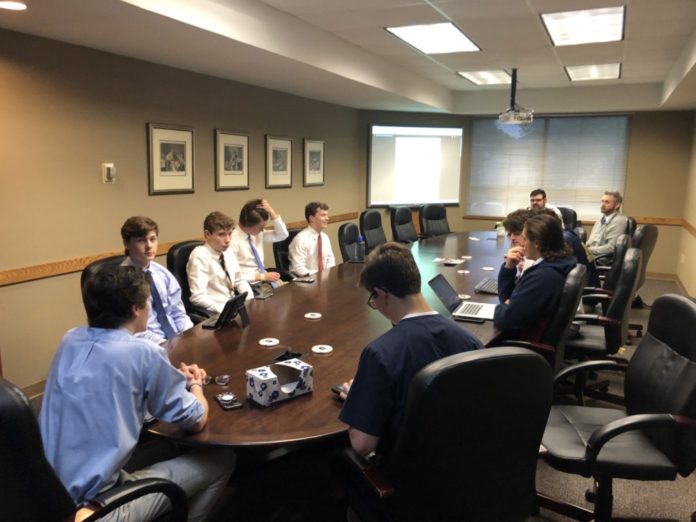 Below is the inaugural Student Council address written by the Student Council President and Vice President, Will Florer '20 and Will Nickols '20:
---
Dear Jesuit community,
A major goal of Jesuit's Student Council this year is to better publicize and inform everyone about our activities. Peers frequently ask what Student Council does, and we jokingly explain that we're not just the half-zip club. We are seeking to accomplish our goal of transparency through publishing meeting minutes (on the front Moodle page), displaying a google spreadsheet tracking progress on our projects (on the Student Council Moodle page), and writing a letter about recent projects multiple times per year (found in the Jesuit Roundup or at suggestion tables).
Having recently held elections for class positions and we would like to congratulate
Silas Hartman (Senior president and treasurer)

Diego Sierra (Senior vice-President and homecoming chairman)

Tommy Hovivian (Senior representative and lunch committee member)

Luis Osorio (Junior president and homecoming chairman)

Graham Bowers (Junior vice-president and lunch committee member)

Camden Roy (Junior representative and parliamentarian)

Patrick Bennett (Sophomore president and social media chairman)

Kyle Nolan (Sophomore vice-president and freshman mixer chairman)

Joey Trigiani (Sophomore representative and freshman mixer chairman)

Sam Dunkerley (Sophomore representative and lunch committee member)
We held our first Student Council meetings of the term on April 10th and April 24th where we:
Discussed the freshmen planning and leading of the second grade-wide service day last I-Day

Assigned Student Council members to administrator meeting groups to build lasting relations and communicate ideas that arise

Submitted our recommendations for senior graduation trophies to the Jesuit administration team

Re-linked the suggestion box on the Moodle homepage under "student resources" so students can submit digital suggestions

Signed the ESD-proposed balloon pledge to not release balloons at school events to protect animals and the environment
Upcoming projects include:
A suggestion table this Friday (4/26) outside the cafeteria during all lunch periods to collect ideas for future projects

Our first Sage lunch committee meeting with the cafeteria staff to determine food preferences and how to best fit the wishes of the student body (there might be chocolate milk soon)
We look forward to an exciting and productive year on Student Council.  As always, if you have suggestions, make sure to drop a comment in the suggestion box or talk to any Student Council member.
Go Rangers,
Will Florer and William Nickols
Student Body President and Vice-President