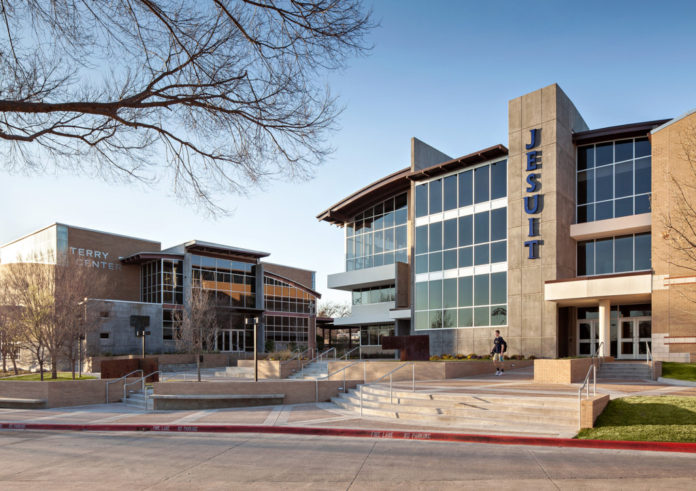 Source: https://www.beckgroup.com/projects/jesuit-athletic-center-addition-renovation/
The new faces of Jesuit Student council are here, read all about it!
During the last week of October, the Freshman voted for its Student Council members. They will serve the remainder of this 2019-2020 academic year. The Freshman class elected Johnathan Risinger as President, Jose Alvarado as Vice-President, and Tejas Murugesh as Class Representative.
Meet Johnathan Risinger '23 (President)

Risinger is this year's Freshman Student Council President. At his old school, St. Monica, Johnathan worked on his school's recycling team, a subcommittee of the Student Council. With this newly earned position, Johnathan hopes to "improve the freshman community and bring us closer together as a true Jesuit brotherhood." He would like his fellow brothers to know that he will make student life better by "listening to your recommendations, bringing them to the table, and getting them approved at Student Council meetings." An interesting fact about Johnathan is that he is deaf, but as he stated, "I don't let my deafness define me."
Meet Jose Alvarado '23 (Vice-President)

Alvarado graduated from Our Lady of Perpetual Help Catholic School, where he also participated in his school's Student Council as the 8th Grade Student Council Representative. His previous experience campaigning and participating in Student Council helped him with his election, commenting, "I put up 10 signs, they said the limit was 10, so I went with the limit." He put up his signs in the Freshman steps, as he believed that most freshmen pass through there and would see his posters. He also stated, "I went with 10 signs as repetition is key."
Jose's plan to serve his fellow brothers consists of "making sure that everyone is happy, comfortable, and is okay with how the school is being run." Another one of his primary goals is conversing with the technology department to add Spotify to the school iPads to allow students to listen to music more freely. And finally, an interesting fact about Jose is that he was born in Honduras and later moved to the United States.
Meet Tejas Murugesh 23′ (Class Representative)

Murugesh attended Mary Immaculate Catholic School before coming to Jesuit. Although Tejas has no previous experience in Student Council, he commented, "I'm a [Boy] Scout and have always been in a leadership position since I started in 5th grade," which has allowed him to transition to his leadership position in Student Council. Tejas's goal is to "make sure that all of my brothers' ideas are heard and their experience at Jesuit is better." He also stated, "I am really enjoying Jesuit, so I just want to make sure that everyone else has a similar if not better experience then mine." Lastly, one interesting fact about Tejas is that he has been a vegetarian all of this life and plans to maintain that.
Stay tuned to The Roundup for more coverage of Jesuit Student Council!