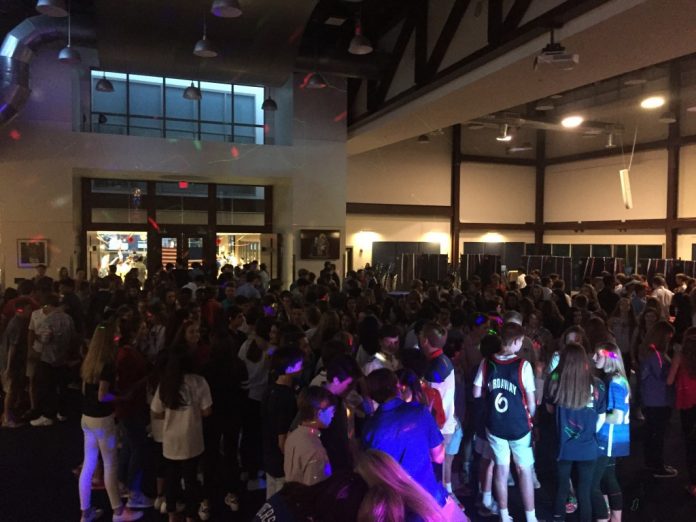 As 7:00 PM rolled around, many students from Jesuit, Ursuline, and Hockaday made their way to the Terry Center for the annual Freshman Mixer.  Music blaring and refreshments ready, the Terry Center was not the room that held Prayer Services and Masses that night; it was a giant dance floor allowing for the many new freshman from each school to interact with each other for the first time in a social atmosphere that sets the tone for their high school career.
On Saturday, August 27th, Jesuit hosted the annual Freshman Mixer, inviting the girls from Ursuline and Hockaday to mingle with our freshman boys.  As usual with these types of events, "it was awkward at first," commented Tyler Lloyd '20, "but ended up being really fun." 
Vice President Evan Jackson '17 reminisced on his own freshman mixer and agreed, saying "It was funny to realize the awkwardness that the freshman displayed at the mixer was the same awkwardness that me and my friends had."
An important Jesuit tradition, the mixer allows the "freshman to see each other in a different light," as most of their experiences with each other depend on a "classroom" or a "playing field," so the dance provides the first opportunity for the freshman to see their classmates outside of school, helping them "come together as a class," reflected Mr. Hanley, head of student council.   
Student Body President Steven Mancillas '17 continued this idea, stressing the importance of the mixer's ability to "establish closer ties outside of school realm."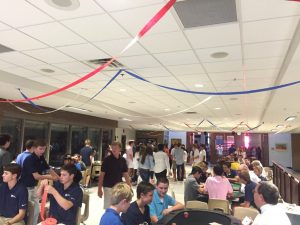 The theme this year was to celebrate whichever country currently held the most medals in the Olympics, and as it turned out, it was the United States, coincidentally "making decorations easy to find," joked Mr. Hanley.  In addition to the theme, the gambling tables (fake, of course) at the mixer add another fun element to the night.  Freshman Santiago Nelson mentioned that the gambling provided "a good way for people who don't like to dance to meet people."
The Jesuit student council plans and executes the mixer every year, always taking significant strides to improve it.  This time, the student council provided a plethora of Tiff's Treats cookies as food for the freshman. 
Student Body President Steven Mancillas '17 felt that overall the mixer was "well designed and well executed," which Mr. Hanley verified by commenting that it was "one of the most successful mixers in years." Another freshman class has danced its way into high school.