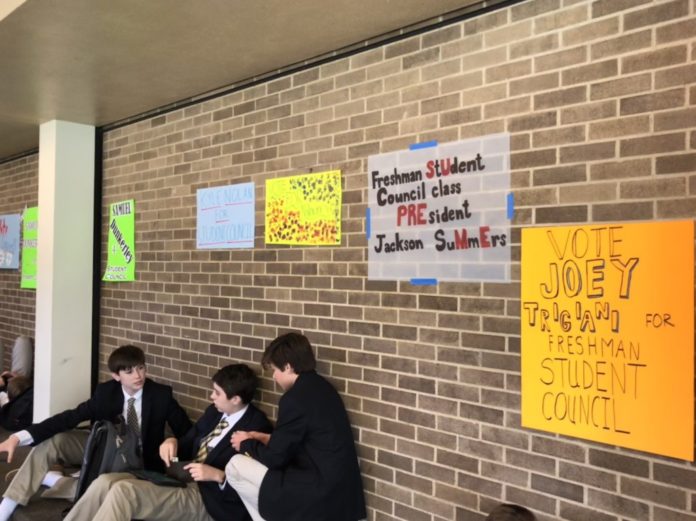 Seeking new opportunities at Jesuit, many freshman want to diversify their leadership roles at Jesuit. One of the best ways to do this is to run for office in Student Council. Holding a Student Council position both increases the confidence and leadership in a student, allowing them to represent their peers to the administration.
This year's first round of Student Council elections, the Freshman Elections, will be held on November 1st during all periods of Freshman Guidance in HH100.
Mr. Hanley, the moderator of Student Council, is very excited for this election. "It is great to know that so many freshman want to help contribute to the Jesuit community." He continued, "we've never had this big an election before, so hopefully this sets the bar high for leadership in the future."
Below are all of the 12 candidates and their reflections on leadership.
Rodrigo Aldrey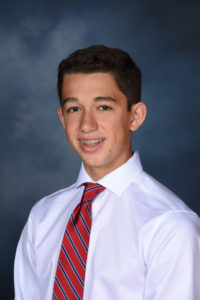 I believe that student council is a system of dynamic people who are constantly working on ways to improve their school for themselves, all students now and those who are to come. Jesuit itself is a school full of people who have strong work ethics and severe amounts of potential. I believe that a great way to make the school better is to add a small business incubator, this program in turn will allow students with inspiration in business to meet and consult with  business experts from the Dallas area. In the program the school would invite successful business owners and executives where they are brought to Jesuit to speak to the students in the program about how they started, in turn helping the students follow their passion and advance in this field. Another idea would be to add a retreat day in which the students could observe TED talks where they learn about the stories and culture of the speakers.
In my middle school there was also a student council in which people would ask for signatures and create a speech and present it. I ran for student council and came close to the person who ultimately won. In doing so I learned about the commitment and passion needed to for and represent others.
Also, one of my close friends was Vice President of the council and whenever he would make a decision he would consult with me and others and because of this I learned the basis for the responsibilities that come with student council. I also have leadership experience in another field which consists of teaching children skills and techniques of self defense, whenever I get  the chance to I go to my dojo in which I have trained 10 years and represented in tournament to teach children the significance of respect and how to defend themselves in the real world. In doing so I feel confident when put in a leadership position which a substantial asset for a member of student council.
All this said,  I feel that I would be able to contribute and represent my fellow students while carrying our Jesuit values.
Ryan Allred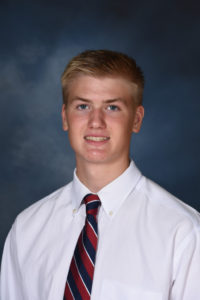 I understand that being a member of student council requires a commitment of my time, energy, talents, and creativity.  I must attend all meetings, be knowledgeable of the constitution, by-laws, and motions, and complete the routine tasks required to carry out the objectives. I must make significant contributions through leading and assisting with programs and events and bringing forth new ideas. Most importantly, I must demonstrate behavior befitting the honor of being a part of student council every day and be a strong representative at sponsored events. My experience in my short time at Jesuit has been very positive and I want that to be the same for all students. I believe taking a summer class and being part of an athletic team made my freshman transition a bit easier, but not everyone had that same path. I'm interested in hearing about the experience of other's and understanding how, as a member of student council, I could make their experience as positive as mine. I demonstrated the character and leadership ability at St. Monica to be nominated to NJHS and was elected Secretary of Academics and Assemblies by my peers. I led student pep rallies, represented SMS at various functions, was a leader on the field, and received two heart awards. I believe a leader should be an advocate for all and lead by example by serving others and treating everyone with courtesy and respect.  It would be a privilege to be this example as a member of student council.
Patrick Bennett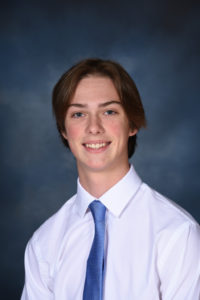 Student Council, in my eyes, is a service opportunity in which one has the power to promote new ideas and bring about change. These elected individuals are to represent each and every student and advocate for their wants and needs. The student council is to fill the role of a liaison between students and faculty members. I believe I am worthy of holding such position due to my communication and leaderships skills. I also consider myself to be quite creative and artistic.  At my previous school, St. Rita, I was fortunate enough to be Student Body President. During my tenure, I led several service projects, brought student ideas to life, spent tens of hours setting up for school events, and constantly met with faculty and staff to ensure student's voices were being heard, in a civil and respectful manner. I also led group meetings every 2 weeks, consisting of all 25 student council members, and planned the agenda for each meeting.
My past experience serving on a student council board has enabled me to develop and mature in certain areas such as public speaking, problem solving, and out-of-the-box thinking. As president, I had rare opportunities to grow as both a person and as a leader. In the winter of 2017, I flew to Washington D.C. with two other student council members and an administrator. We attended the L.E.A.D. conference and gained insight from very qualified high school student council members. They offered advice on how to cope with heavy amounts of work, how to brainstorm new ideas, and most importantly, how to listen and communicate with others. For these reasons, I am running to serve the Jesuit community and represent the freshmen class.
Thank you for this opportunity.
Sam Dunkerly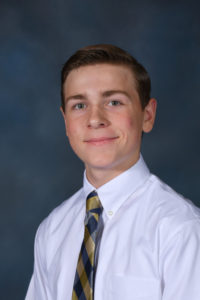 Student Council is something I value greatly. It is an organization where students can become leaders. They can give opinions in an open environment where there is no criticism but welcoming advice to better the school.  As a student council member you are the voice of the whole student body. I have a lot of experience in student council, as I was Vice President at St. Rita Catholic School last year. Everyday I was responsible for giving announcements, running meetings, planning and executing events for my entire school. I went to Washington D.C. with other student council members to learn more about my country, the people who run it, and how I can contribute to it. While there, I attended a L.E.A.D. conference, which was based on becoming better leaders. Currently I am the senior patrol leader for my Boy Scout Troop 838. Every Sunday I plan and run an organized meeting.  I speak and support around an 80-kid troop. These experiences have made me more confident to be able to speak for what I believe in and have prepared me to take on a bigger responsibility and Student Council is a perfect job for me. I am prepared and excited to represent my fellow brothers in anyway I can.  This also includes giving of my time, sharing ideas to cultivate our amazing school and being a role model for our class and community. I hope I can continue the great traditions Jesuit has and cannot wait for the next four years here.
David Long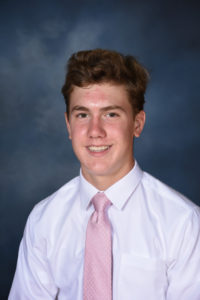 As I was applying to Jesuit, I knew that Jesuit has set standards and expectations for you. At the beginning of each year, one tradition I always have and and will continue to do is set goals for myself. Once I have set a goal for myself, I will do anything to achieve it. I love a great challenge and I am not afraid of them. One goal I set for myself this year was to be elected into student council. One reason I have set this goal for myself is at my former school, St. Monica, I participated in student council for two years. I saw how a successful student body operated and I will do everything I can to better myself, the student council, and the whole school if elected. If elected, from there I will set more goals for myself and the school. I know that I am the best candidate for the school for numerous reasons. First, I am very tenacious and driven. As I said earlier, once I have set a goal for myself, there is nothing that can stop me except myself. I won't stop I will keep driving and learning to become the best member for the council. Second, I am patient and compassionate. If I don't get a concept at first, I will keep trying and do everything I can to get it right and I have the patience and compassion to listen to other students with their new ideas and concepts to implement into the school.
Nahum Najera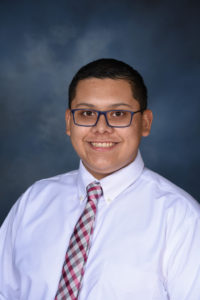 Student Council serves as a way for students to speak up and point out things that could change or be better for the student body. At Jesuit, they give us the opportunity to talk and give our opinion on things in order to make Jesuit and our community a better place. I understand that the Student Council guides young men through prayer and service to be a better person.
My past experience has definitely prepared me for a position to be a class officer in the Student Council. At my former school, St. Pius X, during my eighth-grade year I was elected by my classmate's as historian for the NJHS (National Junior Honor Society). While being historian I helped on lots of events such as the Thanksgiving food drive, toy drive, Santa's little helpers and Pre-K walking. My favorite event would be Santa's little helpers. It was my favorite because of seeing all the little kids light up as they saw Santa. What was also nice was them asking for what they wanted for Christmas. It reminded me of myself when I was that age. We also worked with the St. Vincent de Paul food drive and North Texas Food Bank. When I was elected as the historian I completed lots of service hours. I am also a member of the Knights of Columbus. I serve breakfast every third Sunday with my fellow brothers. The Knights of Columbus taught me how to be a leader and how to motivate others who just give up. I also participated in PSIA Poetry and Pros. I participated in PSIA for three years straight. It taught me confidence and patience. This experience taught me how to speak in public without worrying about being afraid of freezing up. I believe this competition prepared me for Student Council. At my graduation, I was recognized with a scholarship from the Knights of Columbus for my academic score, service, and attitude toward everything. While I was at my school I was really integrated into helping them in anyway I could. Everybody knew me for always being there for others, helping them in their toughest moments, listening when someone needed to talk, or just sometimes being a friend for others who needed the company. I am prepared and thrilled to represent my freshman class. I will commit my time and ideas to help in anyway I can. I am excited for my next four years here at Jesuit.
Kyle Nolan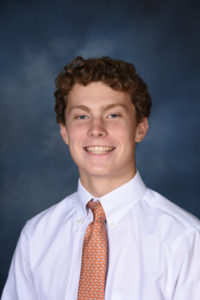 The primary purpose for Jesuit's student council is to act as a bridge between students and the administration, conveying students' thoughts about issues to the administration. Equally, worthwhile goals are to promote community service and build class unity, to both serve others in need, and strengthen the bond between students. Through classes, sports, mass, community events, and shared experiences students grow closer, and learn to be comfortable relying on each other. An active and approachable student council can be a microcosm of the student body, one that Jesuit students can connect and communicate with, in a non-judgmental way.
As a student athlete, I believe that I relate well to my fellow freshman students. I know the stresses of finding a healthy balance between academics and extracurriculars. As captain of the freshman football team and Senior Patrol Leader of Boy Scout Troop 412 , I possess the leadership skills, commitment and energy required to hold such an important position.
One of my ideas for contribution is to promote quality interaction between the upper and lower classmen. I support an effort where we freshman are encouraged to consult the upperclassmen whenever we have a question, and can benefit from their experience and friendship, having once been in a similar challenging situation. In addition, I want to promote interest in clubs, where participants can appreciate a new topic or activity. I came to Jesuit eager to learn, grow, and make a positive impact. Participating in Student Council would allow me to do so.
Arnold Perez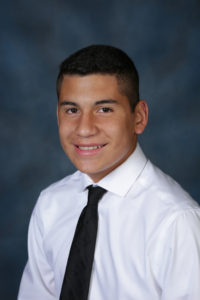 I believe student council is something which allows leaders to show their skills. Student Council requires someone who is intellectually smart, a positive leader, and a powerful speaker. I believe I encompass all of those qualities. At St.Rita, my middle school, I was class representative in 5th and 6th grade. When I was in these positions, I learned good skills that could help me become a better leader. One of the most important skills I learned was that you must listen to everyone's ideas and motivate their ideas to grow and develop. Another thing I have learned is how to be a leader through my club soccer team. I have been the captain of my team for the last four years; in being captain I learned how to motivate others when I'm time of doubt as well as how to calm people down who are in a heated argument. But, the biggest thing I learned was how to talk to a big group of people. Sometimes I would have to motivate my team by getting them into a huddle and motivating then to know we could accomplish anything if he worked together. I believe this relates to being student council President at Jesuit. I believe that I know a large amount of my fellow students enough to the point where I could motivate them to be the best students they could be, to be as close to god as they could, and to be the best athletes they could be. This year I am taking Rhetorics and Civics which has taught me how to prepare to y'all in front of a large group of people and I believe I have learned this skill very well. All these attributes I have are why I believe I am fit to be part of the student council of my graduating class.
Jackson Summers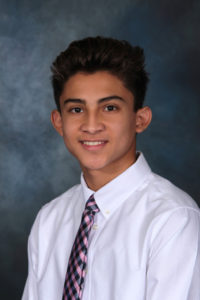 It is my belief that Student Council plays a vital role in serving and supporting our brothers at Jesuit. It is meant to help make the high school experience at Jesuit easier and more enjoyable by ensuring that each and every student's needs are heard and met. Student council is meant to make all students feel included, safe, and valued. This is accomplished both by planning events in student council meetings as well as, more importantly, being a man for others and serving your classmates in any way possible on a day to day basis outside of official student council activities and meetings and leading others by example. Although I have never served specifically on any form of a student council, I am capable of caring for my fellow classmates and teammates on a daily basis. I have practiced thus through both club swimming for the past six years as well as high school swimming at Jesuit. One of the most valuable qualities which I have obtained through swimming is leadership. Everyday, I must lead members of my team, not by means of dictatorship, but by serving those around me in any way possible and acting as a role model, as well as holding myself accountable when I make bad choices. I believe that this ability to act as a servant to others and take responsibility for my actions will be invaluable as a member of the Jesuit Student Council and that is why I should be considered for this position.
Joey Trigiani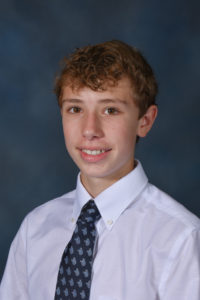 Student Council represents the voice of the student body through pillars of leadership, service, and intellect. At Jesuit College Preparatory, this includes utilizing our senses to better the community which we use to receive a higher education. I understand that Student Council leads others through service projects, events, activities and more.
Past experience has truly prepared me for such a position. At my previous school, Christ the King Catholic School, I served as a class representative on our student council for three years. In eighth grade, I held the role of Vice President, elected by my peers to lead and serve the community. I assisted in many service projects, my favorites being our turkey drive and our cereal drive. We worked with organizations such as Dallas Police Department and Catholic Charities during these projects. I also planned our middle school dance with a few others during eighth grade. I also led others as the President of our school's National Junior Honor Society chapter. With this position, I ran meeting and carried out many hours of service. This included creating Christmas cards for the children at Scottish Rite Hospital in Dallas. At eighth grade graduation, I was recognized with the Tim Henrion Scholarship Award. Tim Henrion was a Jesuit student in the 1980s. He tragically died just before his senior year. Tim's way was named in his legacy and he is not forgotten. This award is annually presented to the most well-rounded student in the class. I also gave a speech at this ceremony because of my academic status at the school. Presently, I value building relationships with others, especially those with whom I will spend my four years in high school. Many of these experiences and values formed me into the young leader I am today.
As a member of the Jesuit Student Council, I plan to carry these experiences with me to form stronger Catholic values for my daily life. I also plan to take initiative through leading service projects and continuing to get to know each of my classmates. I look forward to running for this position and to a year of great improvement and success.
Landon Usry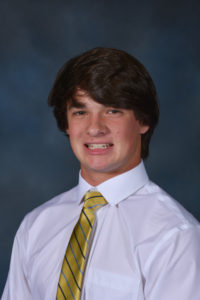 Student Council is a group of highly regarded students who represent the student body as a whole. The Student Council benefits the greater good of the students and the environment they work and learn in. The Student Council also runs social events such as mixers and dances. If I were elected to Student Council I would be sure to to talk to the student body and the staff to fulfill their wants and needs for the school. Being apart of the Student Council, I will be the student mediator between students and the staff.
I have past experience as a Student Council member and in working to help others. At my old school I served for 2 years on the Student Council, one year as treasurer and another as president. I also was a member of National Junior Honors Society (NJHS). As a member of NJHS I had to complete a number of service hours, out of school and in school, helping younger students in tutoring, and directing carpool in the mornings. I think I am qualified for Student Council because of my past experiences in Student Council and National Junior Honors Society, serving others, and working for the magis in the student body.
Imjai Utailawon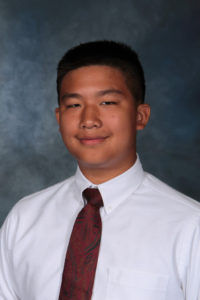 Being part of an organization such as the student council would be a great honor. It is filled with very talented people with great leadership skills and integrity. The student council don't only conserve their talents to themselves, they contribute their attributes to help better their community and fellow students as a whole. The student council represents the entire student body, and they keep each student at the highest they can be and that is always elevating. They help out with work around the school, provide for the community, and at the same time improving themselves. I am a hardworking, determined student and also a member of this community which is always trying to help out wherever I can.
I have always enjoyed helping out and volunteering. During my years of being a Boy Scout, I have worked on various projects, such as: cleaning the city, raising money for donation to the local families who are in poverty, and food drives for the local food bank. Currently I am the Assistant Senior Patrol Leader at Troop 770, and I get to teach the younger scout about survival skills, finding joys in helping others, quick problem solving skills, and how to become a dominant leader.
Last year, at Holy Family Catholic Academy, I was the Treasurer of the National Junior Honor Society (NJHS). The NJHS President, the Secretary, and I were responsible for planning out the meetings we had for some of our event we held in the school. I, as the Treasurer, was responsible for the financial planning of the NJSH events. I would have to first see how much money we would need, second calculate how much we could spend, third plan out how much money we would actually  need to make at the minimum, then make a chart of all the possibilities, and finally present it to the rest of the members in the meeting. This job wasn't easy, but they have elected me so that means they know I have the abilities to accomplish it, thanks to all the hard work and dedication of the entire team, and I completed the task and all of the events were a success. I am ready for any responsibilities I will have to take on, no matter how difficult I will work my hardest for the best possible outcome.