Every year Jesuit students vote for their new Student Body President and Vice President.
During this month of February, four different teams of two juniors have begun their campaigns and started to share their ideas with their student body. These pairs have been preparing for the upcoming preliminary elections on March 5th. Of these eight candidates, this article will focus on Jake Taylor and David Benitez-Trevino.
Background on Jake and David
Jake Taylor and David Benitez have immersed themselves in many things here at Jesuit. Taylor plays on the varsity football team and has done for the last two years, while Benitez competes on the varsity track & field team last and this year, running in many of the major relays. They both also take on many difficult classes, performing towards the top of the class, and serve on the Ignatian Service Corps. Recently, I got the chance to sit down with them before they begin their campaign for student body president and vice-president, and ask them about their character before the election and the changes they plan on instituting.
How has your transition to Jesuit been as a whole?
Jake: "It's definitely been an experience coming into Jesuit from Saint Rita. I kinda knew what to expect, but I was still shocked at the level of brotherhood that was here at Jesuit and what it has to offer. Teachers who encourage meetings and just the overall atmosphere of it. Most importantly, brotherhood. And that's what I kind of, um, solicit to, and that's what I wanted to bring to the student council, just for that, brotherhood."
How have your classes challenged you? How have they helped you grow and what aspects of these struggles do you think you can take into the real world and your election process?
David: "I currently am in a very rigorous schedule. I think that my classes challenge me in such a way that I have to manage my time very well. Because I am also on the track team, I have to manage my time around that and my classes. Through these struggles, there are several aspects that I can take into the real world, which in this case is being a vice president. I think I could make everything a little more efficient and I could also bring new ideas to the table that, of course, would be challenging, but also feasible."
What parts of the game have both on and off the field, significance for significance for you and how have they translated into your school life and how would that translate into the, uh, student council?
Jake: "Two come to mind on this question. Being 160 pound running back and going up against the toughest schedule in 6-A football. There's a lot of adversity in that, adversity that needs to be overcome. And just the work ethic behind that and the other one being on a team, like being a team player and finding your role in the team. That relies on communication with your teammates and with the coaches. It's something that I look forward to bringing to the student council."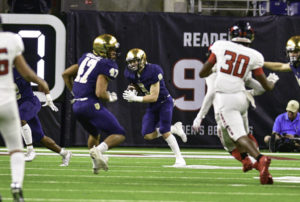 What motivates you to work and challenge yourself every day through school, through sports, through life, whatever it might be?
David: "The thing that motivates me is being a part of the team and just working for a greater good and finding something that suits for the greater good, the greater good for all. Personally, I think that every single person at this school is capable of doing great things. I know that if I challenge myself and work hard, and if potentially I were to win the vice president election, I could use myself as an example for other people in hopes to motivate them to do the same thing."
What character qualities do you think make you guys stand out as compared to other candidates and as a whole?
Jake: "I think my leadership qualities such as communication, my interpersonal skills, and my ability to hear people's input on certain topics are significant. Also my accountability. I have many things that are important to me, such as the ignition service, core football, academics, and just my accountability on staying on top of things and always making sure the results are put into effect. These are definitely things I would take into a leadership role as the student president."
David: "Yeah, I think,  Jake and I are very similar in this area. I think that we both are excellent leaders. I'm part of the Ignatian Service Corps, and I'm also on the varsity track team, but specifically on the varsity track team in the 4 by 100 relay. Timing is everything, it can literally win or lose you the entire race. So I think that that having that ability to work as a team can most certainly help us in the election."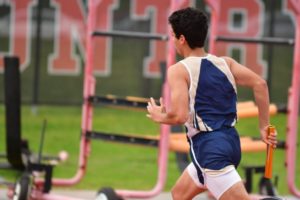 Which of the six aspects of the Jesuit profile do you think you best exemplify and why?
Jake: "For the six tenets of the Jesuit profile, I think I most exemplify open to growth. I say this because you could give me any group of guys and I believe that I could turn them into very successful people in the most efficient way."
Why did you decide to run with each other?
David: "First and foremost, Jake is single-handedly the hardest worker that I have ever met in basically my entire life. It doesn't matter if it's like academically or sports, I know I can always go to Jake for help because he's 100% prepared for whatever it is that he has to face.
Jake: "For David, the two things that come to mind. His work ethic and his intuition. He has one of the brightest minds I've ever experienced and worked with. And I think his ideas and his new perspectives of ways of looking at certain issues and ideas for the future of Jesuit can be very beneficial for the students."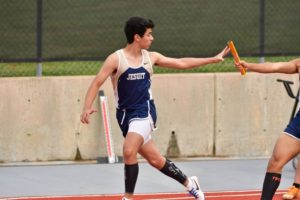 If you were to be elected as president, vice president, what changes would you better would you make to better serve Jesuit.
Jake: "I think that the most important thing that a high school can give you is clarity on what you want to do in your life. So I would propose a guest speaker every month. This guest speaker would be a very prominent expert in their field, and this could serve as a guide or a source of clarity to the entire student body on what they want to do in their life."
Stay tuned to The Roundup for more interviews with student body president campaigns!