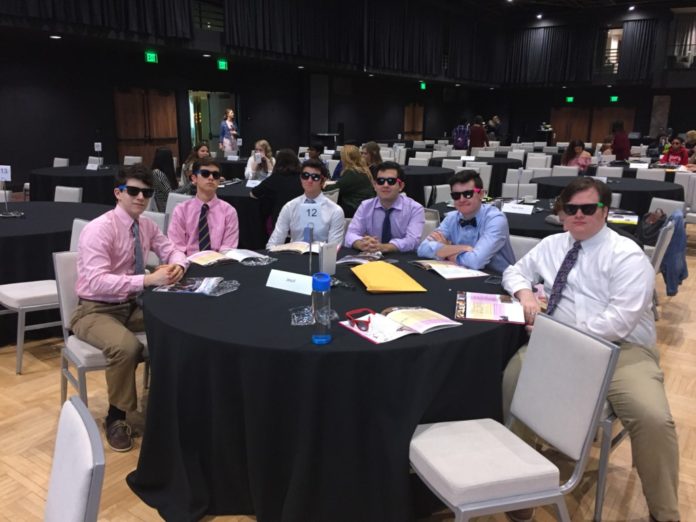 Hundreds of Dallas' finest high school journalists gathered in downtown Dallas, all celebrating their hard work and dedication to their respective schools' newspapers. On April 6, seven of The Roundup's great writers attended the 2018 Dallas Morning News High School Journalism Day.
To start their busy day, club moderator and acclaimed C.E.A author, Dr. Degen, and the attending writers, left Jesuit in the morning for downtown.
Editor-in-Chief Connor Thomas '18, Senior Editor Josh Betanzos '18, Associate Editors Jack Corrales '20, Emmet Halm '19, Mathieu Lavault '19, and Rudder Allison '19, and Staff Writer Trey Ashmore '20 were the excited students going on the outing.
The Seminars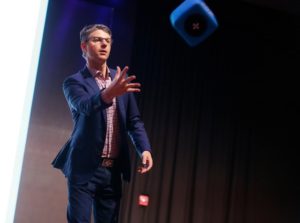 Journalists attending the Journalism Day learned many new skills in journalism through various seminars, including how to better utilize social media as a news outlet. Furthermore, members of the Dallas Morning News shared a lot of interesting stories to all of the high school journalists, including the ethical dilemmas they face in their roles as leading journalists.
Jack Corrales '20 got a lot from these classes:
"I learned a lot of different methods to better publicize sporting events and draw more viewers to articles."
Emmet Halm '19 found the classes helpful, but he also enjoyed talking to other high school journalists.
"I learned almost as much from the lecturers as I did talking to other high school journalists about their own experiences.  Talking about common problems with students from other schools was one of the most productive and interesting parts of the event, as we learned from each other," noted Halm '19.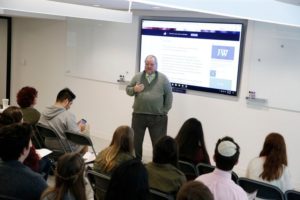 Journalists were also able to choose which talks they wanted to attend, and many were really fond of that experience.
"I enjoyed having the option to choose which lectures to sit in on, capitalizing on the aspects of journalism that appealed to me," commented Trey Ashmore '20.
Josh Betanzos '18 additionally liked being able to choose which talks he went to:
"I learned some cool new ways to use social media as a writer to put my work out on the Internet and social media."
The Awards
After the round of seminars, journalists from all over the metroplex reconvened for the awards ceremony. Tons of awards were presented, such as Best Feature, Best News Writing, and many more.
The Roundup was awarded silver for Best Website in the DFW area, competing mostly against public schools. Hockaday, for the second year, earned the gold for Best Website with The Fourcast.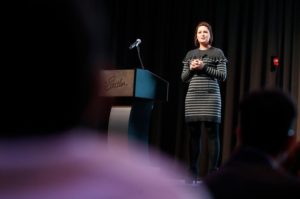 Though it did not receive the first place award for Best Website, The Roundup still made Jesuit proud by capturing second place.
Editor-in-Chief Connor Thomas '18 felt a bit snubbed after the awards were given:
"I, of course, disagree with the outcome, but I respect it. They have a solid curricular program over there. It would be interesting to see how it would fare if it became solely extracurricular."
Trey Ashmore '20 was also a bit disappointed:
"I thought that we were robbed out of the 'Best Website' Award, but 2nd place out of 48 schools isn't too shabby."
Opinions
In the end, the journalists from The Roundup really enjoyed their experiences at the Dallas Morning News High School Journalism Day and learned a lot from it.
After the day was over, Mathieu Lavault '18 found a better appreciation for journalists.
"I learned that journalism is not an easy career. It takes a lot of time and effort to publish good articles. Journalism is for those who are dedicated to hard word and that those that succeed are truly determined people."
Though Josh Betanzos '20 had already attended this event last year, he still enjoyed the 2018 Journalism Day and found it very fun and informative.
"I was really pleasantly surprised by how it went and this year it held up to the same expectations. The Dallas Morning News always puts on a great event for all of us high schools."
Like many others, Emmet Halm '19 also learned many new skills to add to his writing arsenal.
"I learned that the key to a persuasive opinion piece is identifying our audience and who specifically, you are trying to swing over to your point of view."
Connor Thomas '18 finally remarked on the success of the Journalism Day:
"I thought it went well. I always like High School Journalism Day because you get to see the high caliber of all your peers across the city. It makes you want to be that much better."
While The Roundup did not win the award for Best Website, its writers are still very proud of its accomplishments this year, and look forward to attending the 2019 Dallas Morning News High School Journalism Day and perhaps winning an award.