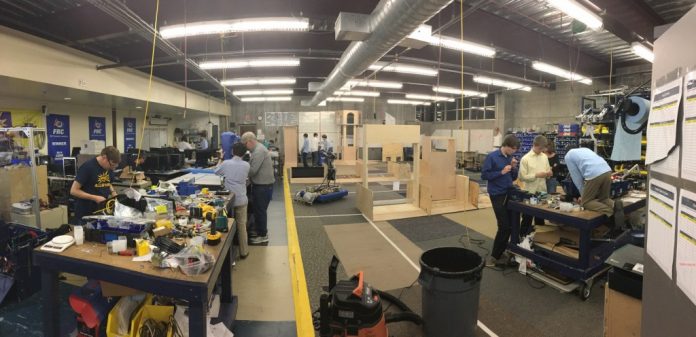 With an the success of last year's team, the stakes could not be higher for the FRC robotics team this upcoming season. In order to be as successful as possible, the team rigorously prepares and plans because with a competition deadline quickly approaching, time is critical.
Midway through winter break, before they could begin building, the team went to Texas Instruments where a representative would reveal to all of the teams in the Dallas area what the theme of the event would be. This year the game, called Steamworks, will be especially challenging. At the beginning of this game, the field will be loaded with balls and gears and the robots must place the balls into a compartment, know as the boiler, and deliver the gears to the members of the team that are standing on a platform, known as the airship, in order to score points. These two airships will hold two team members at the center of the field.
Blake Mahowald '20 stated that "this year's game consists of a new element, human players, which adds to the complexity and teamwork that goes into the game plan."
Now that the game has been revealed, the team now must come up with designs and prototypes as quickly as possible, in order to select the most successful designs to create the best robot. But no good robot is created without a goal for it.
According to senior Will Curran, a popular goal on the team is to "repeat our win in the Dallas regional, which was a team first last year." Spencer Gautreaux '17, the team president, noted that it would be extremely important "to be finishing our robot before the final deadline this year." This is especially important because it will allow for extensive testing and driving practice, two critical elements of being successful. And finally, Noah Johnson '18 said that his goal was to "try to win and go as far as we can, hopefully to the top."
In terms of preparation, the robotics team has been essentially preparing for the entire last semester through their participation in "our FTC program over the fall, in which we use smaller robots to engage our new members," said Jack Barone '18. Therefore, with the preparatory FTC season coming to a close, the Rangers get ready for their six weeks of intensive build series to come.