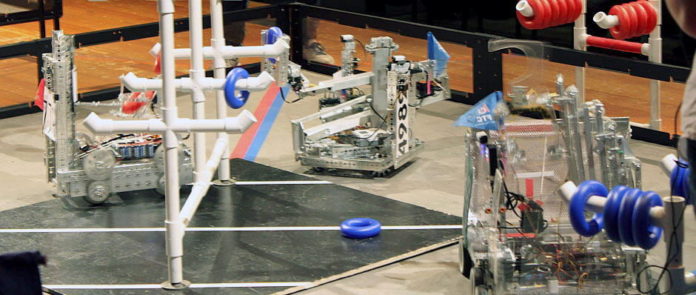 Bam! Screech! Pop! Under the Terry Center, students drill away at their robots, adjusting them to face fierce competition.  The On November 4th, the Jesuit Robotics team sent multiple teams to the first FTC Tournament of the year.
So what exactly happens at a Robotics Competition? Well, as Ryan Chiang '19 stated, "There are two seasons, FTC is primarily during the winter while FRC is during the spring. This year, the FTC game was Relic Recovery. During this season, teams win points when you complete different objectives such as knocking a jewel off a platform, balancing on the balancing platform in the end,  and stacking blocks on top of each other in a box. Once you arrive at a competition, there is a practice period where people arrive and then have to go through inspection, which basically checks the robot to make sure no rules have been breached. Then, there is an interview process for teams with an engineering notebook, a notebook that contains the progress of the robot up to the competition. Interviews are to decide the top two teams with the best engineering notebook and the top two teams win the INSPIRE award." The Robotics team at Jesuit prepared a lot for this competition so after all the teams are checked they went off into the matches.
Chiang explained, "Matches contain two drivers and a coach and often consists of another team's robot that helps you with the task. Afterwards, there is a resting period to fix and refurbish the robot if anything went wrong. The top 4 teams decide which robot which will help them during the single elimination playoffs." After understanding what takes place during a robotics competition, the next question is how did everyone do?
Chiang said, "Everyone did great for the first ever FTC Tournament in the 2017 year. Team 92000, the Westerman, won an INSPIRE award and because of that award was able to qualify for the North Texas Regional while my personal team, team 9000, made it to the Finals as an alliance captain." All teams were successful at the tournament even if they didn't win an award or go to eliminations. As Chiang said, "I learned that teamwork is really the most important part of robotics. At almost every competition, there will be one or two robots that can outperform you in every single task and in order to beat those teams, strategies have to be developed that slow down their progress and speed up your own alliances." All of the teams learned something from this competition which is important for the first FTC Tournament this year. From this experience, everyone hopes to see the Robotics Team win more competitions.
For the latest Jesuit Robotics updates, stay tuned to The Roundup.