Do you know what the term is for having worms in your brain?! If you were in the Jesuit Medical Society you would. (By the way, its called neurocysticercosis)
Jesuit's Medical Society had its first meeting on Monday, September 24, 2019, and along with this, its Structure Function class also started this month. 
First Meeting
During its first meeting, Jesuit Medical Society, led by Wil Nickols '20, had a general introduction. Every member introduced himself and stated what medical field they had an interest in. Wil commented after the meeting "It was very interesting to see all the different medical fields that interested people when we went around the room."
Along with the general introductions, the members of Medical Society participated in a 20 question Medical Kahoot. Filled with random facts and bizarre diseases, the Kahoot threw most people for a loop. The questions ranged from "How many bones are there in an adult's body?", to "What bodily system creates the cells that travel in the blood?". After the activity, Wil stated, "I enjoyed watching people actively participate in the Kahoot and it was fun to see people engaged."
Following the Kahoot, Holland Ernst '21, head of the Social Committee, commented, "I'm looking forward to the exciting year ahead and eager to interact with the members in the social committee." This Kahoot and general meet and greet commenced another great year for Jesuit Medical Society!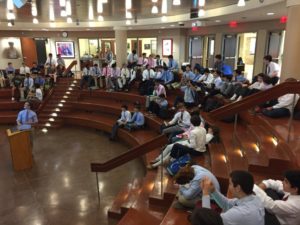 Medical Society Classes
Jesuit Medical Society also offers its members classes of varying difficulty and requirements. Classes such as Cat Dissection, Organic Chemistry, and Microbiology are available for club members to participate in and learn.
Another major class being offered that is currently underway is the Structure Function Lab. In this class, students learn about different structures in the human body and how they functions. The students participating have learned and experimented with the nervous system, integumentary system, and the cardiovascular system.
The first structure of the body studied was the body's nervous system. After learning of this system, the students tested each other's reflexes. One student dropped a ruler unexpectedly and recording at what distance their partner caught it.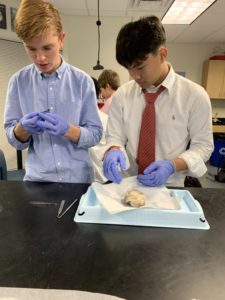 Then, the students learned a basic medical procedure, suturing(or stitching). The students watched a video on how to suture. Then, the boys got the chance to practice this skill on a raw chicken, suturing up an incision in the skin.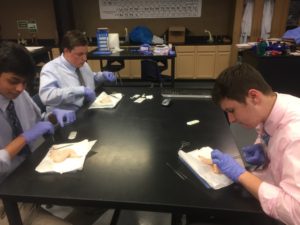 Well, that's all on Jesuit Medical Society for now, but be sure to be on the lookout for the next article which is sure to cover some of the other interesting classes that Jesuit Medical Society will give.