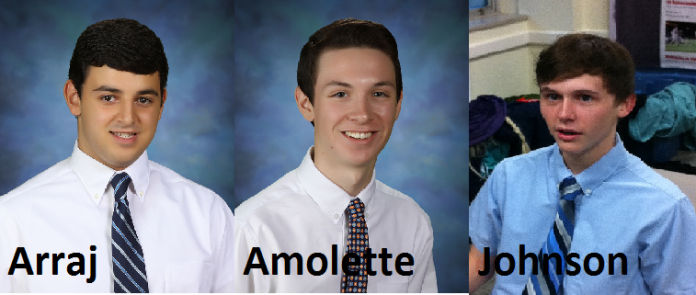 Donning their white lab coats, three rising Jesuit Seniors will participate in a fantastic research program at UT Southwestern Medical School called the STARS program (Science Teacher Access to Resources at Southwestern). Under the program, students work one on one with a researcher from the prestigious UT Southwestern Medical Center and assist them in carrying out groundbreaking research. The research that the students will conduct has never been done before and will be used in the medical field if it yields great results. Pretty exciting stuff for a few high school students.
The program acts just like a summer internship, as students are paid to work full days for eight weeks.  Each researcher pays for the intern's help, using the grant money that they acquired for their research. Usually this program is only available to DISD students; however, Jesuit has worked out a deal with UT southwestern in which Jesuit will pay the student's salary. Last year, Cameron Kerl '13 and Jason Chen '13 were selected to attend. This year, Jesuit has the funds to send 3 students. Hopefully in the future, Jesuit will be able to send even more.
Students from the Jesuit Medical Society were given the opportunity to apply for this program. The application process required a written application as well as an interview with a doctor from U.T. Southwestern. Biology teacher and Medical Society faculty moderator Ms. Jan Jones mentioned that students were asked to bring a parent to this interview, simply so that the doctors could see "how independent that student is from the parent," expecting the student to lead the conversation. "They want to see [the distinct quality of] independence in the student because they are going to be doing the summer research that this professor normally does… and you have to be a person who is independent, willing to do the work, and can think on their feet." In the interview, the student also has to have an idea of what section of medicine they want to do research in, such as neurology or cardiology.
Seven Jesuit students applied this year, and the three students selected were: Mason Amelotte '14, Patrick Arraj '14, and Trevor Johnson '14. All three participants are very excited for the opportunity.
Each intern works on a distinct project with their own doctor. Amelotte will be working on autism research, specifically, how a high fat diet in pregnant mothers can lead to autism. He hopes that his work can be published in a medical journal. As is to be expected, Amelotte has aspirations of working in the medical field, saying "I like the research part of [being a doctor] and I find it all really interesting."
Arraj will be working on developmental biology, specifically with cancer research.  He's most excited about "getting the opportunity to work and learn about medicine and cancer."  He hopes that he can make a big contribution to the lab that he is working in, but isn't quite sure how the results will fair.
Johnson will be working on a neurology project, an interest that drew him to the STARS Program. Like Amelotte, his project will center around autism as well, seeing if the preservatives found in vaccines have an effect on the brain. He is most excited about "the hands on research because instead of just looking at the data [they'll] actually get to go in and do the dissections and there will be a doctor there to explain what [he's] seeing; it will be interesting to see the full process."
When the summer is over, each student is expected to make a presentation to the Medical society regarding their research. From there, the research will be on display around the school. If you are interested in seeing results from previous year's students, you can check out their research hanging on the second floor of the B hallway.
Wish them luck!